What is it?
There are many, many companies around the world that'll restore your arthritic Volkswagen bus and convert it from gasoline to electric power. Germany's eClassics is one such outfit.
But here's the thing—eClassics actually has the support of the Volkswagen Group. In 2019, it signed a "license and supply contract" with VW Group Components, and at that year's Frankfurt Motor Show, it revealed the e-Käfer, an old Beetle Cabriolet with the drivetrain from an e-Up.
The tremendous e-Bulli Concept shown here is a collaboration between eClassics and Volkswagen Commercial Vehicles. Revealed last March, it uses the Group's "latest electric-drive system components," and like the e-Käfer, it's essentially an official VWG-approved electric restomod.
And yes, you can buy one.
Wow, really? BRB, just off to my local VW dealer...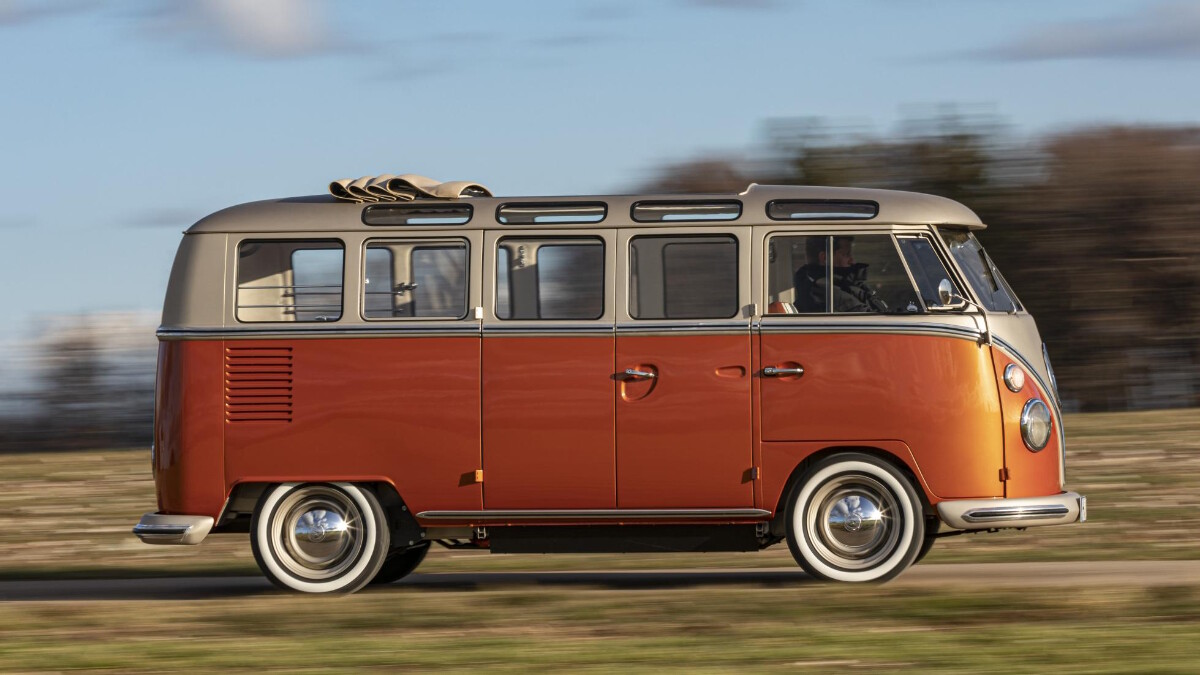 Continue reading below ↓
Recommended Videos
Hold your horses. You can't just pop over at your local dealer and stick a deposit down on one of these. You have to go direct to eClassics in Germany.
Prices for an electrified T1 start at €79,900 (P4.62 million), and that doesn't include the donor vehicle or, by the looks of things, any remedial work that may be required before eClassics can undertake the EV conversion. For a no doubt lofty, undisclosed sum, the company will do it all for you—from sourcing and restoring a donor vehicle, to fitting the EV drivetrain and personalizing the whole thing to your exact spec.
We don't know how much it'd charge for an electrifed T1 Samba like the e-Bulli Concept. Bet it's a lot, though.
Samba? Isn't that a dance?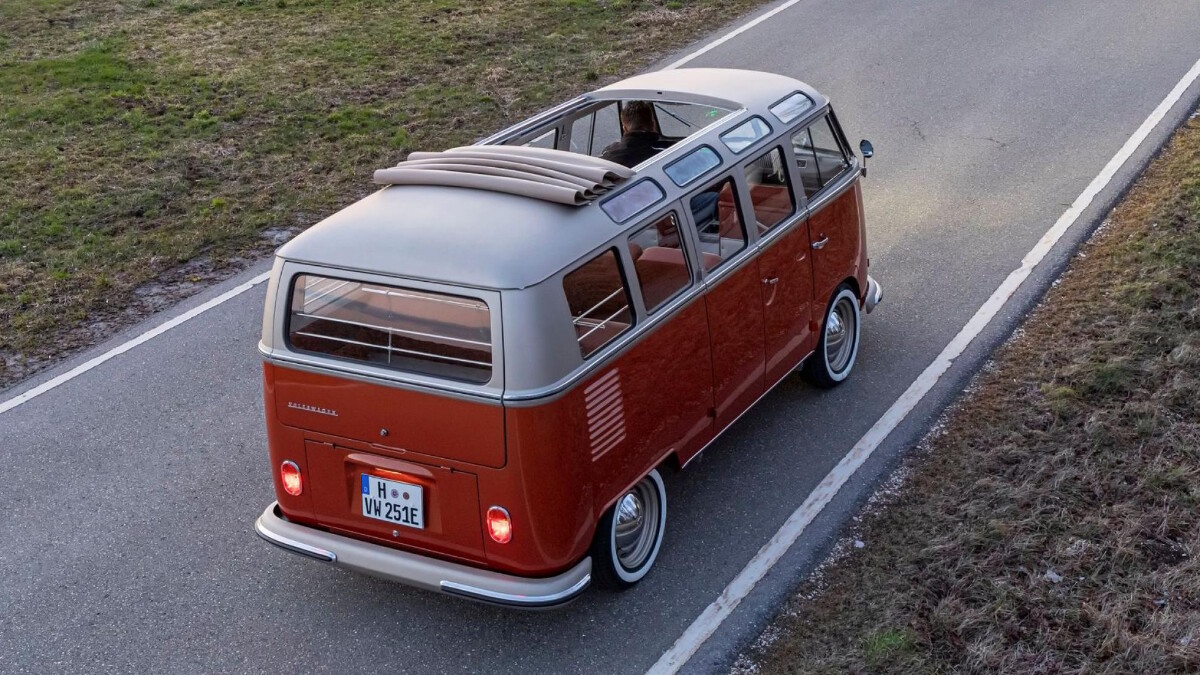 Yes, but it's also a hugely collectible version of the classic Volkswagen 'Type 2' Kombi with many windows, comfy seats, and a large fabric sunroof. This particular Samba was delivered new to the USA in 1966, and spent over half a century happily trundling around California before it was returned to Germany and sensitively transformed into the e-Bulli.
How far can it go on a charge?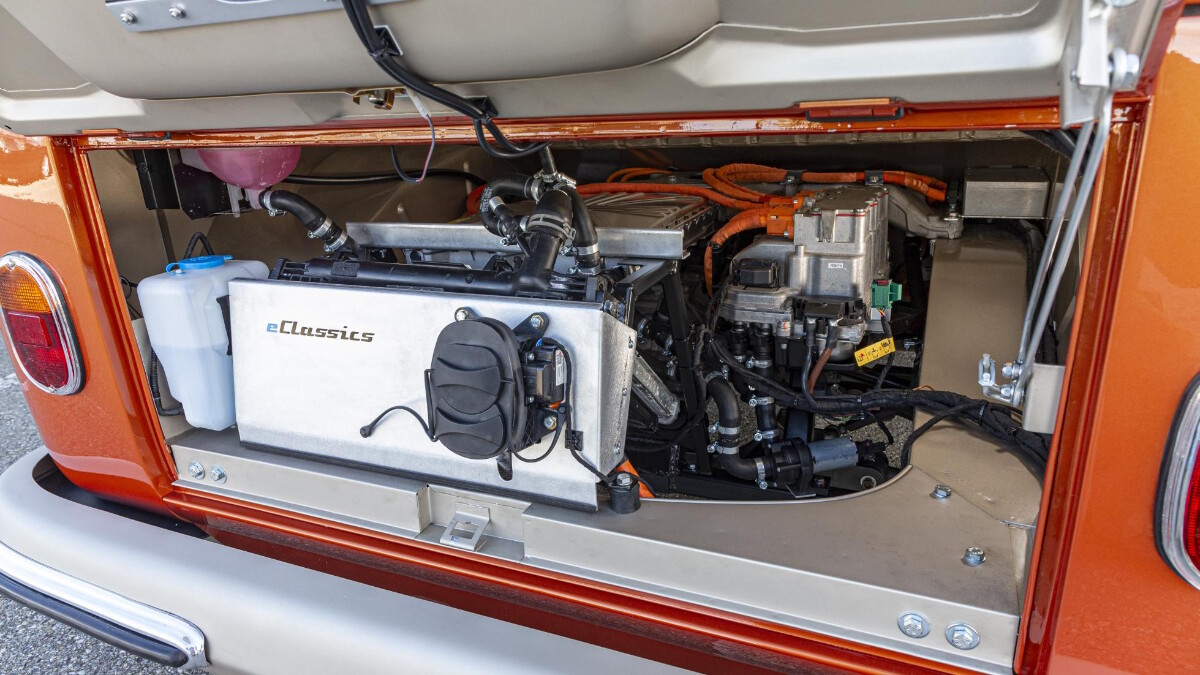 To keep the center of gravity low and the e-Bulli stable at its new 130kph limited top speed, its 45kWh battery pack is mounted under the floor and square between the axles. From a full charge, VW and eClassics say you can expect to travel over 200km before you need to stop. Topping-up to 80% takes just 40 minutes on a 50kW fast charger.
The single e-motor is out back, in the space once occupied by the 43hp four-cylinder boxer. It makes almost twice the power and torque of the original internal combustion engine—82hp and 211Nm—so the e-Bulli ought to have no trouble keeping pace with modern traffic.
Of course, its suspension, brakes, and steering have been modified to better match the new drivetrain and cope with the additional power. The e-Bulli gets new axles, multilink suspension with adjustable shock absorbers and coilover struts, disc brakes, modern wheels and tires, and new rack-and-pinion steering.
But it looks totally original, right?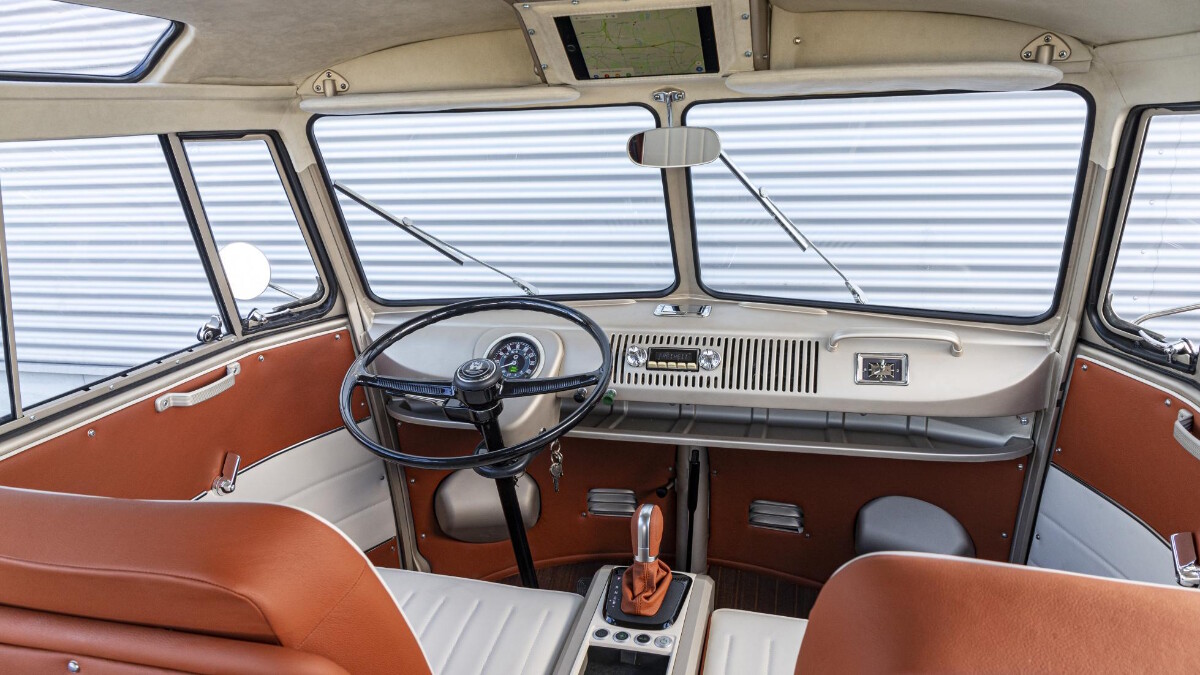 Sure does. Most people will see the e-Bulli and think it's little more than a really cool-looking classic VW Bus. But look closely and you'll spot the differences—the new LED headlights, for example.
Peer inside and it's obvious that this is no normal Samba. The new console between the front seats is home to a modern VW gear lever for shifting between P, R, N, D, and B (for maximum regen). The original dashboard has been left largely as is—a modern hi-fi with Bluetooth/DAB has been sympathetically integrated (its speakers hidden throughout the cabin), and there's a new speedo with a little range display. It's very well done.
The seats are freshly trimmed, while the floor is covered with the same kind of wood used on posh yachts.
Wait, is that an iPad in the roof?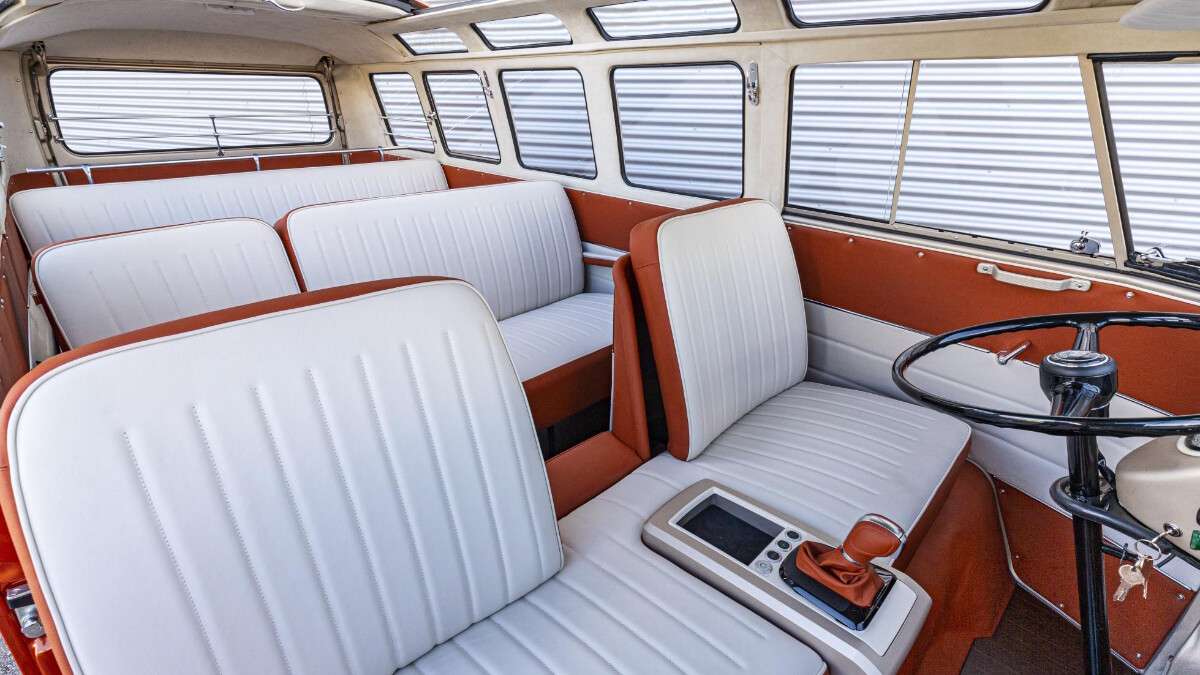 Yep, and other tablets are available. It can do maps, Internet, video—all the things a tablet can usually do. And the e-Bulli is apparently hooked up to VW's 'WeConnect' service that lets you monitor charging and access the trip computer through a smartphone app or PC.
I really, really want one.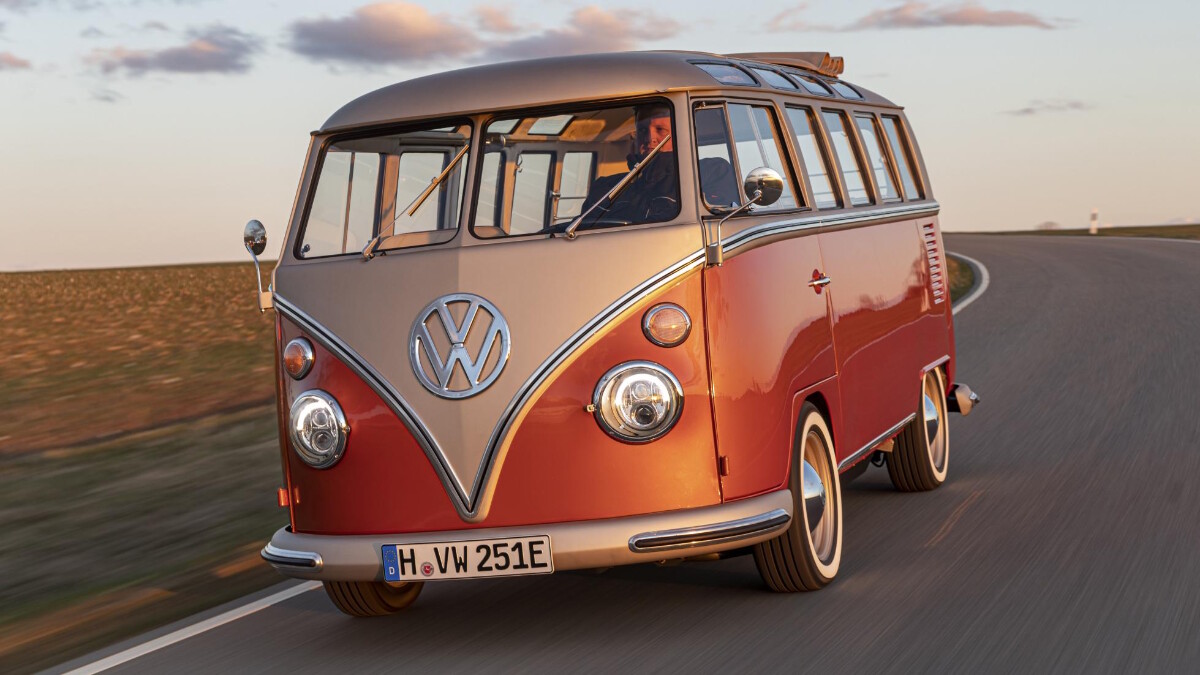 Us, too. Pricey, yes, but beautifully finished and incredibly cool. If you're going to restomod an old VW van, why not do it properly?
Top Gear Philippines is now on Quento! Click here to download the app and enjoy more articles and videos from Top Gear Philippines and your favorite websites.
NOTE: This article first appeared on TopGear.com. Minor edits have been made.