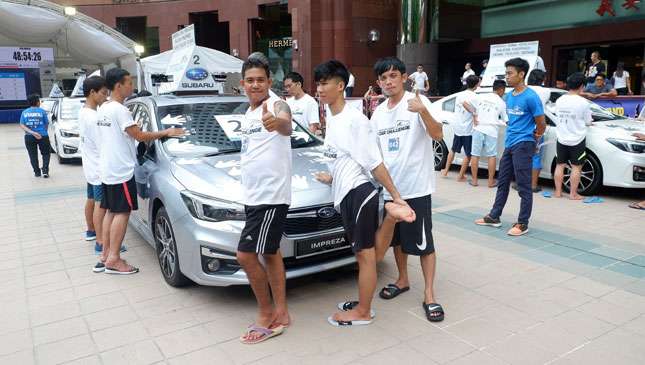 The Subaru Palm Challenge is not for the faint of heart. If you think waiting in line at the LTO is hard, then imagine doing it sans food, water, and toilet breaks. No chairs to sit on, either. Palm Challenge contestants need to push their bodies to the limit, even bearing the brunt of unpredictable weather, in order to succeed.
At this year's Challenge, Filmark Bernante (pictured on the right) finished in third place, lasting an amazing 73 hours and 48 minutes under the unforgiving heat and rain of Singapore to become the last Filipino standing. Along the way, he experienced bouts of hunger, muscle cramps, hallucinations, and all the other ills you'd expect from standing still in one spot for days on end.
This contest, Filmark's best performance to date, marks his fourth attempt at the grand prize of a brand-new car. What was different this year was his intense focus on preparation. He sought the advice of fellow Challenge veterans and researched methods that would give him a competitive edge.
"Physically kasi, nakapaghanda ako. Lagi ako nakakapag jogging at gym so medyo malakas yung upper body ko," he explains.
But the biggest difference, Filmark says, was his emotional training. Inspired by teammate Alex Neblasca's multiple wins as the final Filipino standing, Filmark noticed that Alex was spurred on in large part because his family was present to support him. So this time around, Filmark arrived in Singapore with his loving wife in tow.
Filmark says: "Napakahalaga talaga (yung support ng pamilya). At dahil may Facebook na ngayon at pwede mag video chat, nakikita ko rin yung anak ko habang nasa laban."
What exactly did the couple discuss during those crucial moments? "Karamihan, puro kalokohan," he says with a smile. "Yung mga biruan namin. So siyempre pag narinig mo yung mga biro, nagigising diwa mo na nandoon lang yung asawa mo."
Cherish your loved ones, ladies and gentlemen, because they'll be the ones standing by your side during your toughest trials. Congratulations to Filmark and rest of the Philippine representatives for a job well done. See you next year!