This is the all-new Suzuki Jimny, or 'Jimmy' as every smartphone and laptop auto-correct feature insists on calling it. Good luck Googling one of these if you decide you want one.
'Want one' tends to happen about three seconds after clapping eyes on the Jimny. Cuter than a Jeep Renegade and as sturdy looking as the Mercedes G-Class, it's one of those instantly desirable pieces of design, like whatever Apple's attached a lower-case 'i' to this month.
Jimnys have extremely loyal buyers, but for every one potentially warded off by the new model going 'fashion,' I'd wager it's already won five new fans via social media who's never have had it on their radar before.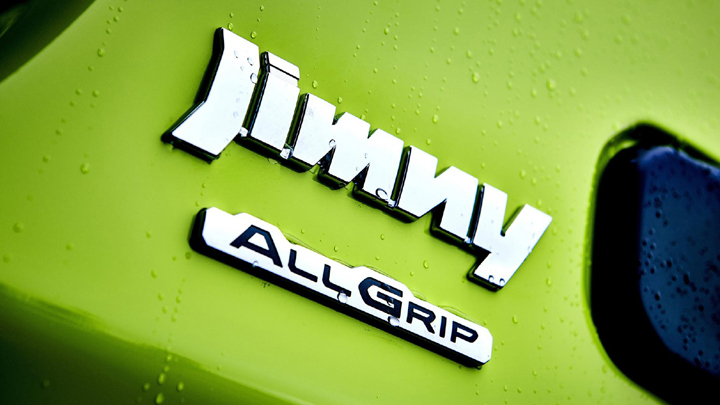 ADVERTISEMENT - CONTINUE READING BELOW ↓
The old Jimny lasted an astonishing 20 years on sale. In those two decades, three things boomed in popularity: SUVs, downsizing, and retro. So the new Jimny, complete with its 1.5-liter gasoline engine and functionally honest design, looks like a masterstroke.
Underneath, the Jimny is still based around a traditional steel, ladder frame chassis, but it's a new, stiffer foundation for 2018, supporting rigid front and rear axles with separate differentials, and a four-cylinder gasoline engine with 100hp and 129Nm, and 200cc more capacity than its predecessor. There is no turbo, no hybrid assistance, and no diesel. Suzuki hasn't yet confirmed how quickly the motor can tow 1,135kg of Jimny from 0-100kph, but if it's under 12 seconds, we'd be impressed, and buy the brave-shifting test driver a pint.
As standard, you get a manual gearbox with five speeds, and a low-range transfer box for 4x4 scrambling. You can spec a four-speed auto, but it's even more sluggish than the manual and fewer than 10% of Jimny-folk will bother. Good.
ADVERTISEMENT - CONTINUE READING BELOW ↓
Recommended Videos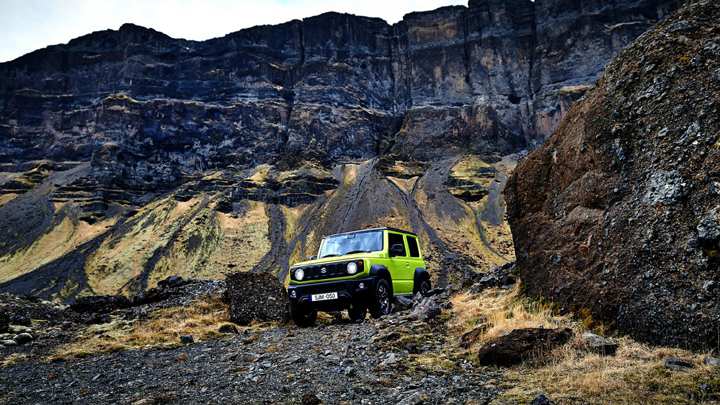 See, the Jimny is supposed to be for the professional outdoors-type. The ones who spend their days in Gore-Tex, zips, and khaki. This isn't some sort of pound-shop G-Wagen to pose on campus or outside pilates class. It's a tool.
ADVERTISEMENT - CONTINUE READING BELOW ↓
This new Jimny is 30mm shorter, 45mm wider and 20mm taller than before, to best balance off-road articulation and cabin space. It's got a bigger trunk, a wipe-down interior and hill-descent control. As standard you get delightfully utilitarian steel wheels, and there's no option to paint those anti-scratch plastic bumpers and wheel arch spats body-color. If that offends you, there are a hundred faceless crossover clones that will complement your life far less intrusively than the Suzuki. You know where to find them. Even Suzuki makes a couple.
But, if you're the sort of person who appreciates a flat-roofed vehicle because it's easier to clean, or you favor cars with a roofing gutter so you're not dripped on as you load the tailgate, then you might like the Jimny. You might like it a lot.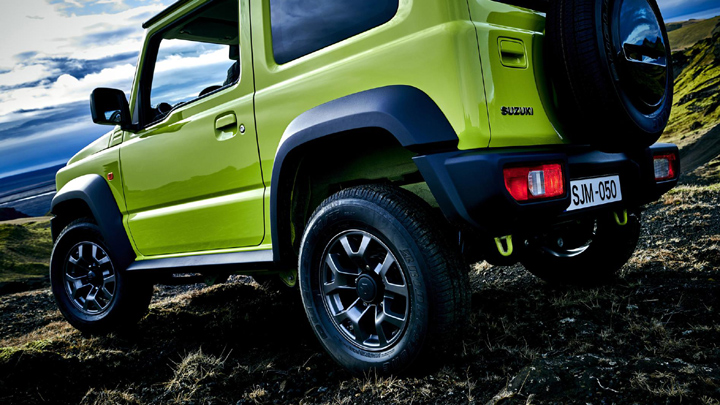 ADVERTISEMENT - CONTINUE READING BELOW ↓
What is it like on the road?                        
Some cars belie their size, mass or stance and drive nothing like how you'd expect them to upon first glance. The Suzuki Jimny, I promise you, is not one of those cars. What it is, is a 1.7-meter tall telephone box with only two-and-a-quarter meters between its wheels.
Wheels shod in chunky Firestone all-season tires, connected to recirculating ball steering geared to not relieve their driver of their thumbs on an undulating track.
Yep, you need to acclimatize to the Jimny's (mis)behavior. The steering is arm-twirlingly slow and vague in the extreme, but this is fine. The car is small and doesn't weigh much over 1.1 tons even in fully optioned form, so steering loads are never unduly lofty, and it's unlikely you'll be leaning hard on the front end, testing its reserves of grip.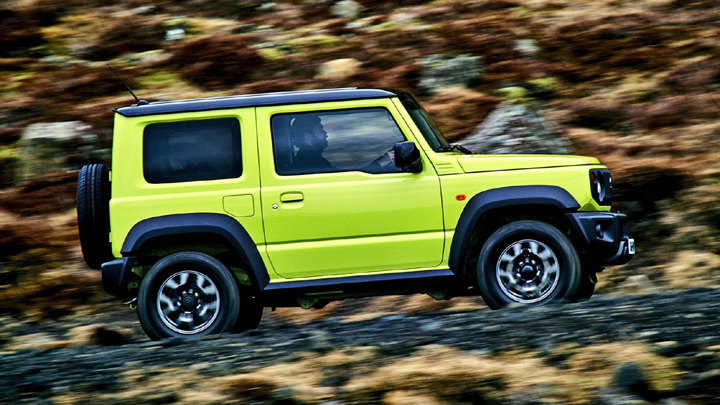 ADVERTISEMENT - CONTINUE READING BELOW ↓
You've no need to, because Top Gear has boldly gone to discover what happens when you do, and the result is comical body roll, but not the premature surrender into safety understeer you might fear. There's actually a load more front-end grip to cling on for than you'd expect, but you'll be pushing through piercing tire squeal and a paralytic sway to find it. Best take it easier.
The engine should help with that approach. This is a slow car. It doesn't get off the line quickly, it doesn't punch through the gears swiftly, and above 110kph, acceleration is by appointment only.
But, again, there are some pleasant surprises to be had once you've accepted this. First off, Suzuki's done a good job of subtly curving the flat-looking windscreen so wind noise isn't a disaster. The boxy mirrors create more bluster. And the gearshift is light and mechanically pleasant.
ADVERTISEMENT - CONTINUE READING BELOW ↓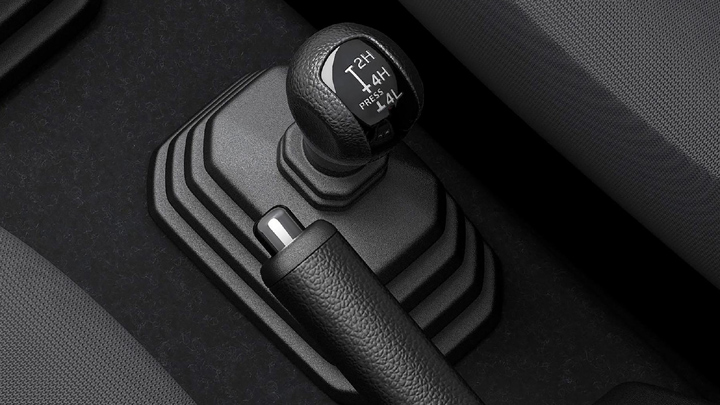 The change is lengthy, but the action itself is neat and satisfying. Just as well, as the gearing is short: 112kph equals 3,600rpm in fifth gear, and there are only five forward speeds. The 1.5-liter engine revs gruffly and gets into a shouting match with the transmission whine as the revs build. On the road, the Jimny's happiest in two-wheel-drive mode, but you can drop the lever and engage all four tires at up to 100kph.
ADVERTISEMENT - CONTINUE READING BELOW ↓
The low-range gearbox will haul you over rutted tracks and up 38-degree slopes effortlessly if you go puddle-hopping. Our off-road test time was limited to a course so tame a Swift Sport could've completed it with its handbrake on, but the Jimny's unflustered 'give me a real challenge' enthusiasm showed big potential.
ADVERTISEMENT - CONTINUE READING BELOW ↓
The traction control disengages with a single button prod, not a complex hold-then-count-to-forty-seven riddle, the hill-hold and descent modes did the trick, and it's easy to spot on the trail too, because it's boxier than an 8-bit Rubik's cube and the visibility is excellent. Just watch out for that overhanging spare wheel out back.
It'd tricky to be definitive on the car's ride yet, because it's only been sampled in Germany, where the roads are paved with silk. Where there were rough patches, the Jimny isolated the bumps skillfully without using its structure as a giant tuning fork. Body control is sloppy though. Happily, it stops neatly enough when commanded.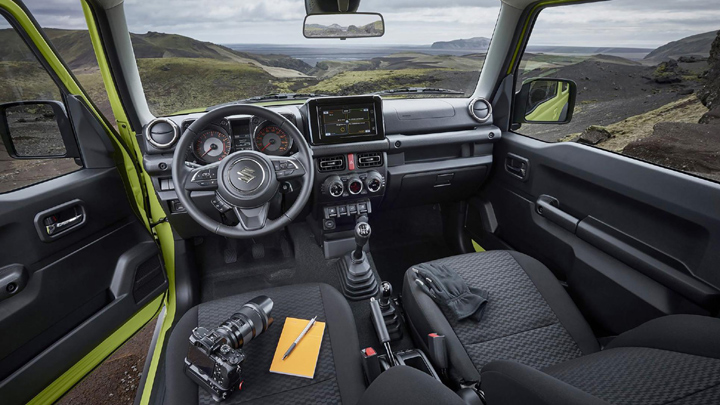 ADVERTISEMENT - CONTINUE READING BELOW ↓
The Jimny's theme of majoring in no-nonsense utilitarian hardiness continues inside. You eye simple dials and a monochrome multi-function computer, but the clock faces are mounted in cool oblong pods with exposed bolt heads. Normally that'd constitute shoddy workmanship, but Suzuki's made them an industrial feature.
So, we don't mind that the dash is a cliff face of hard plastic. It feels solid, not brittle, and you could hang something a lot heavier than the Saturday takeaway from the passenger-side Jesus handle. The touchscreen media set-up is from the Swift and Vitara. So are the climate control knobs.
You might find you're short of stowage in  front. The glove compartment is small, the door pockets are practically 2D and would be filled by a postcard, there are two small cupholders between the seats, and no sunglasses cubby in the roof. Nothing's been allowed to eat into passenger space, which rather depends on what you've done with the windows. Glass raised, there's a shortage of elbow room. Drop the windows via their centrally mounted switches and with an elbow perched atop the windowsill, motoring has rarely felt more cheerful.
ADVERTISEMENT - CONTINUE READING BELOW ↓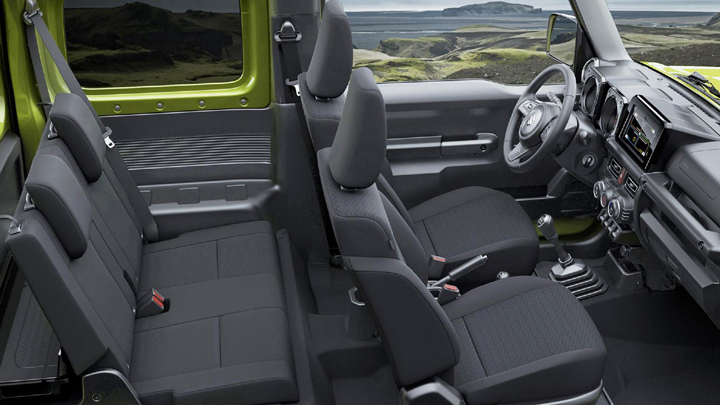 The manually adjustable seats are comfortable, but lack ultimate off-road support, and face a steering wheel which only adjusts for rake, not reach. This six-foot driver felt comfortable enough given time to acclimatize, but if I'd hopped straight in from a Jeep Renegade or Mazda CX-3 (as you can tell, picking a dead-on Jimny rival is tricky), then the Suzuki would've felt archaically awkward. Some reach adjustment at facelift time please, Suzuki.
ADVERTISEMENT - CONTINUE READING BELOW ↓
The Jimny can seat four adults. It can also offer 377 liters of luggage space. But it cannot do these things at the same time. In fact, with the rear seat backs raised, the trunk would struggle to swallow a MacBook Air. Swing the gas strut-assisted, hinged tailgate open and you find that, beyond the 382mm wider loading bay, the backrests butt right up to the back window.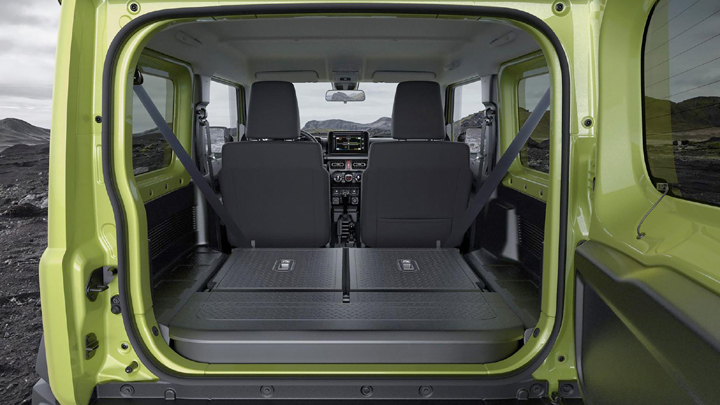 ADVERTISEMENT - CONTINUE READING BELOW ↓
The two rear seats are pinched to the middle of the cabin for greater legroom and a superior view forward, and they are incredibly roomy, with enough headroom for proper adults and much more elbow room to be smug about. You can also fold the front seats near-flat and have them join the rear seats as a makeshift bed.
Tug a simple fabric loop and they spring flat into the floor, revealing their plastic plate loading surface that ought to be easy to wipe clean. That's your lot, gimmick-wise. There's not going to be a five-door, or a long-wheelbase.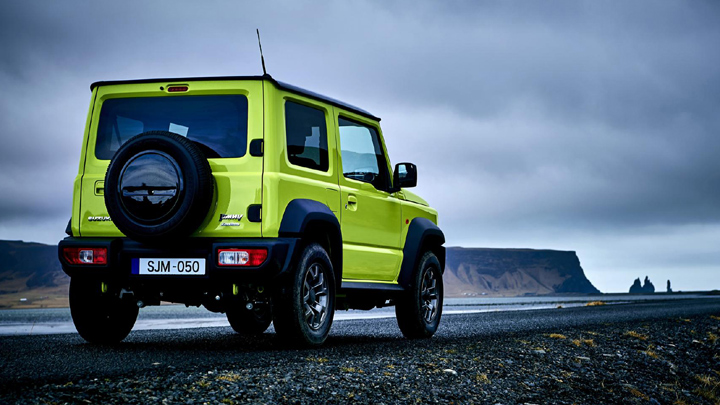 ADVERTISEMENT - CONTINUE READING BELOW ↓
Verdict
The new Suzuki Jimny is a car of as many surprises as it is predictability. No, it's not a sophisticated crossover dressed up in waders, but its authenticity as an off-roader hasn't unduly compromised it on the road. Certainly, it's got more rarefied manners than any Jimny before now, and its hard-fought momentum and deliberate controls make it rollicking good fun to tack along in.
Hopefully, Suzuki can get the pricing right. Hopefully, an audience will be drawn in by the tractor-beam of its styling. Hopefully, they'll come for the oddity and not be dismayed by the Jimny's hardy reality and brutalist cabin.
In the end, you just can't separate the sheer joy of the way this rascal looks, and the adorable character it plays as it skips along. The way it drives and that irrepressible cute-meets-tough joy is what will make it ultimately a little cracker to live with. It's not the most complete 4x4 you can buy, but it's a plucky underdog.
ADVERTISEMENT - CONTINUE READING BELOW ↓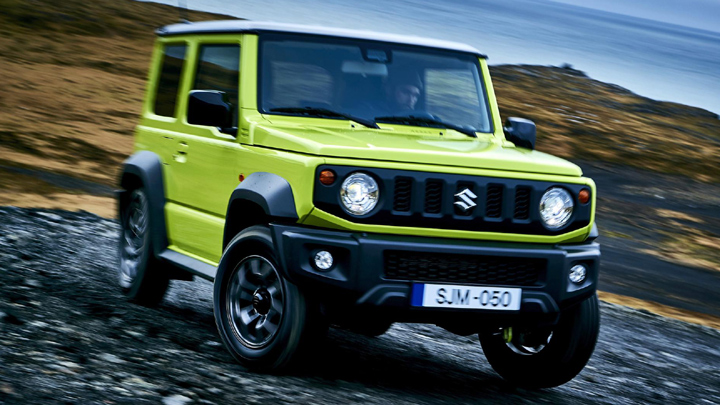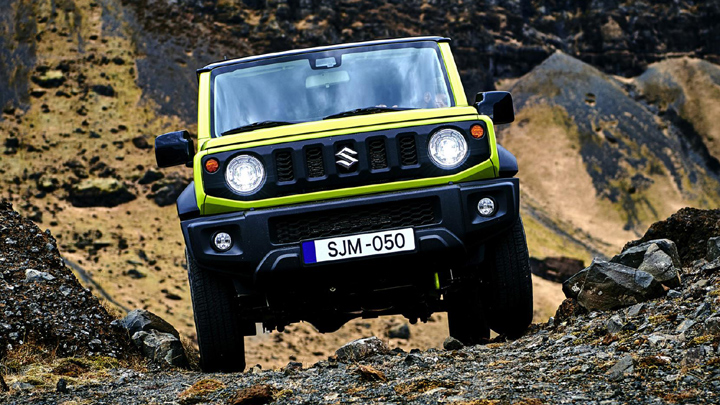 ADVERTISEMENT - CONTINUE READING BELOW ↓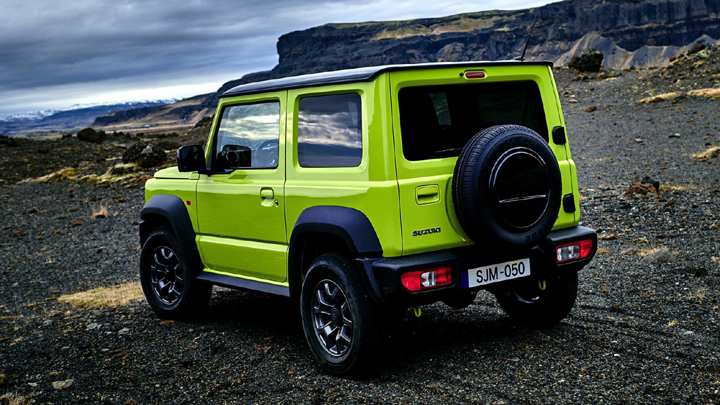 NOTE: This article first appeared on TopGear.com. Minor edits have been made.