Sometimes, you just need an escape from the hustle and bustle of the city. And what better way to escape by immersing yourself in a luxurious dining experience? Enter Antonio's in Tagaytay.
The opulent restaurant is nestled away in the heart of Tagaytay and possesses an old-school hacienda vibe you won't often find in the city. So if you want to feel like and haciendero for a day, this is the place to go. 
As for the food, well, don't take it from us. As the website puts it: 
"Starting with the very best ingredients, we make dishes that inspire a sense of satisfaction and awe. While what is served on the plate should be the focus, we know that the experience is more than just the cuisine. From the crafted interiors and vistas to warm, gracious service, every detail, no matter how minute, is essential."
We recently visited this restaurant during a media drive event hosted by Rolls-Royce (talk about an appropriate car). The first thing to note about Antonio's is that it really is hidden. From the main road, you need to travel a fair way along a narrow lane before you reach the restaurant. In our bulky Rolls, navigating the way was a little bit difficult, but manageable. What you want to avoid here is bringing a car with a very low ground clearance—the lane has quite a few dirt patches and potholes. The drive from Metro Manila takes roughly two hours depending on traffic. 
Continue reading below ↓
Recommended Videos
Once you reach Antonio's, the luxurious experience begins. The main gate gives way to a spacious, grassy area for parking (of which there is plenty). If you have a driver, you can even be dropped off along the stairs leading towards the big wooden main door. Inside, you're greeted by a mix of traditional and modern architecture, brought together by lush greenery just outside the open windows.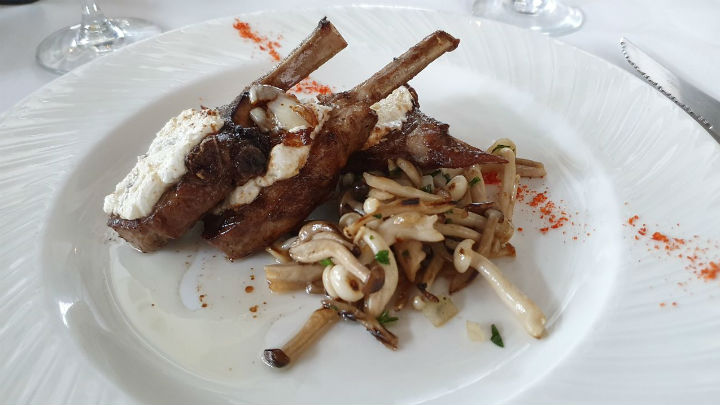 Our main course was a lamb dish paired with risotto. Though the prep time takes a little longer than normal, the wait is worth it as the dishes are prepared to perfection. The warm lamb was the perfect pairing to the restaurant's cool open-air ambiance. By the time you cleanse your pallet with the sorbet, any thoughts of traffic and work stress are long gone. 
Each meal comes with organic green salad, the soup of the day, sorbet, a choice of dessert, and a cup of tea or coffee. The caveat is that the haciendero experience comes at a cost: Zomato estimates the cost at P4,500 for two people. Hey, luxury doesn't come cheap, right?