Bugbog sarado. I'm not going to make any excuses, I arrived at the event with the intention of driving the crap out of this new model called the Ford Ranger Raptor. On paper it has all the ingredients of a proper off-road vehicle, with an emphasis on its "Baja"-suited capabilities. Now in my book that word means many things. Images of a high-speed, full-size, high-horsepower American truck flying across the deserts between California and Mexico come to mind.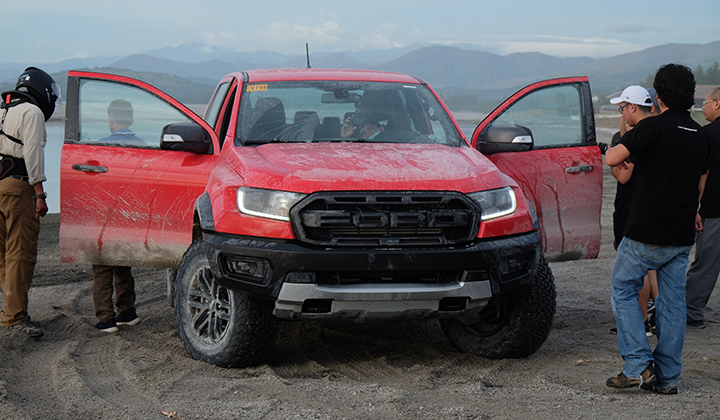 So here we are in Liwliwa, Zamabales, at the renowned lahar beds where Ford Philippines has lent us the 2019 Ranger Raptor to drive. Now "drive" is really a subjective word as the event was more a thrash fest than anything else. The three-fold test course laid out for us
Continue reading below ↓
Recommended Videos
started with a tight forest section, followed by a banked dune directly leading into a sharp jump (that looked more like an angled wall), and then finally into the long, flat river beds for a high-speed run.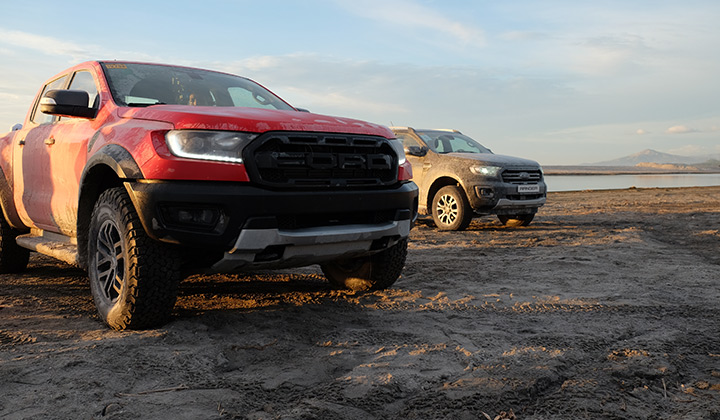 But let's talk about the 2019 Ford Ranger Raptor a bit here. It is not your dolled-up, accessorized, run-of-the-mill pickup truck. This little beast is far more than that. It's built more like a rally car than a typical rock crawler.  Underneath its  skin is a trick suspension system. This baby is fitted with Fox Racing coilovers. But what really impresses me most is the rear suspension that does away with the leaf spring setup found on the standard Ranger. Instead it features the aforementioned coilovers, long trailing arms, and a Watt's linkage regularly found on rally cars with solid rear axles. With its wide stance, meaty tires, and badass looks, this truck sure has presence.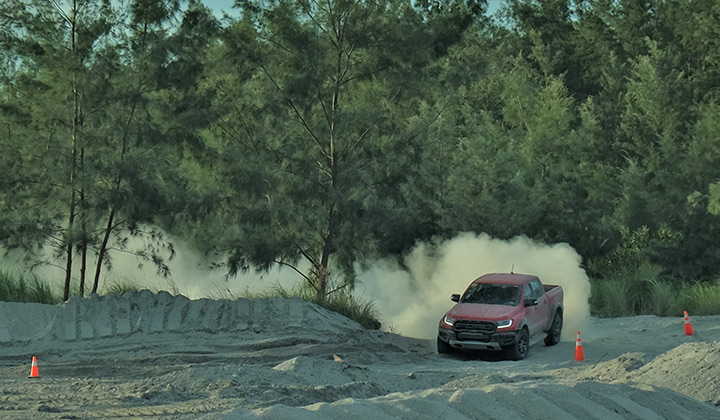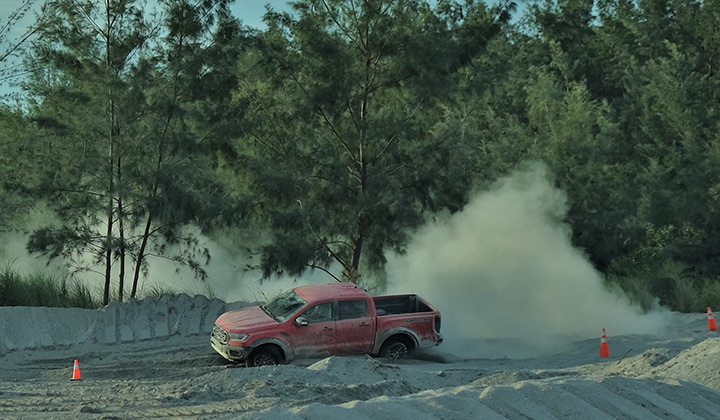 Once at the entry of the forest, the driving instructor told us to go for it! Music to my ears! The forest section is a tight, washboard-smooth, tree-lined road that can fit one vehicle. It has foot-high berms to bounce off. The Ranger Raptor soaked up the road like ballerina gliding effortlessly across the dance floor. No fuss, no frills. Tight turns were a bit tricky due to its long wheelbase, but traction was very good.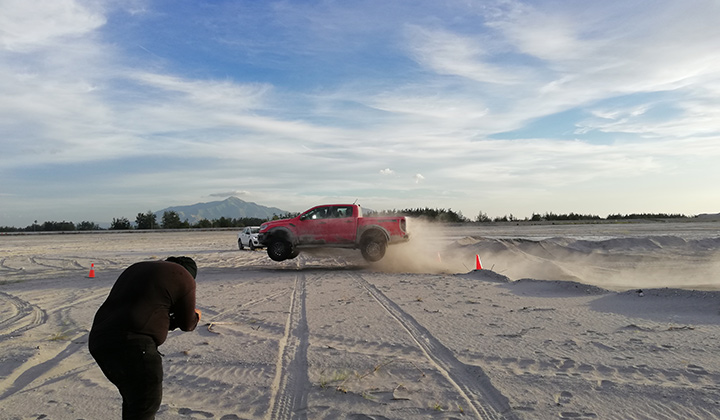 Once out of the forest and into the banked dunes to test its stability, there's not much to write home about, but past this was a short straight that led into the angled wall jump. By this time the instructor is yelling "floor it, floor it!"What!? Really? OK! I mash the throttle and hit the jump with so much force the truck lunges into the air and hangs there for what seemed like eternity but in reality was no more than 3 seconds. I'm expecting to hit the landing hard, but the suspension soaks it all up and amazingly the truck is still in full control. In fact, the truck was airborne so long I completely missed the turn upon landing.
By then I was thinking that the Ranger Raptor is probably damaged already, but we're on the flat river bed where I'm supposed to go as fast as possible over the unforgiving terrain. Crashing and jumping flat-out for 2 kilometers, the truck stayed poised and controlled.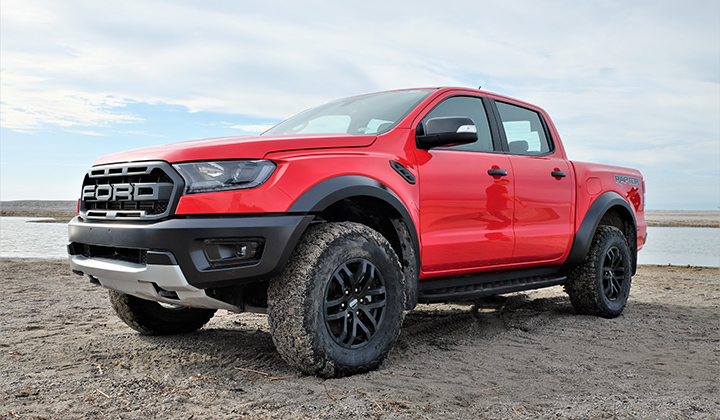 Not once did I feel I was in over my head or out of control. A quick U-turn under the bridge and we're flat-out again over the dunes and heading back into the forest section. I am thoroughly impressed with its suspension. While admittedly we were  bottoming out in certain sections, the whole truck felt solid all throughout. The 2019 Ford Ranger Raptor definitely lives up to its name. Good luck finding anything that comes remotely close to it straight out of the showroom floor, at least for now.
Here's a list of 5 things I learned about driving over a lahar bed with the 2019 Ford Ranger Raptor:
Lahar is soft, fine sand much like concrete powder. Whenever stopping, let the dust settle before opening the door. An effecient air-conditioning system is a must if you plan on playing here. Bring extra air filters, too.
The Ranger Raptor utilizes an on-the-fly 4wd system which means you can switch between 2H, 4H and 4L with a flick of a switch.
The Ranger Raptor's traction control is very intrusive and prevented me from attaining higher speeds in the flat river bed section. I would've wanted this turned off completely but I can understand Ford's reluctance here for safety reasons.
The Ranger Raptor's Fox Racing suspension is IMPRESSIVE. Not once did the rearend get kicked up and lose composure. The balance of the truck was impeccable throughout the course. On top of that, the torquey motor provided plenty of grunt and you'd be hard pressed to think it was a diesel engine. And that 10 speed transmission was just sublime.
 I walked away thoroughly impressed with this vehicle's capabilities. Ford Philippines sure hit the nail on the head with this one and the competition will be hard pressed to beat it. Now if only they built one with a 300+hp Ecoboost motor. That would surely be even more exciting. Right, guys?