Formula 1 strategy is a hot topic right now: Not least because at the 2022 French GP, Ferrari appeared to get it badly wrong as Carlos Sainz was called in too late for fresh tires to improve his position, and at the 2022 Hungarian GP, the team messed up again, pitting Charles Leclerc from the lead and putting him on the wrong tire.
This ultimately meant a P6 finish instead of a crucial win, and is just the latest example of the Scuderia dropping points in a fight for this season's championship that is quickly slipping away.
Over at Red Bull, race execution rarely goes wrong. The team has won nine of 13 grands prix so far in 2022, with Max Verstappen's eight victories putting him 80 points ahead of Leclerc in the drivers' standings and Red Bull 97 points clear of Ferrari in the constructors'.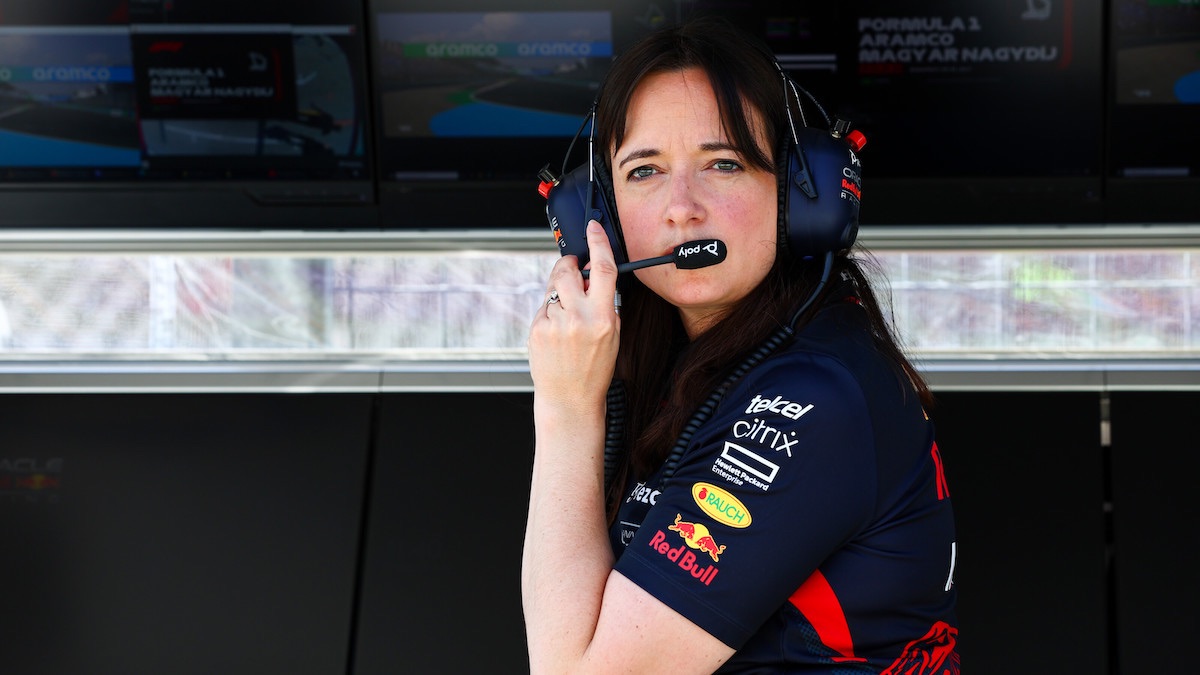 Continue reading below ↓
Recommended Videos
Hannah Schmitz is the team's principal strategy engineer, with duties on the pit wall alternating each race with head of race strategy Will Courtenay. So when Max and Checo get the call to 'box,' she's either making the decision on the pit wall or feeding live information to the team from its operations room in Milton Keynes.
Does she have sympathy for rivals when they get it wrong? "Definitely," Schmitz says. "I think it's very easy for people to comment on strategy. People don't understand how much is going on behind the scenes, and how it's not always as clear-cut as it might appear."
OTHER FORMULA 1 STORIES YOU MIGHT HAVE MISSED:
Sebastian Vettel will be retiring from Formula 1 at the end of this season
Lewis, Verstappen, and other F1 drivers react to Sebastian Vettel's retirement news
She isn't kidding. Planning for the Hungarian GP began three weeks ago, she explains, partly because the race at the Hungaroring is back-to-back with the grand prix at Circuit Paul Ricard, and there simply wouldn't be time to get the prep done otherwise.
"We ran billions of simulations—that's not an exaggeration," she continues. "And really, that's looking at all the historic data, so generally, what's happened over the last three years in Hungary. And then we also look at everything that's happened so far this season, and take into account what happened in France."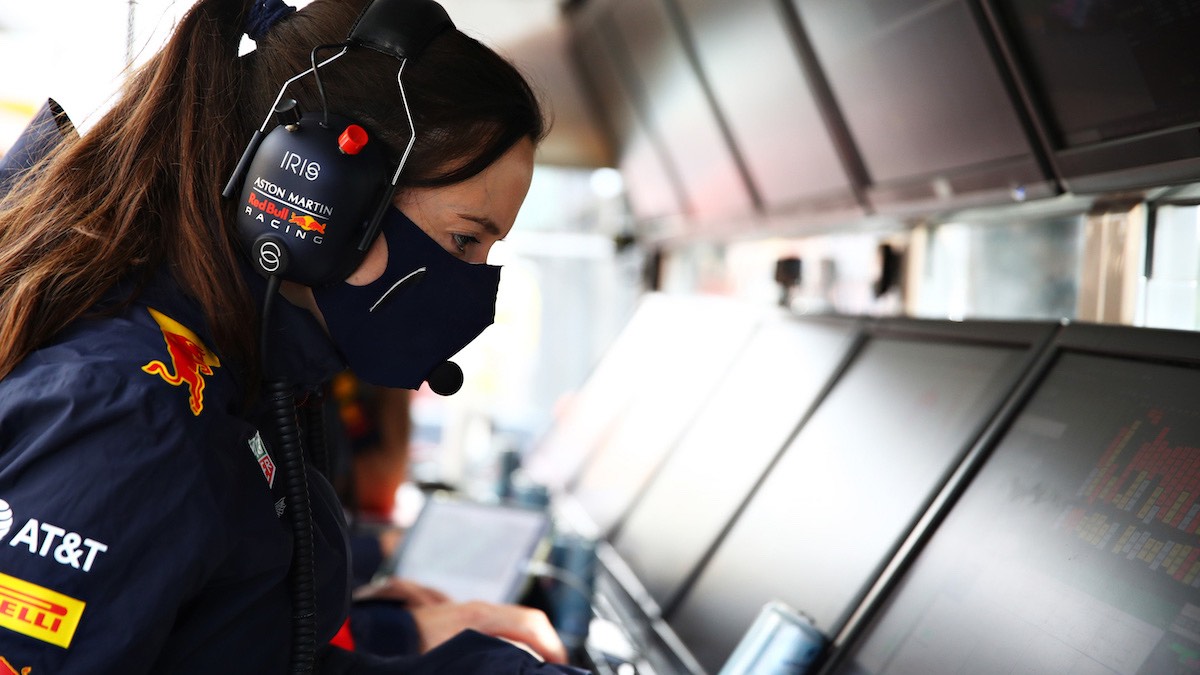 The strategists' ideas were then put to the engineers on Tuesday so they could decide on which tires to run and new parts to test in Friday's practice sessions. After that, they go through the whole process again, building the latest data in their models. And then again after qualifying.
"For the race, we've also got sensitivities as well, so if anything is different to what we expect, we know what that might mean for a race strategy before that happens," Schmitz adds. "Obviously it's never black and white, either, so it's always about reacting to the situation in the race, too."
In other words, if you haven't already thought about how you'd react to a safety car at any point in the race, it's already too late: "You should never be making a decision in 10 seconds—you should already have a plan." And if it falls during a "gray area," it's her call to make: "Obviously, Christian [Horner, team principal] can overrule you, but he doesn't tend to do that."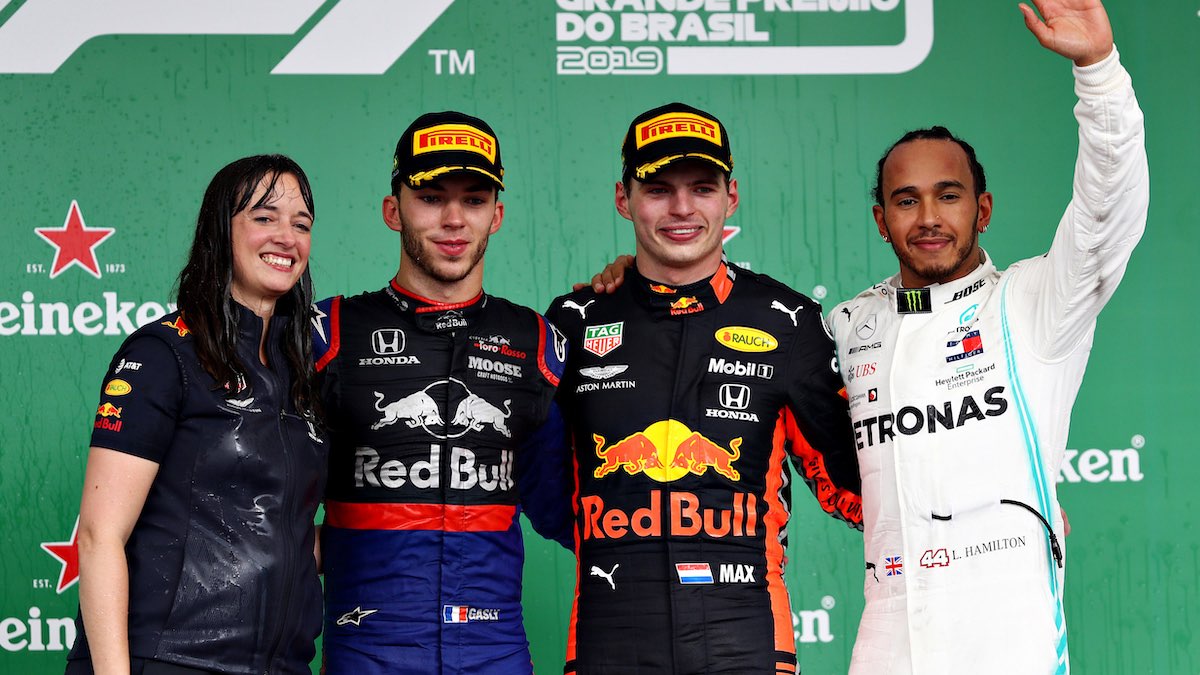 Remember the Brazilian Grand Prix in 2019? That was Schmitz's finest hour. Verstappen started from pole, but had to wrestle his way back into the lead after falling behind the Mercedes of Lewis Hamilton after his first pit stop. Then when the safety car was called out with 17 laps to go, Red Bull made the bold decision to give up the race lead to pit for fresh tires as Hamilton stayed out on old rubber. "When it came out, I said, 'I think we should pit. Let's pit,'" recalls Schmitz.
MORE RED BULL RACING STORIES:
The Red Bull RB17 will be a 1,100hp hybrid hypercar by the F1 team
Sergio Perez will be racing for Red Bull until 2024
The team was skeptical, but they needn't have worried. Pitting proved to be a masterstroke as Verstappen swept ahead again at the restart, deservedly taking the checkered flag at the end of a breathless grand prix. And as the architect of the win, Schmitz was sent up to receive the trophy on behalf of the team. Her career highlight so far? "Definitely," she says with a grin. "To be on the podium...that's your chance to get the recognition."
And just how intense is the pressure when every decision you make is being watched by millions of passionate fans around the world? "Yes, you're right. It is a very high-pressure environment," she agrees. "But it's definitely the part of the job I love the most. I think with the high pressure comes a sense of adrenaline and focus in the race. That's something you don't really experience at any other point in life. I really love that.
"And I think the fact that your decisions can change the outcome of a race is also what makes it so exciting and interesting."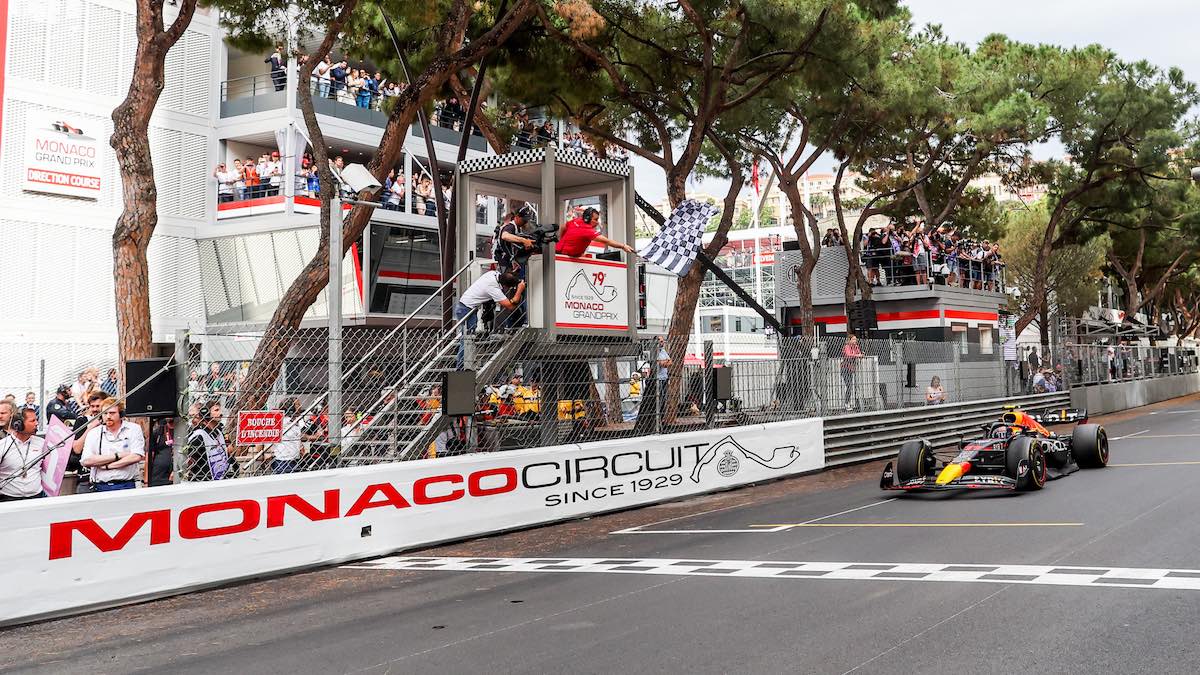 Races like Monaco, for example, which Schmitz confirms is the toughest grand prix of the lot from a strategist's point of view: "It's always the one that Will and I never want to do! Basically, it's the hardest race, but it's also not like strategy anywhere else. It's very difficult because it is often only a one-stop."
This year, it was Schmitz on the pit wall in Monte Carlo, but the usual strategy plan was blown out of the water by heavy rain before lights out. Red Bull started third and fourth after Ferrari locked out the front row, but clearer thinking on the pit wall as the track dried up saw Sergio Perez snatch the win as Verstappen jumped ahead of main rival and polesitter Leclerc.
"The fact that it was wet made it quite interesting, because we could bring in some strategy. So actually it was really exciting Monaco this year. I'm really glad that I did it!"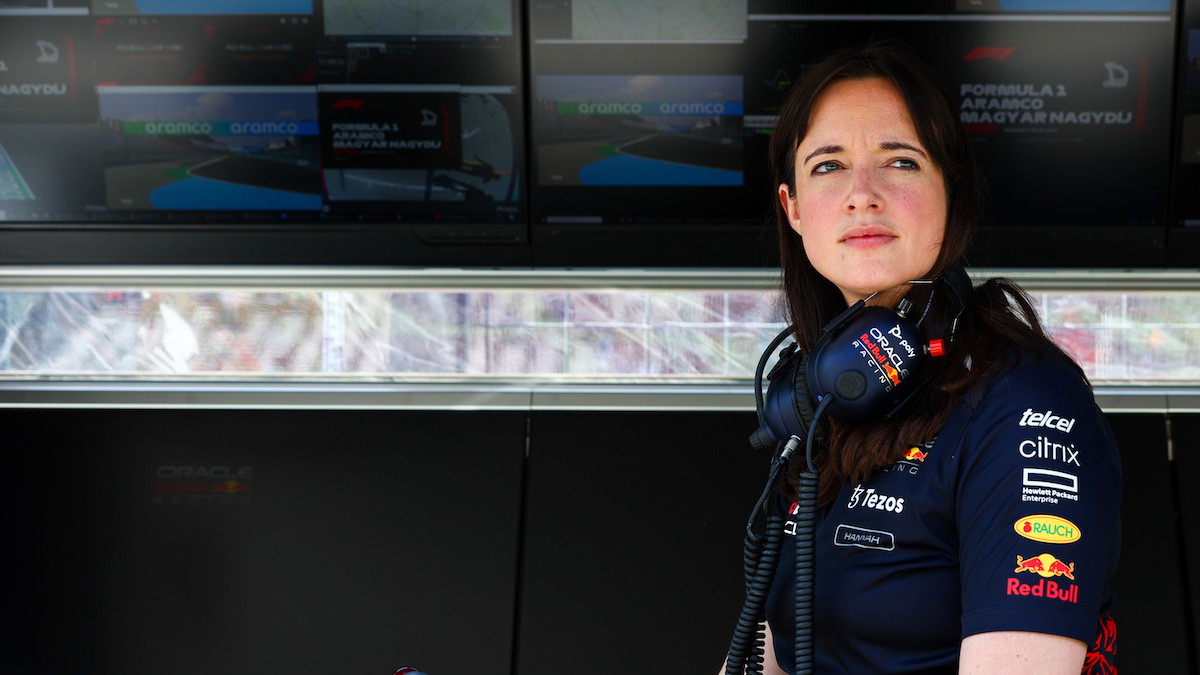 Hungary this weekend is the last race before the summer break, giving everyone involved the chance to unwind and spend time with family before the circus resumes at the end of August in Belgium. It's often called 'silly season' as rumors of drivers switching teams begin to swirl.
Does the same apply to strategists? "I do sometimes get contacted," Schmitz admits. "But I'm very happy at Red Bull." Their gain is everyone else's loss.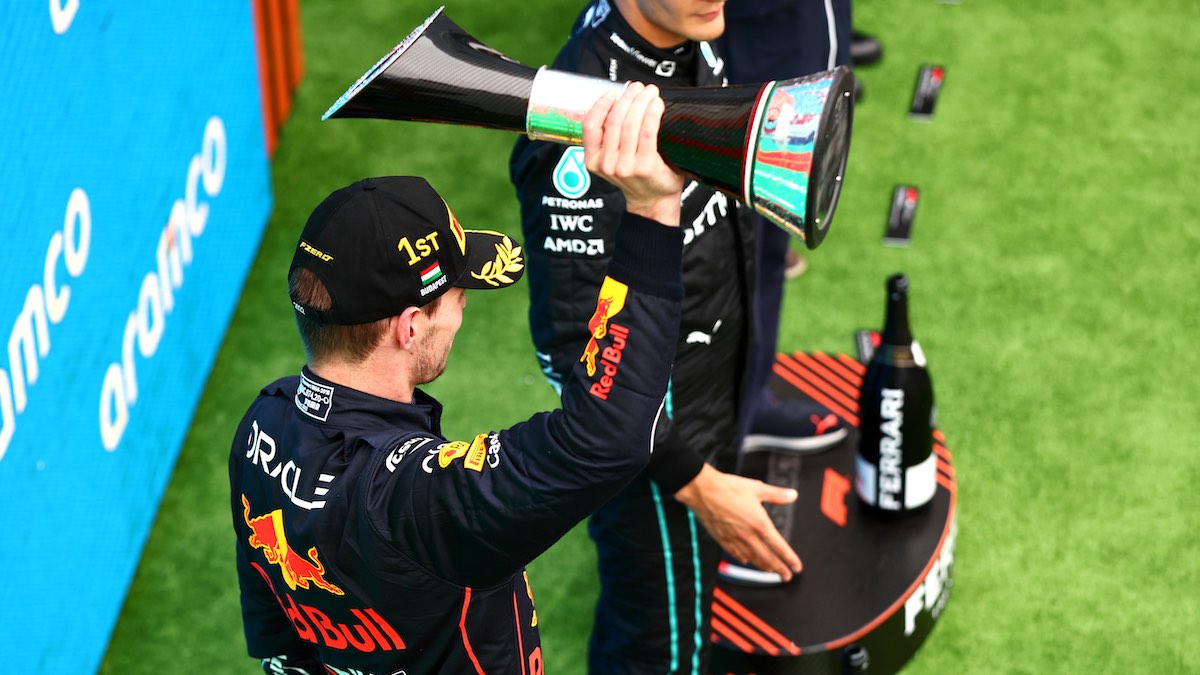 NOTE: This article first appeared on TopGear.com. Minor edits have been made.
Top Gear Philippines is now on Quento! Click here to download the app and enjoy more articles and videos from Top Gear Philippines and your favorite websites.