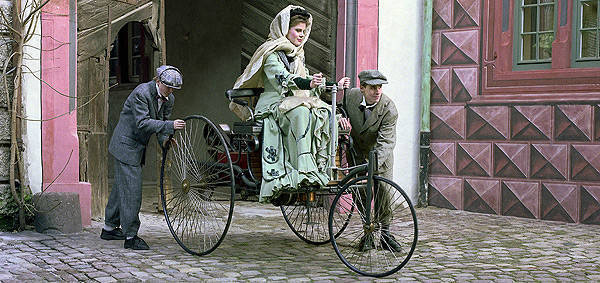 Karl Benz is widely acknowledged as the father of the automobile--even if his contemporaries and compatriots Gottlieb Daimler and Wilhelm Maybach were also working on similar designs--because he was the first to have his work patented. Like the saying that behind every successful man is a woman, the woman behind Karl Benz's success in Bertha Ringer, who was instrumental in Karl's successes several times.
In 1871, when Karl was having problems with August Ritter, his partner in his then-fledgling company, Karl's then-fiance, Bertha, bought Ritter out of the company and went into business with Karl. This allowed Karl to secure several patents for the design of his engine and, later on, his car.
In 1872, Bertha married Karl, and in the 14 years that Karl was working on what would be his patent motor car, the couple had four children: Eugen (born in 1873), Richard (1874), Clara (1877), Thilde (1882), and Ellen (born in 1890 after the first car had been invented).
In January 1886, Karl had secured the patent for the world's first motor car. Success, though, still eluded him even after he subsequently modified the car to improve it, leaving him to doubt his car's future. Bertha, however believed in it. Knowing that it was only driven for short distances, Bertha wanted to drum up interest in the car by driving it between the cities of Mannheim and Pforzheim without Karl's knowledge, ostensibly to visit her mother.
Accompanied by their sons Eugen and Richard, Bertha set off on a 106km road trip on August 5, 1888, and along the way established several 'firsts' with what became the world's first road trip.
ADVERTISEMENT - CONTINUE READING BELOW ↓
In the town of Wiesloch, she stopped at a pharmacy to buy ligroin, which was how gasoline was known at the time, making it the world's first gas station. In Bruchsal, a blacksmith was required to repair the drive chain. In Bauschlott, a shoe smith fitted new leather to the brake shoes and a telegram was sent to Karl informing him of their adventure and progress.
Bertha also became one of the world's first car mechanics. At regular intervals, she had to unblock the fuel line using a hat pin. She also sacrificed one of her stocking garters to insulate the ignition. In the evening of the very same day she embarked on the road trip with her sons, they arrived safe and sound in Pforzheim, with Karl receiving a second telegram informing him of the trip's success. Three days later, the trio drove safely back to Mannheim.
So, while Karl may be enjoying the fame for his car's success, much of it wouldn't have been possible without the help of his wife Bertha, the grandmother of motoring.
ADVERTISEMENT - CONTINUE READING BELOW ↓
Recommended Videos