Great Wall Motor is a brand with a short but storied history locally, having entered in the 2000s and undergoing several changes in distributorship before quietly fading away a few years ago. How many changes depends on who you ask and whether you consider a change of distributorship to occur with a simple change of name or a change of ownership. Either way, the brand never saw much success, save for a brief flurry of popularity for its subcompact crossover, the Coolbear. But despite boasting German technology and some cool designs, the brand never saw much success.
OTHER STORIES YOU MIGHT HAVE MISSED:
Reminder: Rail services to be suspended during Holy Week
Bill to make car registration once every three years filed in congress
Which is a shame, as Great Wall is one of the larger vehicle manufacturers in China, and has grown from a small player into an international manufacturer with over two million unit sales a year over six sub-brands, with the best selling pickup truck in China and one of the most successful EV lineups, as well, with over a hundred thousand sales for the Ora brand—yes, the one that makes the 'Cat'-themed cars.
But with their aggressive international push, Great Wall Motor itself is now looking at entering the Philippines in an official capacity. No longer with cars imported and sold by third parties, but with an official distributor/partner in the form of Luxuriant Automotive Group and an ambitious business plan. But does it finally have a product mix that will click with local buyers?
In a short ceremony at The Bellevue Manila, Great Wall executives talked about their international plans and ambitions. With sales in over a hundred countries, and research and development centers and production facilities in several key markets, including Thailand, Germany and the United States, the brand is looking to go hard into electrification. Its goal is to achieve carbon neutrality by 2045, and it's investing over 100 billion Chinese yuan in this effort, with a fifth of that going into hybrid and electric technologies.
As the third largest EV maker in China, Great Wall is already ahead of the game. But for our market, the company will be focusing first on hybrids and diesels, in the form of the Haval and GWM brands, with four products to be launched within the year.

After the ceremony, media attendees were whisked away to the Batangas Racing Circuit to sample the company's products: The Haval Jolion, the Haval H6, and the GWM Cannon.
First, and probably most importantly, given our market's tastes, the Cannon. This is the best-selling pickup in China, and it's not hard to see why. It is easy to drive, with light steering and good ergonomics, and the ride quality is superb for a pickup. And over a short off-road course, it proves unflappably capable.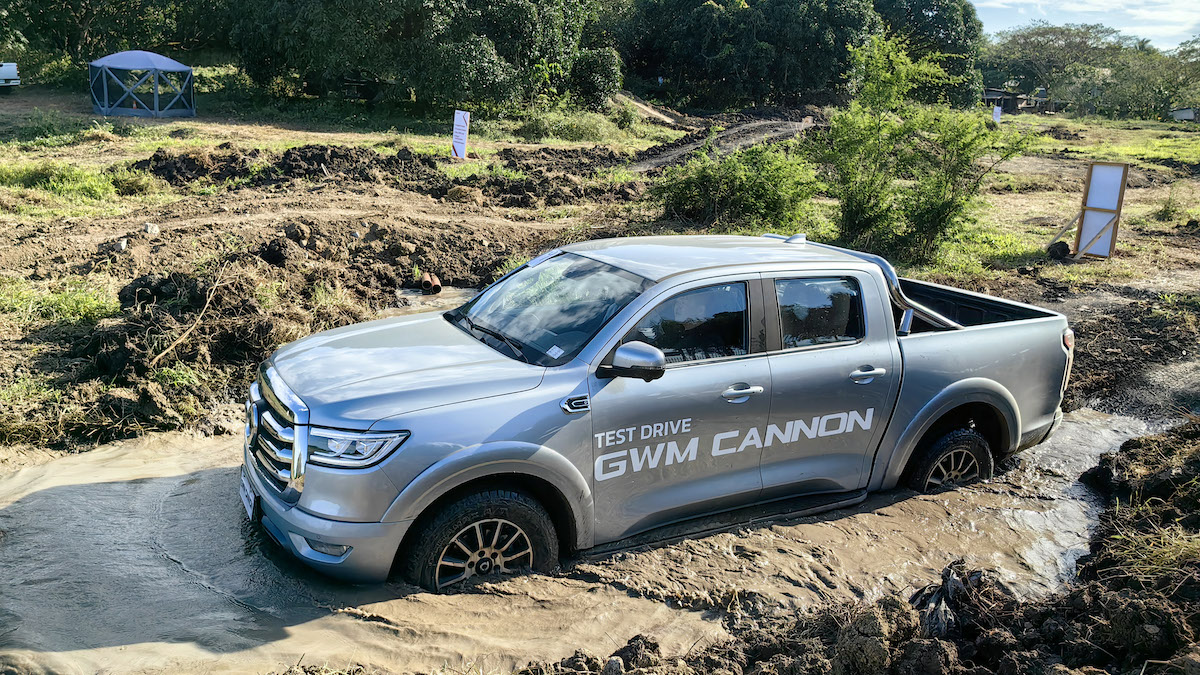 Now, we are used to off-road courses specifically tailored to a truck's capabilities. It's part of the game. But the Cannon's competitive approach and departure angles make it very easy to thread through the tight and lumpy course—even surviving without grounding out on a particularly steep descent as the truck momentarily slides down a slick surface that wore down unexpectedly over the day's trials. Only the long wheelbase, a close second only to the new Ford Ranger, poses any issue, catching a little on tall obstacles. But beyond that, the Cannon's sure-footedness is otherworldly. On obstacles where you might wait for the computers and electronic differentials on other pickups to kick in, the Cannon's mechanical rear differential locker and automatic-locking Borg Warner center differential—this is a full-time 4WD system—pull you through comically easily. There is some clunking as the differential locks and unlocks, loosening up to allow you to make tight turns with ease, then re-engaging when you need extra traction. No front axle binding on tight courses here! And the ride is exceptionally soft. No bouncing around over obstacles. I found myself doing most of the course with one hand on the wheel and an eye on the around-view camera monitor, simply to make sure we stay on track.
Off the off-road circuit, the Cannon's soft ride and seamless eight speed ZF transmission make it a smooth operator. The small 2.0-liter turbodiesel makes only 160hp, but we never found performance wanting.
Next up is the Haval Jolion, a subcompact crossover available in hybrid and non-hybrid flavors. The non-hybrid is, obviously, the least impressive car here. But that's saying a lot about the other cars. The base Jolion comes with a 1.5T engine good for 148hp, mated to a seven speed dual-clutch automatic. Acceleration off the line is tame, as the electronics work to protect the clutches from abuse, but once locked in gear, performance is commendable. Steering feel is surprisingly good for a system with electric assist, which may be down to the smaller Kumho Solus tires versus the other cars here. Roll control is commendable, and the suspension is supple enough. Not that performance on a relatively smooth racetrack tells you much about real world manners, but we'll give it a pass. What's interesting is that even this stripped-down model receives lane keeping assist and radar-assisted cruise control, which allows you to—almost—navigate the track in a convoy with your hands and feet off the controls. It's not the most refined system out there, but against competitors with none of these active aids, it's a big plus.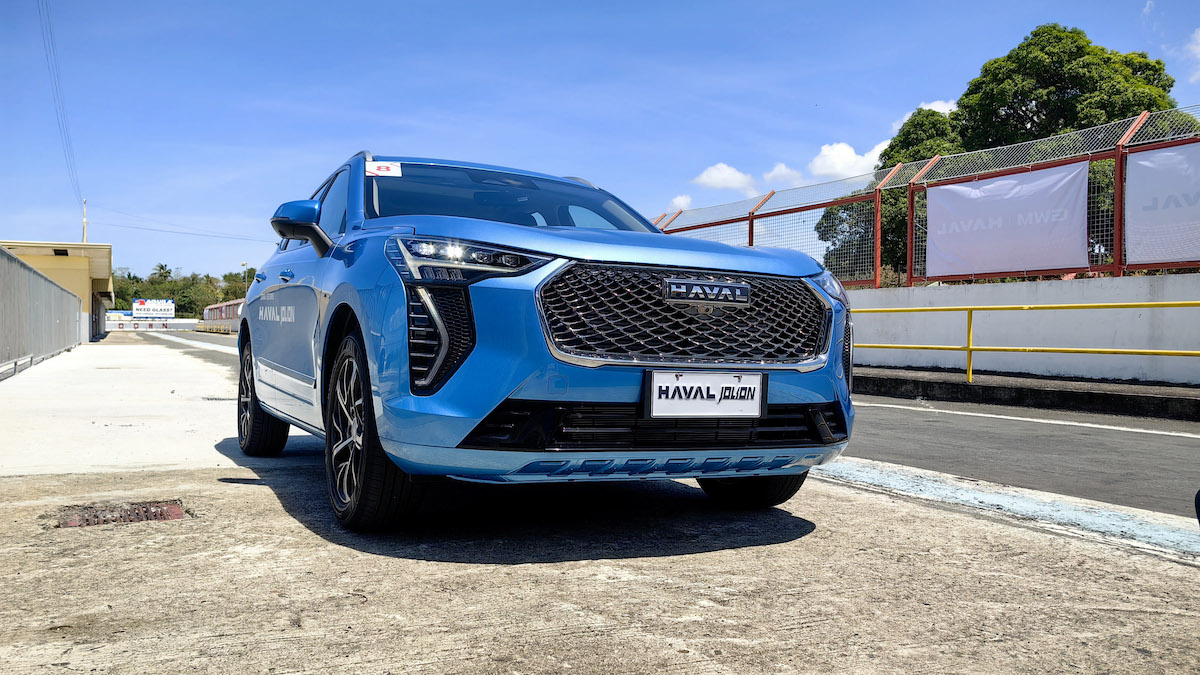 A step up is the Jolion HEV—with a hybrid setup good for 188hp, mated to a 1.6 kwh battery pack, slightly bigger than the one in the Corolla Cross. Performance is brisk, even with a rather green engine, 0-100kph comes up in just 9.3 seconds. It has an unusual two-speed hybrid transmission, which, from what we can gather, is probably a planetary gear automatic similar to Toyota's. It is much smoother off the line than the dual clutch in the base model, and the electric motors give great low speed performance, up until the system switches to the 148hp petrol engine at around 60kph. The system switches intelligently between the petrol and electric motors as needs dictate, taking advantage of the greater efficiency of the petrol engine in high speed cruising versus the low-geared traction motors. Something we hope to dive into further on future drives.
Finally, the big dog: The Haval H6 HEV. A direct competitor to the RAV4 Hybrid, but set to come in at a much lower price. It features a more powerful 165hp variant of the same 1.5T as in the Jolion, matched to a 174hp Borg Warner electric traction motor, giving it a tested 0-100 time of around 8.3 seconds. That's bang on what the 220hp RAV4 does. And the crossover between electric and petrol propulsion is much smoother than in the Jolion, with the more powerful electric motor active over a greater range of speeds. The H6 is also notably more luxurious and more premium feeling to drive, with a softer ride and lighter electric steering, but still pretty good roll control.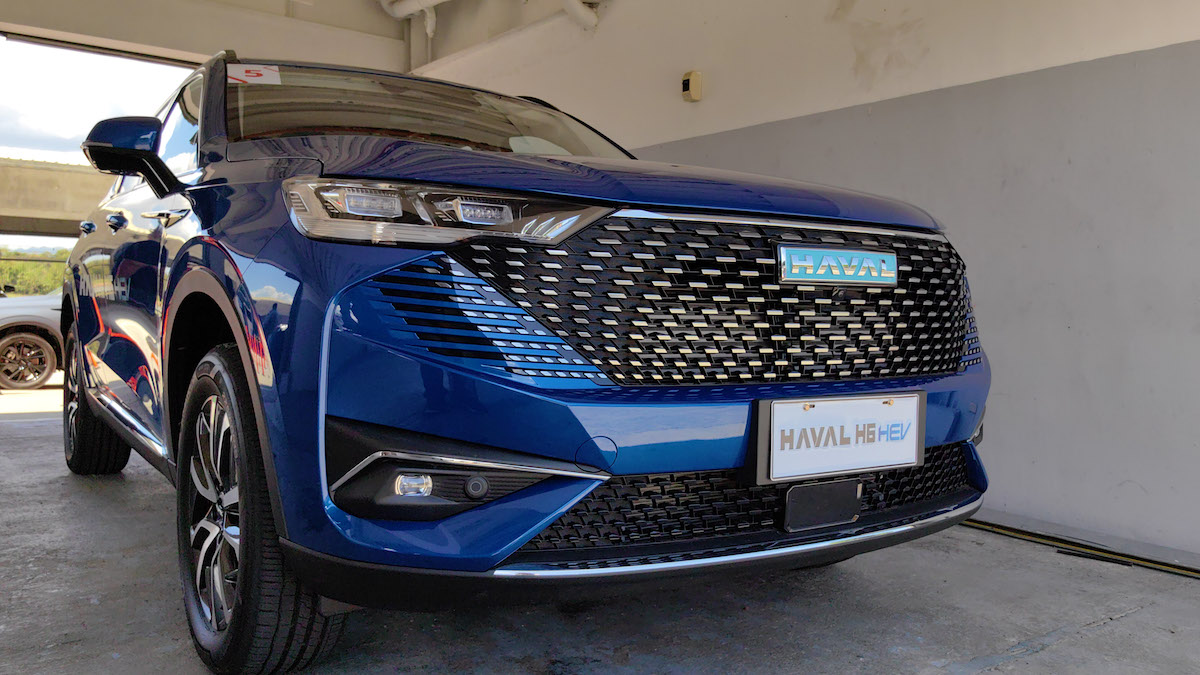 And the interior of this, the most premium offering Great Wall is launching in the country, is pretty sweet. There are flourishes of style here and there, with post-modern forms mixed with a sprinkling of retrofuturism, LED screens everywhere and comfortable leather seats. The cabin is quiet and comfortable, and a match for any mainstream crossover in the sub-P2m segment. You also get the same active driving aids as the lower end models, plus active parking assists, which use a dozen proximity sensors and multiple cameras to line up and reverse park faster than most drivers can. It even adjusts itself after parking, to ensure both driver and passengers have enough space to open their doors. The only question now is whether it can match the RAV4 in terms of fuel economy. But even if it doesn't, just being in the same ballpark will be a win.
From what we've seen, Great Wall has some solid products, but it's a crowded market full of solid products from other Chinese brands. Still, they are in this for the long haul, and we should be seeing more products from them in the near future—hopefully including Ora EVs. Ruben Tan, President of Luxuriant Auto Group, is careful to clarify this is not a product launch yet, but simply an introduction to the brand. They are still studying pricing and market strategy, but are more committed than previous local partners, with dealers already lined up and a strong product mix in the pipeline. How that works out remains to be seen, but the brand's strong mix of hybrids and EVs will certainly help it position itself strongly in the green automotive market shift in the years to come.