Last week, we showed you the 'Hoonifox,' Ken Block's latest mad Mustang and the car set to be the lead star in his next high-budget, YouTube-melting spectacle, Gymkhana 11.
If you missed the news, Block and his tire-hating collective at Hoonigan Racing enlisted the help of Ash Thorpe—the man who has penned Batman's upcoming new company car—to digitally design the spiritual successor to the Hoonicorn. Utilizing the largely unloved third-generation 'Fox Body' Mustang, Ken wants to satiate his love for '80s excess by zinging up the unloved 'Stang with period motorsport features in order to make a skiddy ode to Miami Vice.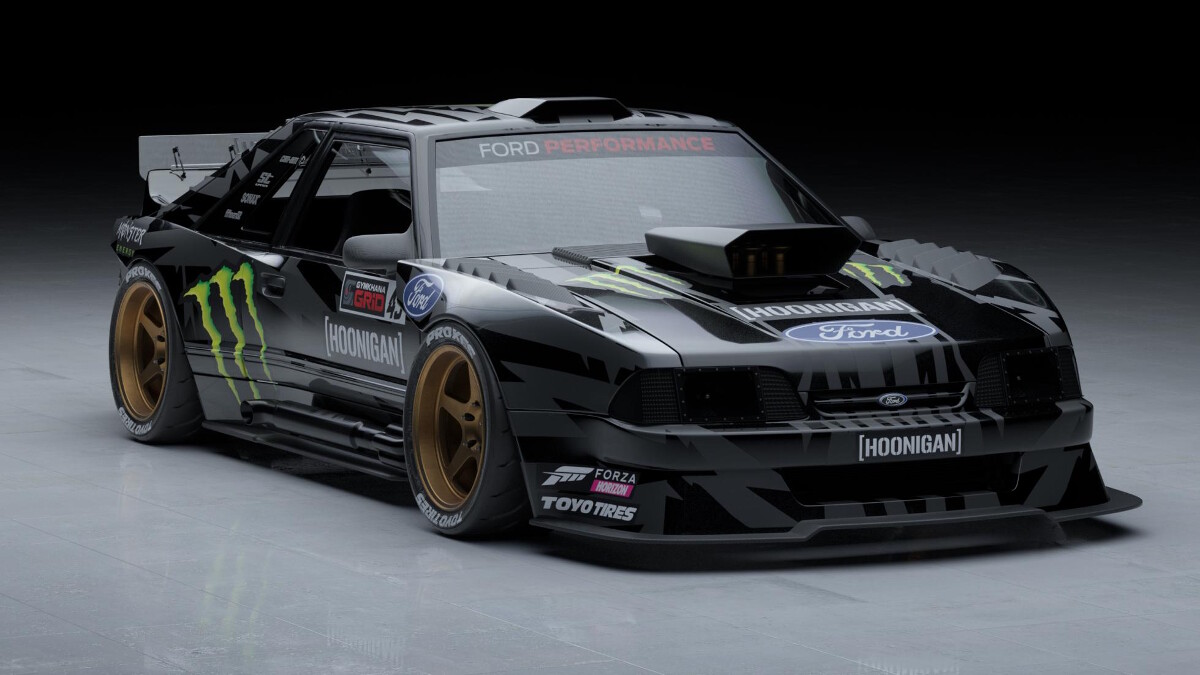 ADVERTISEMENT - CONTINUE READING BELOW ↓
But, the Hoonifox being an early-stage digital render at this point, one question was left unanswered: What's going to power it? There are some properly juicy options currently on the table, including: the twin-turbo Ecoboost V6 from the Ford GT, the same naturally aspirated Roush Yates V8 from Hoonicorn V1, or—as a bit of a curveball— the electric drivetrain from the new Mustang Mach-E. Or...even the motors from the 1,400hp electric Mustang drag car.
Wanting to know more about the project, we got on the blower to Block at his sweet house in Utah (where he's using his time in isolation to recover from a backlog of never-ending jet lag) to find out more.
"It very well may end up with an electric drivetrain," he told us. "I would love to have my regular Hoonicorn with its big V8 sat next to this new project with a 1,000hp electric motor—but I'll never give up my combustion engines for good."
ADVERTISEMENT - CONTINUE READING BELOW ↓
Recommended Videos
And Block has had some experience with EVs, having recently driven an Extreme E car (the upcoming all-electric race championship that takes the spirit of Formula E, but applies it to Dakar-style rally raids) as well as testing Ford's electric crossover, the Mustang Mach-E, which—scoop—he claims there are even faster editions coming that he'll be testing soon.
"I think moving in the direction of electric platforms is great. I'm one to embrace technology and I like to diversify," he said. "Plus, I also enjoy new ways to go fast and this seems like one."
Compared to a big, thirsty V8 with its parts constantly clattering against each other, going to an EV drivetrain would also carry some benefits for Block and his crew in a Gymkhana environment: "I don't have enough experience to give all the benefits to an electric drivetrain right now, but I know it'll just be simpler to run. It takes several engineers to keep the engine in the Hoonicorn going; it requires a lot of maintenance and cost. That stuff might completely go away if motors can make the same kind of horsepower without so many parts."
ADVERTISEMENT - CONTINUE READING BELOW ↓
But EVs have one massive thing in their favor compared to what Block is used before: instantaneous torque. This makes it a lot easier for the tires to break traction, which would help in the process of killing them. Something Block is rather good at: "The torque could be a big game-changer. I've been reading how easily engineers can adjust the delivery and throttle response, so I'm really looking forward to experimenting with that in the future."
Say, if he was to take the mad 1,400hp, 1,490Nm set up from Ford's Cobra Jet 1400 Prototype drag car (which can crush a quarter-mile in the low eights at around 274kph), he wouldn't have to fear the dreaded range anxiety that keeps many EV sceptics up at night. During Gymkhana filming, shots are short and sporadic. Plus, if the car was to compete in Gymkhana Grid (which they tend to go on to do) that's a diddy course, so perfect for short bursts before going back on charge.
ADVERTISEMENT - CONTINUE READING BELOW ↓
Regardless of what powers the Hoonifox, Ken's grand plan is to do a Miami Vice-inspired Gymkhana with it. But that's still very much in its infancy.
"We've not got to the stage of scouting Miami or anything yet," Block told us. "But doing a sort of Miami Vice homage is what I'd love to do. But that could all change. When you start speaking to cities, sometimes it goes really well, other times there can be major issues. In the past, discussions with places like Dubai and San Francisco have gone exceptionally well. But we've also completely scouted Sydney before just to have the project shut down—so you never know. Even so, I want to go down the Miami Vice route: car-chase scenes, beaches, some very nice looking women in bikinis. I want to represent that era of Miami mixed with some modern takes on things. It'll be fun."
ADVERTISEMENT - CONTINUE READING BELOW ↓
The Hoonifox is the first time that Block and his team has worked with CGI in this much detail, bringing some advantages, especially as the world is currently on pause.
"The intricacy Ash can go into is remarkable and gives us a bigger step to the final product straight away," he shared. "We first worked together on my '90s Escort Cosworth V2—when we took the old Escort and thought, 'What would happen if a modern-day WRC team got hold of this?' The whole process of doing that digitally and then handing it over to the engineering team really sped up the development process.
"We may be a very small team, but we're incredibly efficient. Compared to a team like M-Sport or a factory like Audi or Mercedes that have huge teams of engineers and designers and aerodynamicists to go through, we're just a small group having fun. We're not looking to win an F1 race or WRC Rally, we just want to make cool videos, giving us a lot of freedom."
ADVERTISEMENT - CONTINUE READING BELOW ↓
So, how long until we start to see a finished car and film? As you can imagine, that's impossible to tell right now. But Block says if we were given this sort of early peek behind the curtain, normally, we'd be nine months to a year out before a finished car at this stage. Then it'd take three months to shoot and edit a film. Which means we're anywhere between 12 and 16 months off seeing the Hoonifox move for real. But, if you needed something to look forward to, now you have it.
NOTE: This article first appeared on TopGear.com. Minor edits have been made.