We live in a world of blurred boundaries and confusing overlap. No one knows what a thing is supposed to be any more; because everything wants to be everything. And by that I mean every sports car wants to be comfortable and usable, and every off-roader wants to be a sports car, and every hot hatch wants to outgun a super-sedan.
Cars always mirror the societal conditions in which they were created, so it's no surprise we currently have a heap of machinery with unrealistic expectations of what it might be capable of being.
Take the Mercedes-AMG A45 S. On paper, this should be my favorite car ever—loving, as I do, anything that is compact, usable and all-weather fast. But the A45 has overreached itself. I've been wondering for a while now where the limit of the designation 'hot hatchback' might lie, and sadly this is the car that defines that point. I found myself sitting in it, underwhelmed by the strange Drift mode and the fake engine noise, and then I looked around the cabin and thought: "This car is attempting to be more than its basic platform will allow."
Yes, it has independent rear suspension, and the Haldex-type 4WD system is the best of its type I've driven. But the fact is, a transverse-engined hatchback has its limitations. It will always fundamentally feel like a front-wheel-drive car. And that's fine at £30k (P1.9 million), but not at twice that money.
Continue reading below ↓
Recommended Videos
I stepped out of the A45 S thinking I'd rather save the cash and have an A35 instead. It's a sweeter package and doesn't try so hard. Failing that, pull the pin and get a C63—it's way, way more appealing.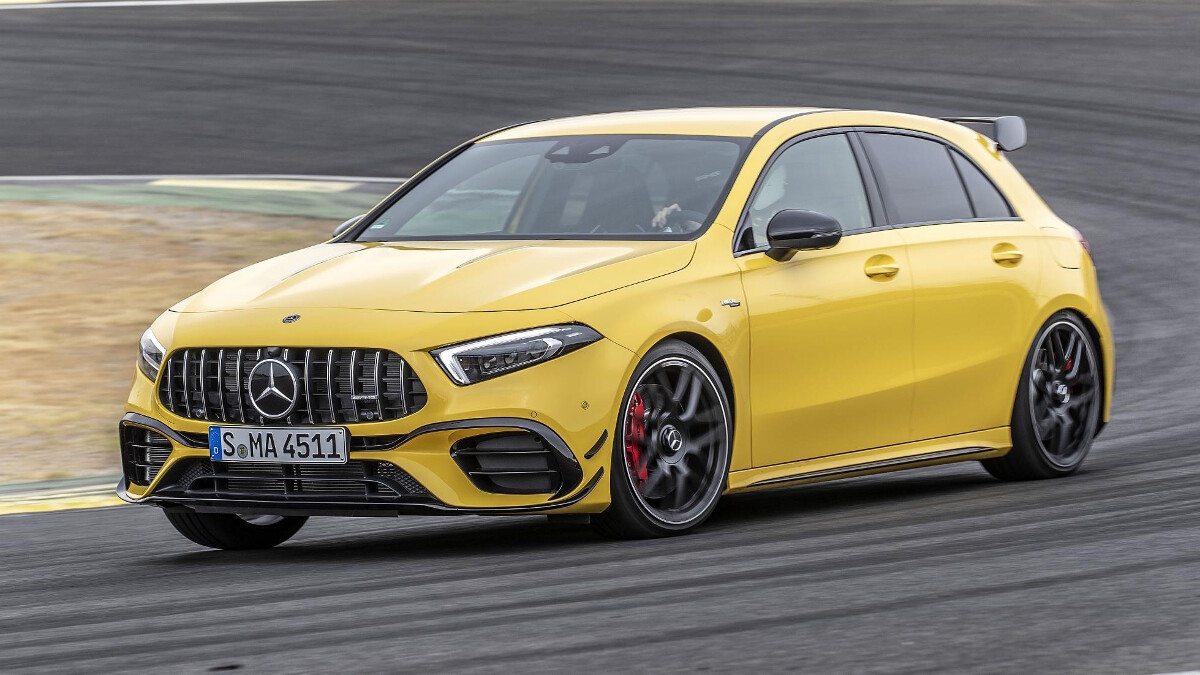 This logic can be applied to many other cars—the rival car that exposes the failed ambition is often a lesser version of the same model. For years, BMW played this game by making all of its 6-cylinder 5-Series models much more pleasant to drive than the show-off V8 models—ergo, the main argument for not buying a 540i wasn't anything to do with the efforts of Audi or Jaguar, it was the cheaper and better 530i.
Ironically, Audi has been a figurehead in the world of undermining its special cars with outwardly less-special ones that are actually more talented. For the past 10 years, the S4 has been a better road car than the RS4, but that situation has probably just changed now that Audi has, for some inexplicable reason, made the S4 a diesel. Maybe it just wanted to ease the sibling rivalry in favor of the RS model?
Merc does seem to be finding some form on this front. I recently spent time in a G350, a £110k (P7 million) SUV that is considerably slower than a Fiesta ST. I expected to dislike it and to tell anyone who cared about such things that you'd be mad not to just have a G63. After all, if you're going to be a knob, why not be a proper knob?
But the G350 is the more pleasant machine. It isn't trying to be a sports car, so it isn't perpetually straining against its electronic safety systems or making loud noises. It's perfectly fast enough, uncannily refined for such a truck and makes the full-fat AMG model seem a bit silly.
None of this really matters. Decisions are based on styling, wanting to look the mac-daddy and killer finance deals. But I still think it's always wise to test drive the model immediately below the one you've set your heart on—you might get a pleasant surprise.
NOTE: This article first appeared on TopGear.com. Minor edits have been made.