It seems every date on the calendar commemorates some event. Today, December 12, happens to be--believe it or not--the International Day of Heavy Metal.
So, why is December 12 the chosen date to celebrate this music genre? Simply because one guy by the name of Iron Matthew decided to create the annual event with the inaugural date being December 12 of 2012 (12/12/12) so that it "would be memorable."
Hence, in honor of the International Day of Heavy Metal, we list down some stars of the music genre who just happen to be fans of a different kind of metal: cars.
Continue reading below ↓
Recommended Videos
AC/DC's Brian Johnson. The band's frontman collects cars, particularly vintage ones. He's also a frequent guest of the Top Gear TV show, which featured one of his cars, a 1928 Le Mans-bodied 4.5-liter Bentley. As further proof that Johnson is a bona fide car guy, he lapped the Top Gear test track in the first "Reasonably Priced Car," a Chevrolet Lacetti, in one minute, 45.9 seconds. This puts him in second place by just 0.1 second behind another notable car guy musician, Jamiroquai singer Jay Kay.
Alice Cooper. "The Godfather of Shock Rock" grew up in Detroit, which fueled his love for cars at an early age. Cooper, however, doesn't collect garage queens, or cars that stay in a garage and are hardly ever driven. He's also not into keeping the cars period-correct or in mint condition. Instead, he treats them as project cars, from redoing the interior to his taste, to putting a crate engine under the hood. Some of the cars in his collection are a 1966 Ford Mustang Fastback "in British Racing Green" and an Aston Martin DB7.
Led Zeppelin's John Bonham. Led Zeppelin deceased drummer's taste in cars was eclectic. Though not a huge collector of vehicles like other rock stars, Bonham's collection varied from luxury cars like a Rolls-Royce, to British coupes like the Jensen Interceptor, to quintessential American muscle cars like a 7.0-liter Chevrolet Corvette Sting Ray. The cars most identified with Bonham are his hot rod Chevrolet V8-powered Ford Model Ts.
Metallica's James Hetfield. If he's not making music with one of the greatest heavy metal bands in history, Metallica's frontman and rhythm guitarist is busy creating award-winning custom cars. One such car is the Black Pearl, a 1948 Jaguar sedan that was recreated into a coupe with styling elements from the '20s and the '30s--down to the fender skirts over the rear wheels. Another one of Hetfield's cars is a 1953 Buick Skylark, which has a lavender color that "looks like something you'd pour out of a shampoo bottle," commented someone who saw it on display.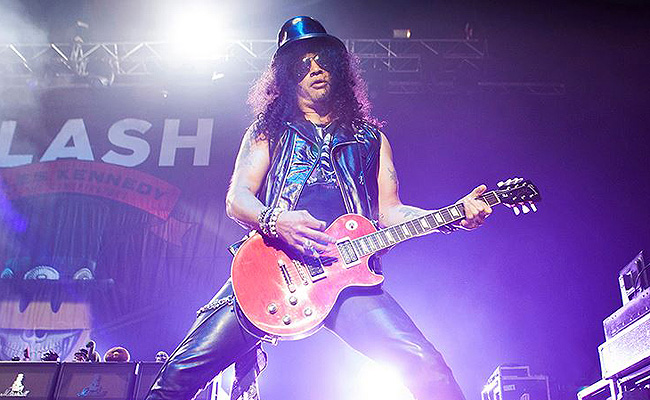 Slash. It's a little-known fact that Slash, former lead guitarist of legendary heavy metal band Guns N' Roses, is actually a car guy. From owning a Honda CR-X, the top hat-wearing axman graduated to a 7.0-liter Chevrolet Corvette Sting Ray. Slash also happens to be an Aston Martin fan, owning a Vanquish, a DBS and a V12 Vantage. The guitarist recently auctioned off the Corvette, with the proceeds going to charity.
Photos from the rock stars' Facebook pages