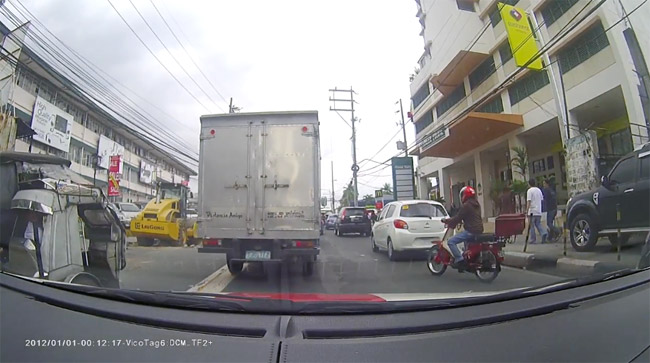 Today, December 9, is International Anti-Corruption Day. We won't be surprised if you're not even aware of this, considering the country is largely jaded when it comes to dishonesty--whether in government or on the road. There is so much corruption going on out there that MMDA boss Francis Tolentino himself is now urging the public to whip out a mobile phone to film an erring traffic officer in action. This is after an MMDA traffic constable was caught on video taking money from a bus conductor.
We want to take the advice a notch higher: Install a dash camera inside your car so that everything you encounter on the road is properly (and clearly) recorded. You never know when something might come up. Plus, a video clip is almost always considered strong evidence that can either convict or exonerate an individual. And that individual could be you.
Now, we know there are cheap dash cameras available at CD-R King. But we implore you to spend a little more on a really nice piece, like this Vico TF2+ camera that we tested earlier this year. Watch the video below and we guarantee you will be impressed by the camera's wide 160-degree angle and clarity. There is also a date and time stamp for better documentation (apologies because we weren't able to set the date and the time when we used the gadget). The camera has a maximum resolution of 1,920 x 1,080, and captures 30 frames per second.
The nice thing about this camera--which has an integrated 2.4-inch screen, by the way--is that it features loop recording, which means video files are protected. The video recordings are divided into five-minute files, and the recording is seamless (no gap between the files).
During the Vico TF2+ camera's time with us, we didn't encounter any untoward incident worthy of a viral Facebook post, but having one did provide us peace of mind and a lot more confidence behind the wheel, knowing that whatever happened, everything would be captured by that functional dash cam. We remember feeling significantly more insecure after we returned the camera. We wish we still had it when we had an interesting conversation with a Manila City traffic officer last month.
Anyway, protect yourself--and in the process help minimize corruption--on the road by installing a dash camera. You may inquire with the folks of Dash Cam Manila about the Vico TF2+.
Oh, and happy Anti-Corruption Day!
ADVERTISEMENT - CONTINUE READING BELOW
If you're viewing this on a mobile device and can't see the video, please click here.