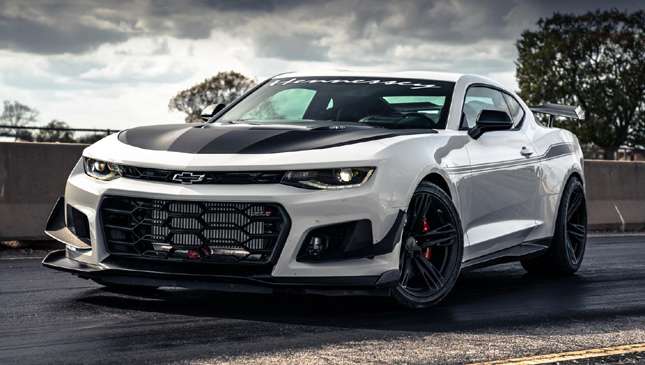 Holy moly! That looks angry.
Quite. Meet 'The Exorcist,' John Hennessey's take on the Camaro ZL1. And his answer to Dodge's unhinged, 840hp wheelie-popping Demon.
Ah, I see what they did there: Exorcist vs. Demon.
Using Chevrolet's juiced up ZL1 Camaro as a base (the angrier, quicker version of the American muscle car), Hennessey has given it even more power to make it even quicker.
John and his team have gone to work on the same supercharged, 6.2-liter 'LT4' engine from the Corvette Z06 and turned it all the way up to four figures. Yep, clog your right foot into the carpet and you'll experience 1,000hp at 6,400rpm and 1,310Nm of torque at 4,400 rpm. Best hold on tight, as when equipped with the optional drag radial tires, this Exorcist will see off 0-60mph in less than three seconds.
Continue reading below ↓
Recommended Videos
The Exorcist upgrade is transferable across both the normal 10-speed ZL1 and the track-focused 1LE.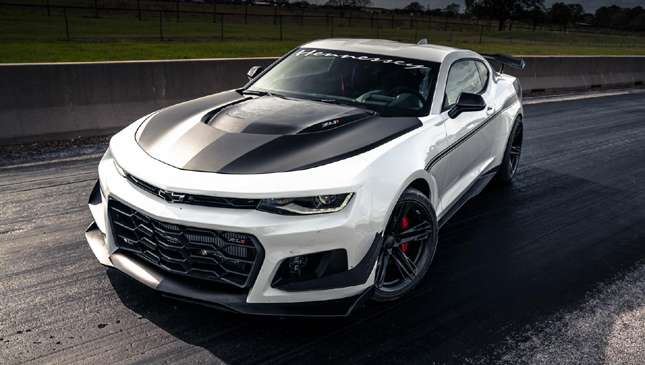 Can you quickly remind me about the differences between the ZL1 and the 1LE please?
Well, compared to the standard ZL1, the 1LE is three seconds faster around General Motors' Milford Road Course test track. So expect a reasonable chunk to be taken out of the ZL1's 7-minute and 29.60-second Nürburgring time, too. And that's before even more power has been added, something Chevy didn't feel necessary to do, but John obviously did.
The other key differences between the regular ZL1 and the ZL1 1LE are mostly chassis and aero based. Oh, and it's got a six-speed manual with rev matching—with a shorter sixth gear to make it racier—instead of the 10-speed option.
The DSSV dampers developed by Multimatic for the previous gen Camaro Z28 track monster have been fitted, and not only do they dramatically reduce weight at each corner—over 2.5kg a pop—they also have a properly ingenious and super simple camber adjustment system on top of the towers.
With just one spanner you can change it from road to track—adding an extra 1.5 degrees of negative camber, doubling the street mode's 1.5 degrees, in just a few minutes. Allied to 10mm of front ride height adjustment in either direction and a three-way adjustable rear stabilizer bar, you should be able to dial it into your preference quickly and, for once, relatively simply.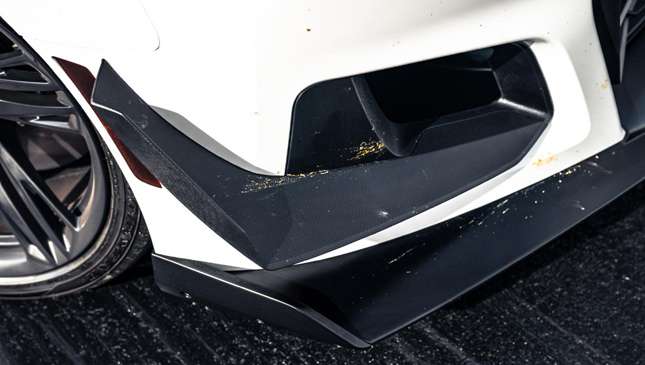 Sure looks like it's got some aero.
There's a bigger front grille and the daytime running lights are deleted to save weight and further improve airflow. The splitter grows and gets a pair of dive planes, too. At the back, the ZL1's spoiler grows into a wing capable of generating 136kg of downforce at 241kph. Then there's that huge carbon fiber wing on the rear deck as well as air deflectors and dive planes on the front fascia to stick the Camaro to the track.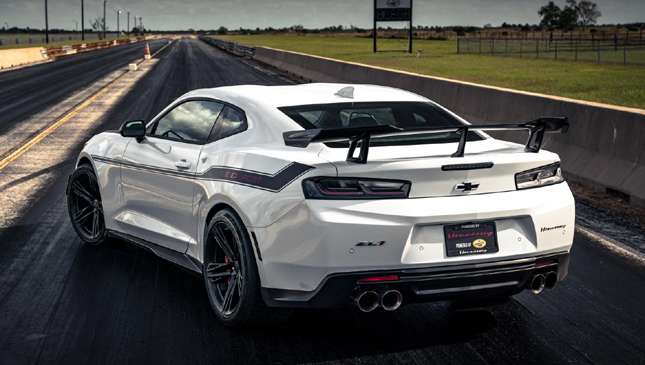 So what has Hennessey done?
Given it extra oomph thanks to a larger, higher flowing supercharger and intercooler system producing 14psi of boost pressure. The factory cylinder heads have also been ported, the camshaft upgraded, long tube stainless steel headers fitted, and the induction system made freer flowing. There's also a quick ECU flash for maximum go and a re-map of the 10-speed gearbox (if you have it) to make it swap cogs even faster. But two-pedal donor cars require a transmission upgrade to handle all that extra grunt. That's on top of the 1,000hp engine upgrade and graphics. If you don't have a ZL1 already, don't worry. You can buy a base Exorcist from John for $119,000 (P6 million).
Anything else?
Well, there's a choice of superchargers; either a 2.9-liter positive displacement or centrifugal supercharger. Then there are the options; the 'Drag Pack' features a pair of optional 20-inch wheels with sticky 315/30-20 Nitto drag radial tires, a drive shaft upgrade, a floor jack and a toolkit. Then there is the optional 'Road Race Pack' featuring 20-inch lightweight Hennessey wheels with Michelin Pilot Sport Cup 2s.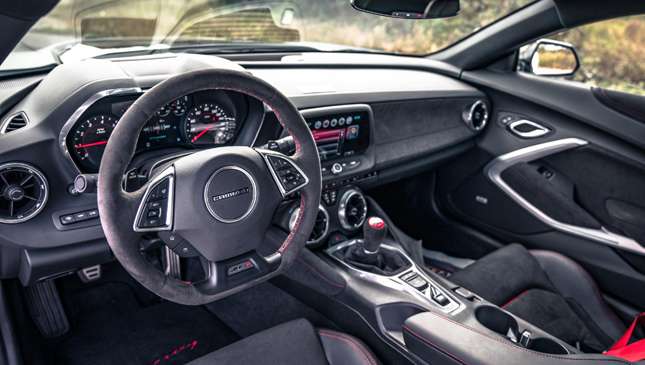 What's it like?
Pugnacious and angry yet communicative and controllable. We know this is high praise—deservedly so—but you could think of the Exorcist as a Porsche GT3 RS with anger management issues. It's a real fighter, something you quickly realize as you fire the engine into life and it rocks back and forth on its engine mounts like it's demented.
Though the notion of 1,000hp sounds terrifying, it's an incredibly easy car to drive and doesn't feel wildly overpowered. It's largely due to how well the car is set up to start with. Something you instantly feel as soon as you take it on the road. Even though the ride is firm, the damping is incredibly controlled and capable; you can really lean on it. And it loves for you to attack. The front-end grip is outrageous and you're more likely to spin before you get anywhere near understeer.
But the sensational chassis and steering allows the meatier engine to shine through as you can concentrate on what it's doing. The two superchargers offer two very distinct and differing characteristics. The positive-displacement blower delivers a lump of torque a lot lower in the rev range, operating very much like how a turbo would. This tricks your brain into thinking the Exorcist is more powerful than it is, as you get a wallop of torque from the get go.
The centrifugal supercharger is a lot more linear and serves up its power and torque a lot higher in the rev range. It's also a lot noisier, with a bigger blow off valve huffing and puffing away with each throttle actuation, but also an amplified version of that traditional Wilhelm scream of supercharger whine.
Grip isn't an issue either way. Well, in the nice warm, dry ambient temperatures of Texas anyway. The Eagle F1 SuperCar 3Rs (305 fronts and 325 rears) performed flawlessly after being pounded around the roads, and if they did break traction, it wasn't quite the snap-and-brace-for-impact we were expecting.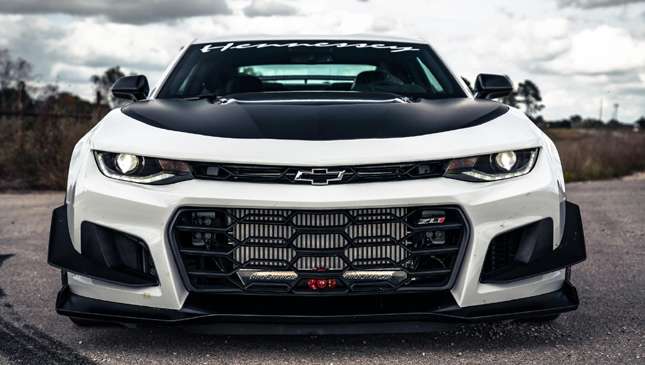 Is it better than the Demon?
It's different. Where Dodge claims that the Demon is a good all-rounder thanks to plenty of grip from fat, sticky tires at each corner, we all know its real party trick is popping wheelies in a straight line. I'm in no doubt that the Exorcist 1LE will lap a track faster than the Demon, but will it beat it in a straight line? Probably not.
But that doesn't mean you should discredit it. Getting them together would be very interesting—and suck the planet dry of fuel—but the Exorcist feels more incensed than the Demon more of the time, which is sometimes how you want a muscle car to feel. Plus, getting your hands on one is a lot easier than a Demon.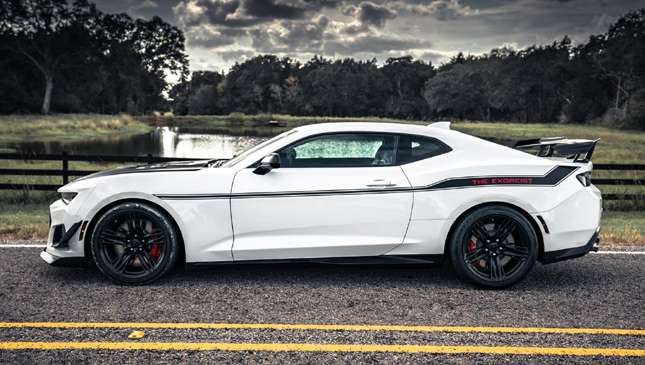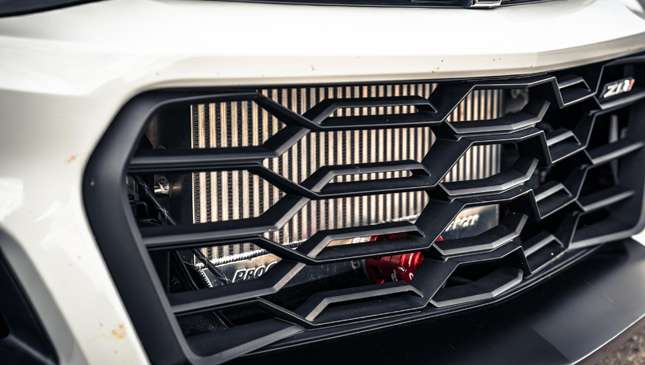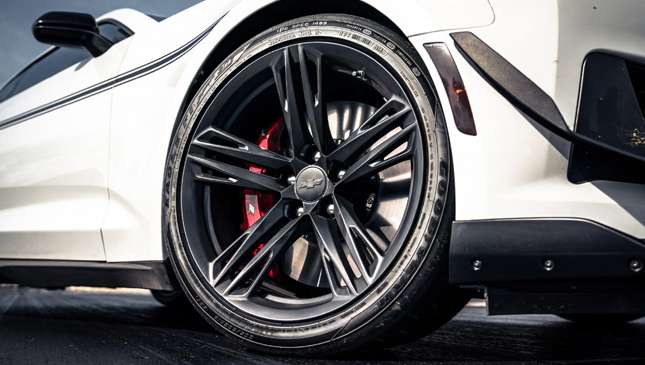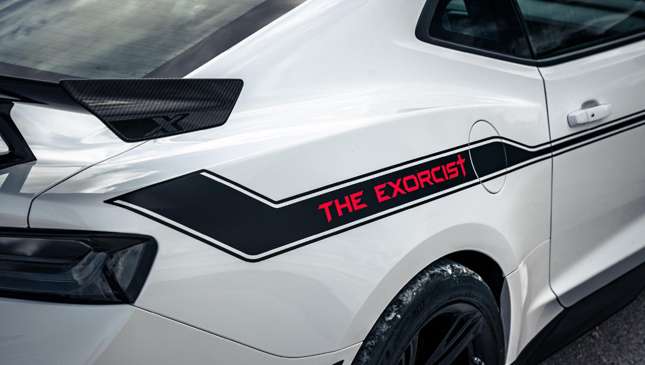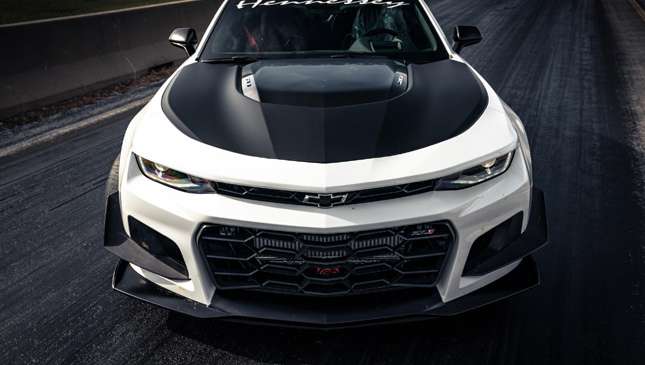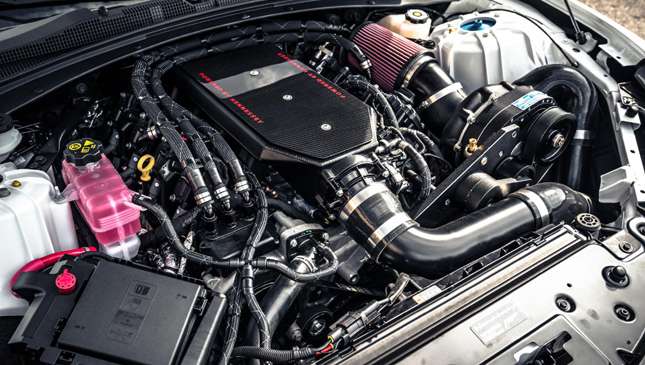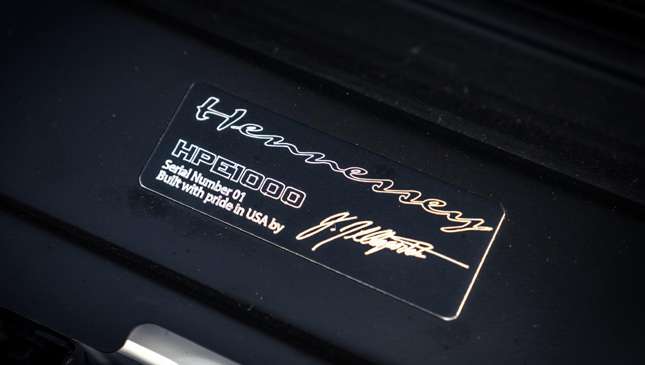 NOTE: This story first appeared on TopGear.com. Minor edits have been made.