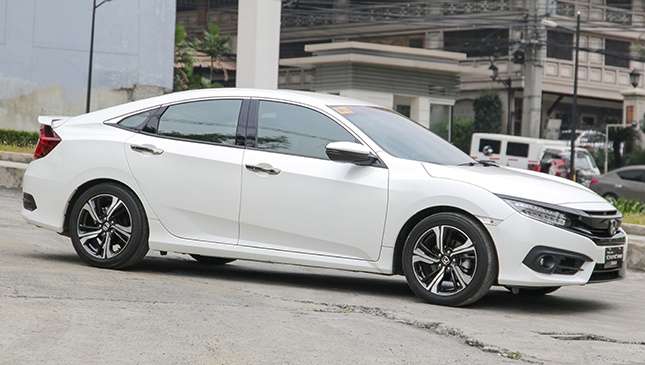 "Ayan na, f***boy na si Drei!" my friends exclaim as I pull into the parking lot behind the wheel of a white Honda Civic RS test unit. Come on guys, seriously? First of all, it's not mine. Secondly, it's a great car. It's bad enough coming across the f***boy comments on our Facebook page (they're always there, trust us). But what can you do, right?
It's a travesty, really. How in Honda's name did public perception decide to label one of the best compact sedans in the market as such? God knows the term wasn't around during the model's heyday in the '90s. Vape-spewing, snapback-wearing stereotypes aside, the Civic is a great car. It's not perfect--no vehicle is--but a week with it was enough to remind me why it won 2016 Car of the Year. Here are eight thoughts about the Honda Civic RS.
Continue reading below ↓
Recommended Videos
1) It's a showstopper.
The Civic RS just grabs everyone's attention--some may even say too much. From fellow enthusiasts approaching you at the local carwash to inquire about its ride, to security guards and parking attendants asking: "Ito ba yung bagong model?" Well, why yes sir, it is. Set aside lifestyles, pay grades or preconceived notions of what kind of person drives one--it's a very relatable car. Plain and simple.
2) Wipe that drool of your face, man.
This one's a looker, and a very damn good one at that. Honda's really outdone itself here. Angry headlights, 17-inch alloys and a busy front-fascia lend the look an air of aggression. Its proportions convey a sense of agility, and sleek, futuristic taillights and a spoiler round things off out back. I'd even go as far as to say it's currently the best-looking compact sedan in the market. Oh, and that red RS badge is neat, too.
3) Beauty and a beast.
Don't let its smaller displacement fool you. The Civic RS's 1.5-liter engine packs a turbocharged wallop, delivering a sprightly 174hp and 220Nm, as well as much-appreciated punch during overtakes. Acceleration is quick and the throttle is responsive, providing drivers with a sense of confidence with every prod of the pedal. Paddle shifters are a plus. Fuel efficiency is pegged at a little below 7km/L in city driving--would've squeezed more out of it with Econ Mode on, but nah.
4) It handles very, very well.
It may be heavier at a little over 1,300kg, but this Civic's handling manages to strike just the right balance between light and responsive, giving you the sense you're behind the wheel of something smaller and slimmer than it actually is. It has a compact steering wheel and performs admirably around corners, easy in easy out. And while body roll can be noticeable, you'll hardly care considering how enjoyable the car is to maneuver.
5) The interior is neat and features a practical layout.
USB and charging ports are neatly concealed within and towards the sides of the center console, which features plenty of holes for cables to pass through. The only complaint I have is that the ports towards the sides are difficult to access, more so at night as there's no way to see them without turning on a flashlight (cabin lights don't hit them). Finding the perfect driving position is a breeze, too, by the way.
6) There's plenty of room.
Interior legroom is good, as is the positioning of its dials and controls. For some reason though, front passengers complained that their knee kept hitting the center console. This is probably just nitpicking, though. Trunk capacity is great, too. I fit several laundry baskets inside without issue--525 liters goes a long way.
7) Features are nice, and you're going to appreciate that rear parking camera.
The Civic's stylish silhouette comes at a price. The rear window is small, making it somewhat problematic to back up into a tight parking space while you're still gaining a feel for the car's dimensions. Thankfully, yes, there is a backup camera. Other niceties include a push-to-start button, dual zone climate control, Econ Mode, and the best looking fully-electronic gauges in the market.
8) Is it really a f***boy car?
Say what you want about vaping, oversized (and overpriced) sandos, snapbacks and a penchant for wearing Ray-Bans indoors and playing Chainsmokers songs full blast. But can someone please explain why Civic owners are considered f***boys?