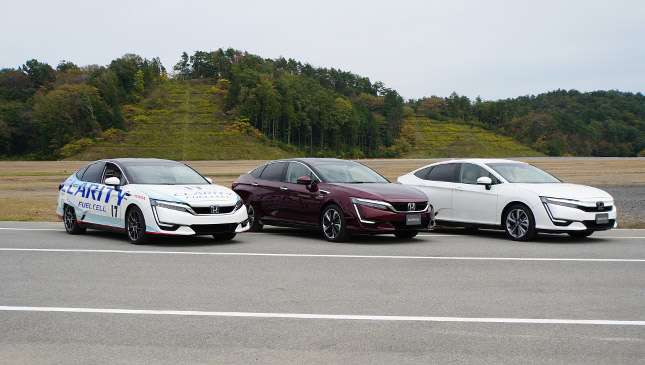 A day after I get back from covering the Tokyo Motor Show, a friend of mine asks, "Hey, you also went to that Honda track, right? What did you drive there?"
"The latest Clarity," I reply, "but it was only for a short run."
"Clarity...isn't that the hydrogen-powered car? How was it?"
"Very normal. It drives pretty much like a regular Honda."
No, I'm not being a jaded motoring journalist with my response. Even now, several days after the fact, I'm still wrapping my head around that incredibly trippy experience. We may write about radical concept cars and revolutionary automotive tech on a regular basis, but it's a completely different matter to be confronted by the future. I mean, hydrogen-powered car! Fuel-cell vehicle! It sounds more sci-fi concept than actual reality, and yet there I was, driving it.
Continue reading below ↓
Recommended Videos
And there it was, driving pretty much like a regular Honda. Which is a good thing, because it means this once-inconceivable technology takes a step closer to being usable, practical, and normal.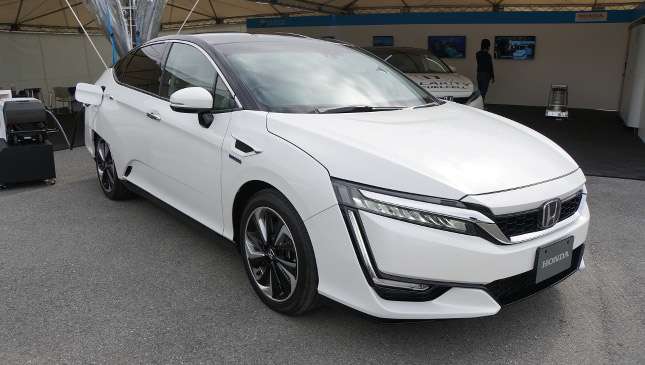 It's been a long journey of unwavering commitment on Honda's part. The Japanese carmaker began its research on fuel cells in the late '80s, and first came out with FCV (fuel-cell vehicle) test units in 1999. By the time the original FCX Clarity began production in 2008, it had collected a number of world's-first accolades—for instance, the first FCV to achieve certification from the EPA and the California Air Resources Board, as well as the first to function in sub-zero temperatures. Honda became the first carmaker to lease an FCV to an individual user, the first manufacturer to produce this type of vehicle on a dedicated assembly line, and the first automotive company to establish an FCV dealer network.
As for actually 'owning' an FCX Clarity, it took huge commitment, too. For starters, it could only be leased. Also, from certain angles, it had the ungainly appearance of a car that was penned more with aerodynamics than visual drama in mind. The powertrain components were laid out across almost the entire front-to-rear midline: power drive unit, drive motor, and gearbox under the hood; fuel-cell stack in between the front seats; lithium-ion battery under the rear passengers' bums; and hydrogen tank in between the rear wheels. A lightweight, spacious, and practical vehicle it was not, in other words.
That said, it did manage to acquit itself well on the road and gain positive reviews on its performance. Nor was its significance lost on car enthusiasts—Top Gear called it "the most important car in 100 years."
That's more than enough encouragement for Honda to keep pursuing its fuel-cell initiatives. Just this year, the second-generation Clarity officially became a three-model line consisting of an FCV, a plug-in hybrid, and a battery electric vehicle. Of the three, the Clarity PHEV is expected to sell the most number of units, but you get the sense that the FCV remains the hero of the range. While plug-in hybrids are gradually becoming part of the current crop of alternative-fuel vehicles, it's still FCVs that represent the future of motoring—or so Honda believes.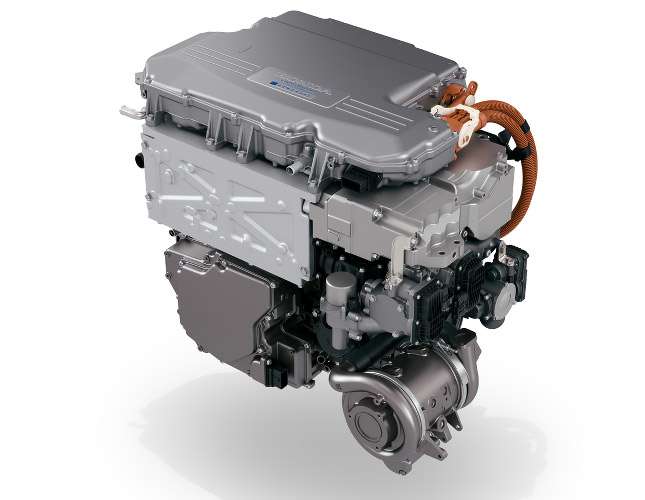 The latest Clarity FCV is a remarkable improvement upon its predecessor. To begin with, the entire fuel-cell powertrain has been worked down to the size of a 3.5-liter V6 engine. It can now be fitted as one unit under the hood, allowing for a platform that may be shared with PHEV and battery EV variants.
For a bit of geekery, here's how the powertrain is packaged: At the bottommost level, the motor/gearbox assembly has been rotated by 90 degrees, with the power control unit attached to the front of it. This reduces the height of the assembly by 34%, thereby making space for the fuel-cell stack to be, well, stacked on top. Over this goes the ultra-slim fuel-cell voltage-control unit (FCVCU).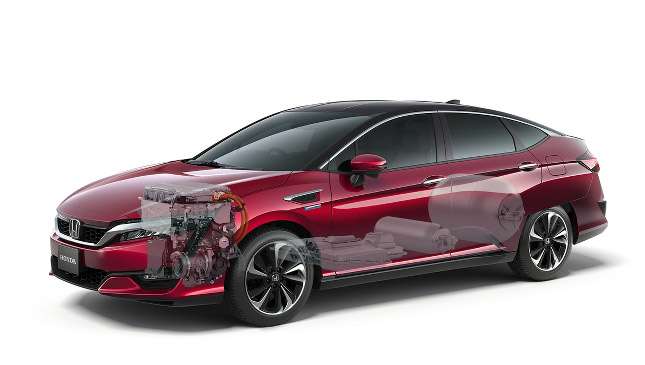 The individual powertrain components have been made more compact, but also more potent. While the fuel cells are 20% thinner, each has 1.5 times higher generation performance and 60% higher output density. The new stack thus uses 30% less cells compared with the previous one. An electric turbo compressor feeds it air at 1.7 times the air pressure of the old model. Two tanks—one under the rear bench and one in the trunk—store a combined 5.46kg of hydrogen at 10,000psi (up from 3.92kg at 5,000psi of the FCX Clarity), and from these, hydrogen is supplied to the fuel-cell stack at a decompressed 30psi.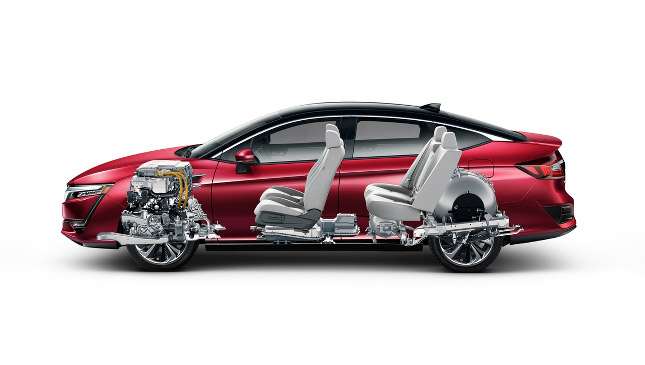 Under the front seats, a lithium-ion battery stores surplus electricity generated by the fuel-cell stack and through brake-energy regeneration. It supplements the FCVCU in driving the Clarity's motor at a maximum voltage of 500V (from 330V). The power output of the drive motor itself is 174hp—40hp up on the FCX Clarity's unit. Peak torque of 299Nm is available from 0-3,500rpm.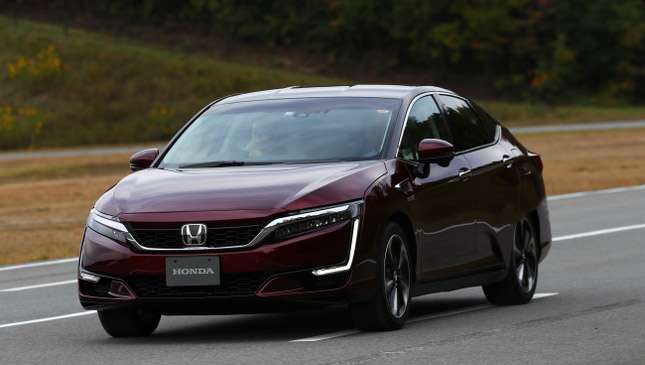 My 'test drive' was limited to just two laps around a little makeshift oval at the Twin Ring Motegi (nope, not on the actual track itself). Unsurprisingly, the first impression I got was that the interior is very quiet—there's no engine exhaust note coming through, obviously, and the cabin itself is well-insulated. The driving position feels comfortable and natural, and the instrument-panel graphics aren't as intimidating as you'd expect from something that looks this futuristic.
Out of curiosity, I ran my fingers through the plush material covering the interior panels; I later learned that it's called Ultrasuede, and it's made from recycled polyester yarn. Sou desu ka...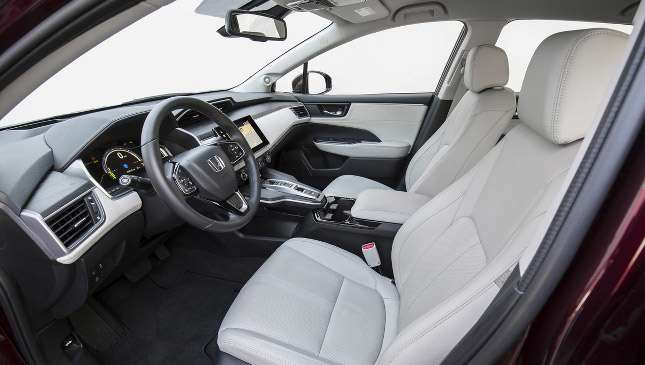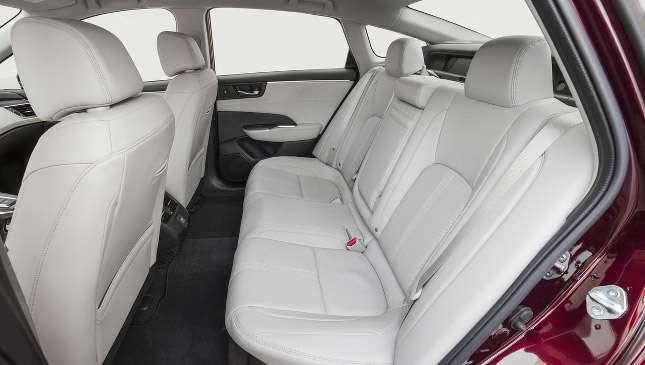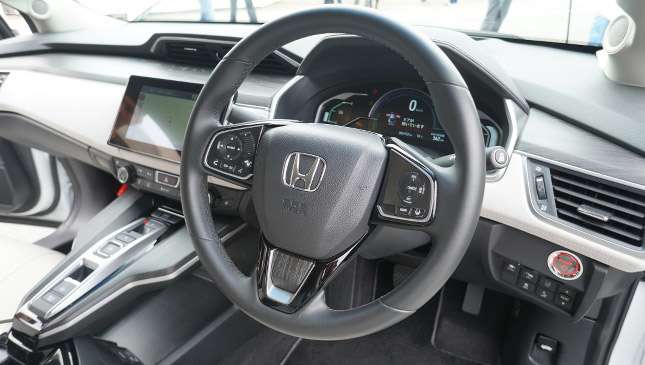 [previous|page|next]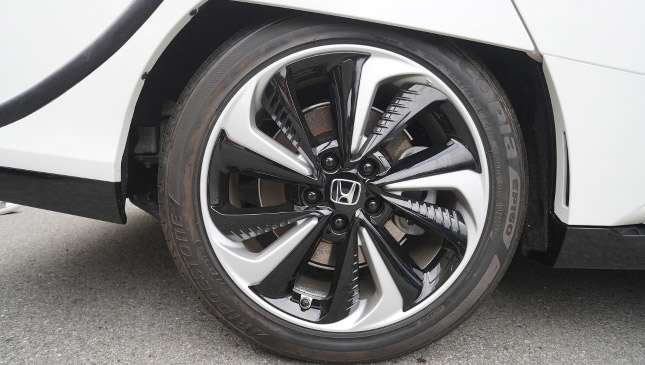 The accelerator and brake pedals respond predictably to input, with the Clarity launching itself forward and scrubbing off speed quite easily for a car that weighs 1,890kg. Credit for that also goes to the lower coefficient of drag (by 8%) as well as tires with lower rolling resistance. There's decent heft and feel to the steering, and despite the vehicle size falling somewhere in the middle of compact and midsize, it was easy for me to maneuver our right-hand-drive unit around and in between pylons as I returned to the starting area after each lap.
Directional changes at moderate speed are carried out without drama. There's no disconcerting body movements under braking or cornering, but in my case, I was going at a leisurely pace.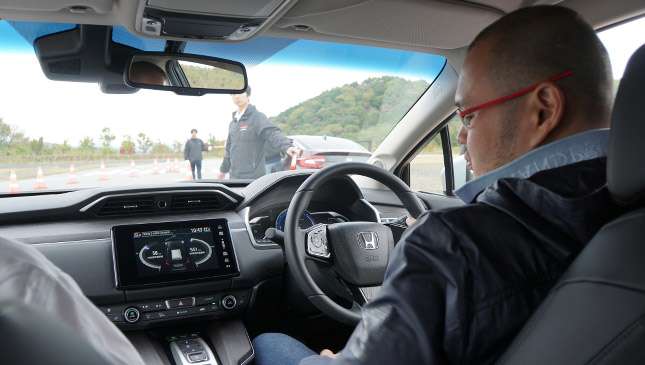 Hitching a ride with consumer editor Botchi Santos during his trial run, I found the backseat to be reasonably roomy, and had I not known better, I wouldn't have suspected there was a hydrogen tank under my butt. When Botchi activated Sport mode, there was a more urgent surge of forward movement; he commented, too, that brake response was noticeably stronger.
We didn't get to see the hydrogen tanks being replenished on site, but the press information says it takes three to five minutes. Based on EPA testing, the Clarity FCV has a driving range of 589km—currently the best of any zero-emissions vehicle in the US. Fuel economy is rated at 68MPGe (miles-per-gallon equivalent) in combined city and highway driving. That converts to 28.9km/L.
If it were to be sold in Japan, this car would have an SRP of ¥7.66 million (P3.47 million). It's still only available for lease, though: When it was introduced to the US market in December 2016, the lease price was $369 a month for 36 months, with $2,868 due at signing. Perks include a mileage allowance of 32,180km a year, $15,000 of hydrogen fuel, a 'White Sticker' for unlimited access to the high-occupant vehicle lanes on the freeway, and a $5,000 rebate in California.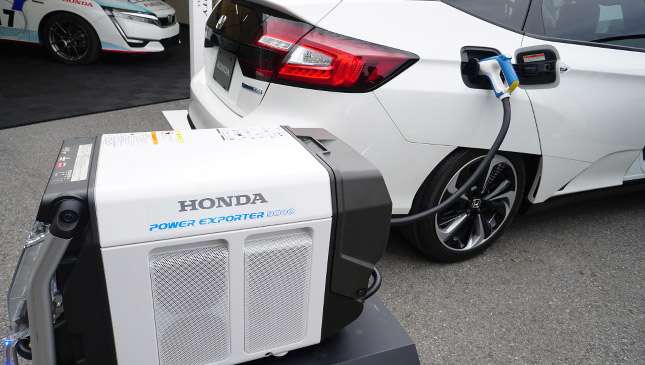 The question that remains to be answered, of course, is if FCVs will ever take off as a widespread, viable alternative to conventional automobiles. Honda continues to invest in R&D, manufacturing, and refueling facilities, collaborating with the likes of Shell, Toyota, and General Motors to further the hydrogen cause and make it sustainable in the long run.
Offshoots of its fuel-cell initiatives include the Smart Hydrogen Station, which is able to produce hydrogen gas using electricity from solar, wind, and water energy, and the portable Power Exporter 9000, which harnesses the surplus electricity produced by FCVs for use virtually anywhere.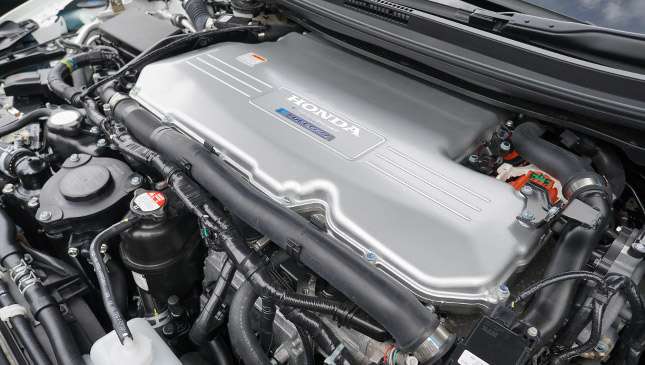 In the end, it will take the combined efforts of various sectors to enter the new 'hydro-generation.' Speaking of his company's goal to electrify two-thirds of global automotive sales by 2030, Honda president and CEO Takahiro Hachigo says that "this will be mostly achieved with hybrids and plug-in hybrids," for which the current infrastructure should be sufficient.
"For the FCV, we have to think about the charging stations that will be required, meaning that Honda alone cannot achieve these goals," he stresses. "Instead, we will work with governments of the regions. When it comes to Europe, China, Japan, and North America, we are currently working with the government as well as with OEM suppliers. There are still challenges remaining, but we want to work with the government and collaborate to advance against these challenges."
(It's at this point that we mutter: "Good luck working with ours.")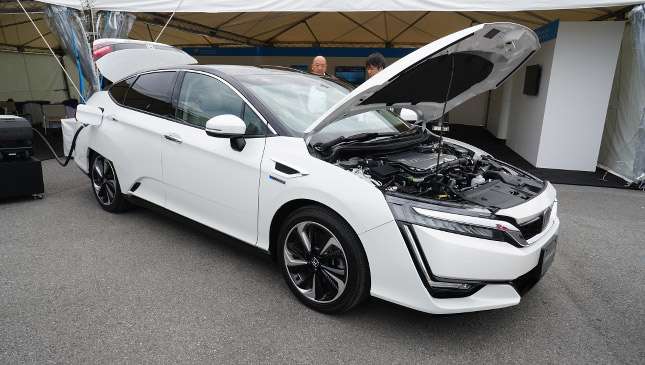 So no, not even Honda—one of the staunchest proponents of fuel-cell vehicles—believes that these cars will be the norm in the near future. But if you consider how far the technology has come in a short span of time, and how big the generational improvements are from the FCX Clarity to the Clarity FCV, it becomes ever clearer that the shift will happen. Eventually.
Maybe by the time I'm old and retired, it'll be a fuel-cell vehicle that I'll have as my daily driver. You know, just a regular Honda in that day and age.