The truck pictured above is a Hyundai, yes, but it isn't the Santa Cruz that's headed to production—this one here is the Hyundai Tarlac, a concept designed by artist Enoch Gabriel Gonzales. We understand if you may have mistaken it for Hyundai's actual pickup because to be fair, it does look like something manufacturers might build these days.
The Tarlac has a face that's highlighted by a cascading grille that sort of reminds us of the Palisade's front end, just with a much sleeker look. This grille is flanked by split-type headlamps complemented by some pretty interesting Z-shaped DRLs that continue down onto the rear bumper.
There's not much to talk about when you look at the truck's side and rear profiles aside from the fine alloy wheels, but that's just how the artist wanted it to be—he wanted to put more emphasis on the truck's utilitarian nature. There are no details about the pickup's interior or its engine bay, but we are told that it features a body-on-frame structure.
It seems that the truck also comes in different trims, too, as the variations of the renders suggest. As for the Tarlac moniker, Enoch—the mastermind behind this concept—tells us that he simply followed Hyundai's tradition of naming its vehicles after different locations in the world.
If the place sounds familiar, then that's because Enoch is a designer based in Quezon City here in the Philippine. He is currently working as an in-house footwear designer for a local shoe company. It's a pretty far cry from designing cars, isn't it? But that's okay, we like his renders anyway.
The guy tells us that his personal knowledge of cars plus his years of observation on design trends in the industry are as far as his actual background on automotive design goes. Designing cars is only a hobby that takes up his free time, he says, but he actually has a pretty stacked portfolio under his belt. In fact, one of his renders has already been featured in this space before. That said, we've no idea what the guy will create next, but we'll surely be keeping an eye out for his future renders.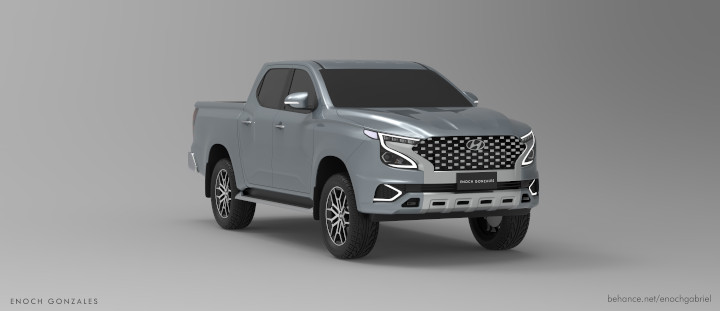 So, do you like this Hyundai Tarlac by Enoch? If you had the option to complete this concept, what engine would you put under its hood?