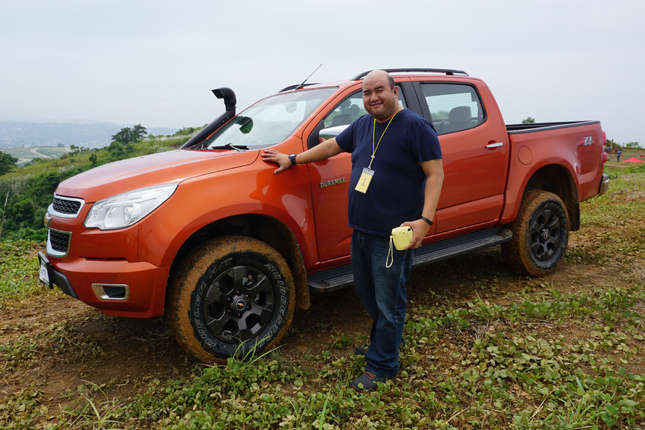 It was a rainy day when Chevrolet Philippines held its "Born Ready" event in the hills of Antipolo. Normally, this would be a cause for concern because the car might get dirty, or the driving condition might be unsafe. But on that day, we were going to drive the Colorado pickup and the Trailblazer SUV, so the only thing we were worried about was our smartphones getting wet.
In an air-conditioned tent assembled just for the event, we were briefed about what we would be doing. Turned out we wouldn't be driving the Colorado, but the Colorado Tracker variants. These are the more badass versions of Chevrolet's pickup, and here's what the American carmaker added to make them tougher:
* snorkel;
* dashboard camera;
* tire-pressure monitoring system;
* backing-up camera;
* two-inch lift kit;
* 17-inch all-terrain tires with (beautiful) gunmetal alloy wheels;
* aluminum skid plate;
* 6,000lb tow hitch with electrical receiver; and
* 12,000lb integrated power winch with winch recovery kit.
ADVERTISEMENT - CONTINUE READING BELOW ↓
These features are all available on the baddest pickup in the lineup, the Colorado Tracker Pro. For those who want most of the neat toys, but can do without the winch setup, the dash camera, and the tire-pressure monitoring system, there's a slightly more affordable version called just the Colorado Tracker.
Our first order of business was getting dirty with this pickup. With driving instructor Georges Ramirez beside us, we drove along a specially built muddy path that had us clinging to the steering wheel tightly. In 4H mode (four-wheel drive, high gear), the Colorado Tracker's tires dug in and moved forward with a little bit of slide. The rain had stopped, but the earth was still wet. No problem for this beefy Chevy.
At one point, Georges made us go around a big mound of soil, and on the other side was a deep patch of soft mud. We were in 4L mode (four-wheel drive, low gear) this time, and the tires sank until we felt the aluminum skid plate hit the ground. From instinct, we just kept steady pressure on the gas pedal (in off-roading, momentum is key), and let the 500Nm of torque and the four-wheel drive system do the rest. The steering wheel was fighting with us, as the tires spun in soft mud while being propelled forward by the sheer force of the 2.8-liter turbodiesel engine. The Chevy slid forward sideways with all four wheels spinning, seemingly out of control. It was awesome.
ADVERTISEMENT - CONTINUE READING BELOW ↓
Recommended Videos
After playing in the mud, we gave the Colorado Tracker a bath in a purpose-built pool of water. This was also to demonstrate its 880mm wading depth--that's almost 3ft, deep enough to submerge the tires. We dove in, kept steady throttle pressure, and emerged cleaner on the other side.
All that off-roading was enough to give us a healthy appetite--or at least an excuse for one. Chevrolet Philippines is known for its impeccable event arrangements, and it did not disappoint with a delectable lunch of salad and grilled meat.
Having had our fill of roast beef and dessert, we watched a demonstration of the Colorado Tracker Pro's winch being put to use. A Sizzling Red pickup was being used to haul a Black Sapphire truck up a steep path. It was an elaborate setup to unfamiliar eyes like ours, with a pulley system going around a large rock. It was a little scary knowing how much force was running through the ropes made of advanced polymers (steel wires are no longer used in modern winches). But for customers who need this kind of gear, it's great that Chevrolet Philippines offers it straight from the factory.
ADVERTISEMENT - CONTINUE READING BELOW ↓
Then came the Trailblazer's turn to be put through its paces. Mechanically similar to the Colorado, the midsize SUV could theoretically do what its pickup sibling is capable of. And that was true for the most part. But the route was easier than the Colorado Tracker's, and it was more a demonstration of the power and speed the Trailblazer can achieve. On a straight, um, trail, we felt the long-arm suspension in the front and the coil springs in the rear capably absorb the loose earth at relatively high speeds. We also got to try the hill descent control, where you just press a button and let the low gear bring you down a mountain. This is our kind of SUV.
On a rainy day in Antipolo, Chevrolet Philippines demonstrated the off-road skills of its "truck" models. Especially impressive was the fully kitted Colorado Tracker Pro--probably the most well-equipped pickup on our market today. If a zombie apocalypse or an earthquake happened, our truck would have a yellow bow-tie badge and a 12,000lb winch up front.
ADVERTISEMENT - CONTINUE READING BELOW ↓
Good luck to the undead.
Photos by Dinzo Tabamo and Chevrolet Philippines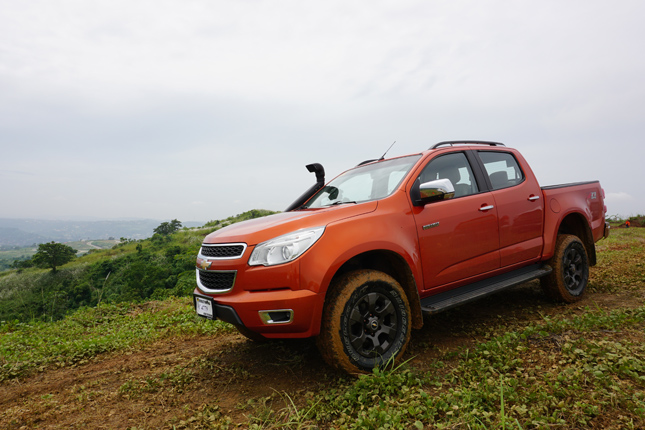 ADVERTISEMENT - CONTINUE READING BELOW ↓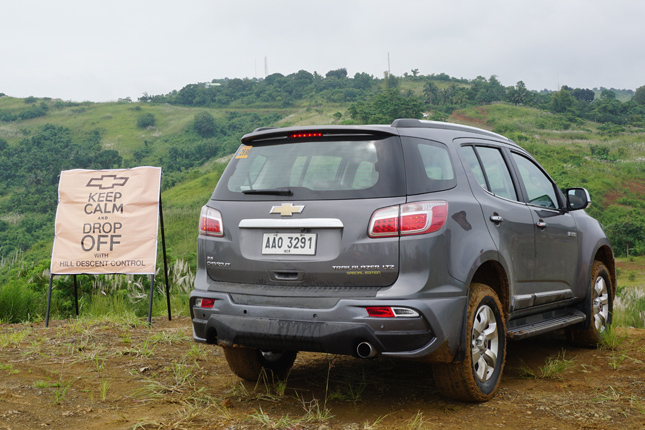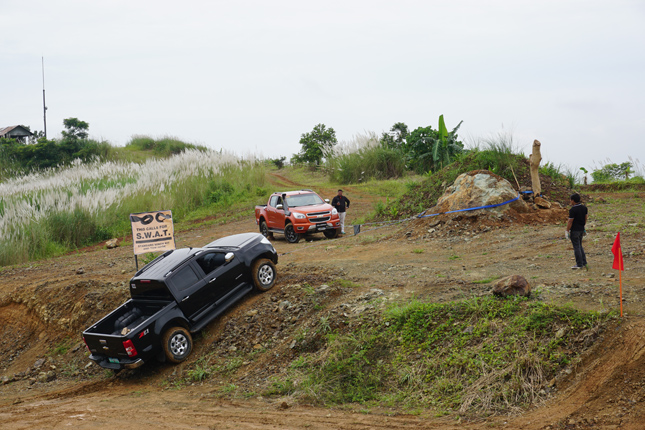 ADVERTISEMENT - CONTINUE READING BELOW ↓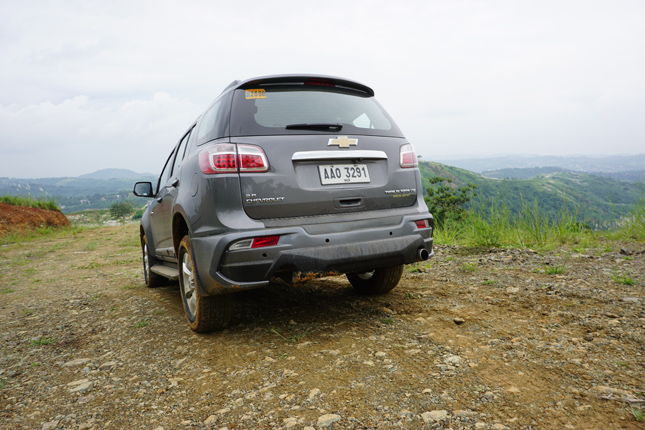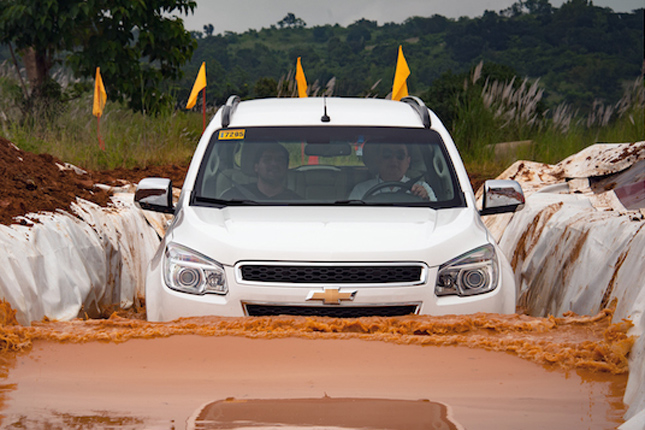 ADVERTISEMENT - CONTINUE READING BELOW ↓