Isuzu was arguably the first manufacturer to aggressively market an AUV as a quasi- premium product to the Filipino consumer. Fancy body kits, and chunky all-terrain tires mounted on butch alloys caught everyone's attention. Inside, things look even more promising with the grey leather interior and the DVD-A/V system with twin monitors mounted on the back of the front seats. On a previous Top Gear trip, we brought along a Sony PlayStation 2 and played Gran Turismo 4 when we weren't behind the (real) wheel!
The middle-row accommodations are fair, dead-even with the Adventure, the Isuzu's closest rival. Likewise with the rear seats. But the Adventure has a softer ride, whereas the Sportivo's is much firmer. Still, loaded up, ride comfort gets much better, leading you to think Isuzu really built it with heavy-duty suspension for cargo hauling capability. That it's popular with airport taxi services should come as no surprise.
Continue reading below ↓
Recommended Videos
The suspension is definitely firm. But it doesn't feel like it's willing to play. It's all business. Not that you buy cars in this segment for the sake of finding the thrill of driving in these steeds. Yet the seats are small, lacking enough support for the thighs and lower back, offering a minimum of lateral support as well. The steering wheel, non-adjustable for rake or reach, is set too low. When your hands are on the wheel, you end up hitting your thighs and sides, making steering an awkward movement.
Isuzu's vaunted fuel efficiency brings down the cost of ownership. Isuzu practically split the AUV segment a few years back. You once bought an AUV for its sheer utilitarian ability, but when the original Crosswind XUV was launched then, it had loads of fancy new toys not even higher-end segments had in their models. An AUV became (gasp) desirable.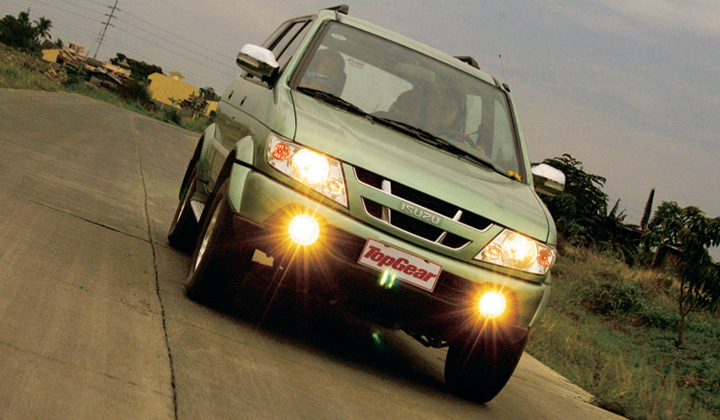 NOTE: This story first appeared in Top Gear PH's August 2005 issue.