I enjoyed driving the AT35. Didn't think I would, but I did. Normally, unless it's lightweight and not overly powerful, I'm not interested. Like Gordon Murray, but without the flamboyant shirts. Modern cars are too big and too heavy, and obscene nought-to-hundred times have nothing to do with the simple, joyful act of having fun on a public road. Give me a Caterham 170 any day.
OTHER STORIES YOU MIGHT HAVE MISSED:
SMC will be having 'toll holidays' on Christmas and New Year
What exactly does the new Nissan Livina bring to the subcompact MPV segment?
There's another reason I don't like driving big cars: other big cars. You might think the life of an automotive journalist—with a fresh set of wheels on the driveway most weeks—is glamorous, but it isn't. The pressure to hand stuff back to press offices without so much as a bum indent on the driver's seat is immense and constant. So when oncoming traffic lumbers into view on the local, narrow country lanes, I get a wee bit tetchy. "You'll never fit through there. Woah, woah, woah, move over! MIND THE WING MIRROR." And that's just with mopeds.
Turns out there's a cure for this, and it's to go even bigger. Like, really big. And at 5,265mm long, 2,040mm wide, and 1,875mm tall, it's hard to get much more imposing than Arctic Trucks' interpretation of the Isuzu D-Max pickup.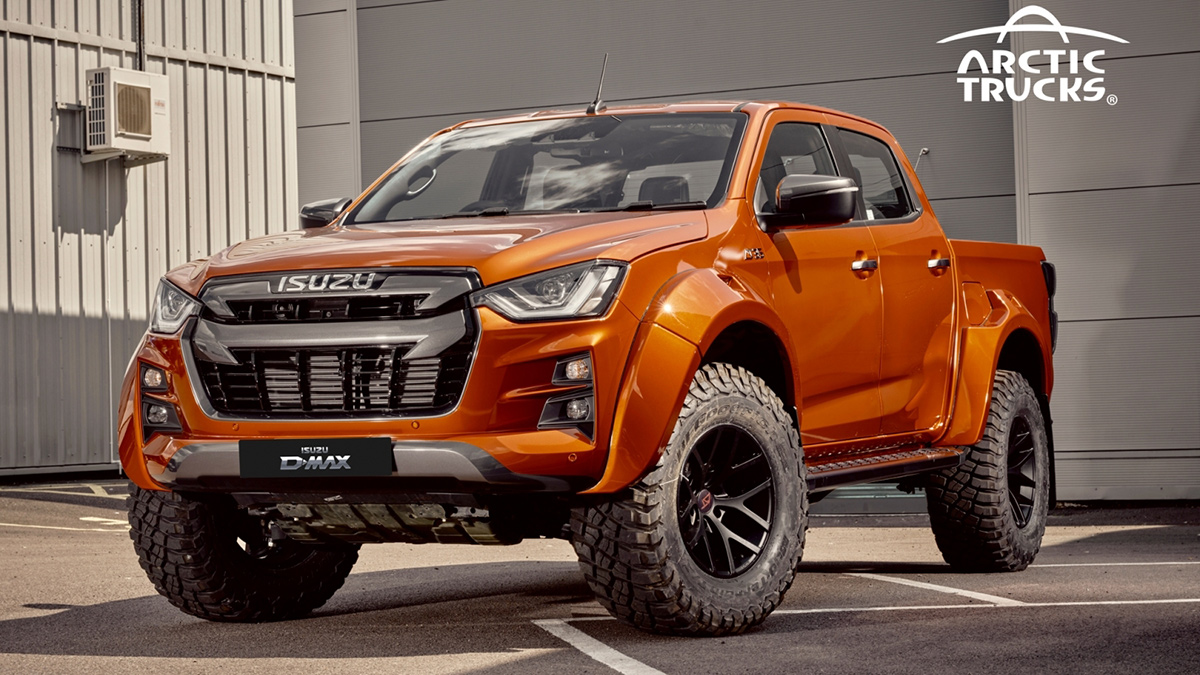 ADVERTISEMENT - CONTINUE READING BELOW ↓
Maybe it's just the size of the thing, maybe it's the image (those LEDs and Bilstein shock absorbers don't exactly murmur 'No please, after you'), but whatever it is there's nothing more effective at relieving road anxiety than being the biggest fish in the entire friggin' pond.
I had the car for a week and not once did I worry about curbing a wheel (thank you 35-inch all-terrain tires, mwah) or what might emerge from a high-hedged bend. Nor about the car seat, given our nipper would've been more vulnerable to prangs in there on the viewing deck of the Shard.
There's another reason this counts as a bonafide guilty pleasure: the engine. There aren't many people—even among petrolheads—who still cling to the idea climate change is one-per-cent-neo-liberal-establishment-elite con-trick, or whatever it was supposed to be on the dark web forums. And if we're honest with ourselves, rattling around in a 1.9-liter diesel truck the size of a TOWIE ego isn't going to do the polar bears any good in the long run.
To put it another way, I'm surprised I didn't wake up one morning to find Just Stop Oil glued to the pavement outside, confused police officers hovering nearby with the inclination to do something, but not the authority. Not that it would've mattered, I've got some candles in the loft: that usually gets them going.
Ahem. Still, it was fun. A family outing was made all the more memorable by the "monster truck" taxi (mother-in-law's words, not mine); friends' were also left agog. "What the ****?!" as my mild-mannered best man put it, shocked at the vastness of his orange train station shuttle service. Nice to see you, too.
ADVERTISEMENT - CONTINUE READING BELOW ↓
Recommended Videos
Do cars like this have a future? No. At least, not with that powertrain. And even in more mainstream stuff, you've got to wonder how long the appetite for bigger, taller cars can last against the need for smaller, electrified things that don't deal with CO2. But that's 2030's problem. When it's 40 degrees in April and rising sea levels have claimed Norwich, be in no doubt: it was fun while it lasted.
NOTE: This article first appeared on TopGear.com. Minor edits have been made.