Jaguar is not known for its rallying heritage. Mainly, we thought, because it doesn't really have any.
Turns out this is not the case. Back in 1950, a man called Ian Appleyard and his wife Pat—daughter of company-founder Sir William Lyons—entered an XK120 in the Alpine Rally, then one of the world's most prestigious motor races, and the event for which Alpine (the brand) was named. They finished without incurring a single penalty point, so naturally, they entered twice more and did the same again.
Meanwhile, in 1951, they won the 3,380km Tulip Rally, and in 1953, they were crowned the first official winners of Britain's RAC Rally. All in the same Jaguar XK120, which by now we suspect was starting to look a bit secondhand.
And it's that XK120 that inspired the creation of this thing—a Jaguar F-Type rally car not intended to compete (getting it homologated would cost money JLR simply doesn't have at the moment), but nonetheless effectively built to proper FIA specs. We've driven it, too. So, keep reading a rundown of just how you go about turning a sports car into proper rally car, plus a quick look at what it actually feels like to drive.
Do the suspension. All of it.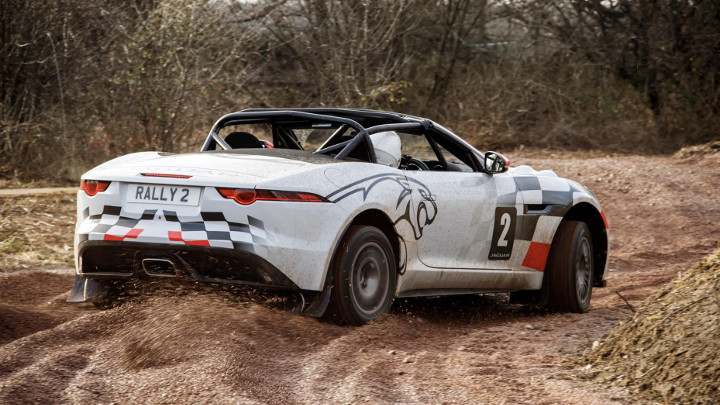 ADVERTISEMENT - CONTINUE READING BELOW ↓
The obvious starting point, isn't it? In turning the regular F-Type into a rally car, Jaguar removed the standard springs and dampers, then threw them in the bin. In their stead, the company fitted adjustable Eibach springs some 40% softer than a standard F-Type's.
For the dampers, Jag obtained and fitted bespoke, hand-built items from a company called EXE-TC, which has a fistful of World Rally Championships to its name, and also supplies bits for the Singer DLS. The F-Type's dampers have remote reservoirs and are manually adjustable three ways.
In all, the F-Type rally car rides some 40mm higher than a normal F-Type. Doesn't sound like much, but it's noticeable.
Get over your thing for big wheels.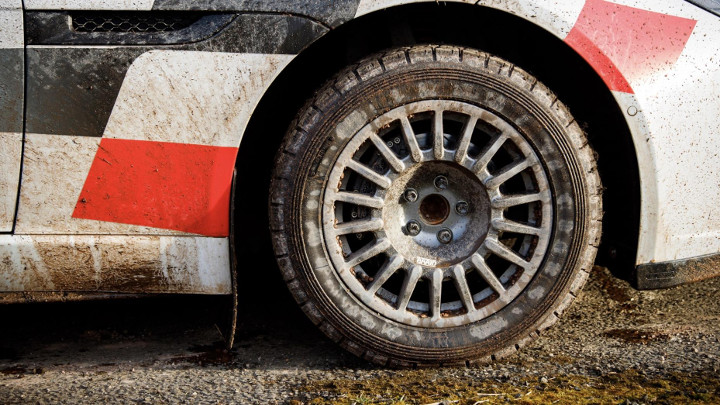 Especially when you're riding on tiny 16-inch wheels, rather than the usual 19- or 20-inchers. The special Braid competition-spec wheels are built for gravel, and shod with knobbly yet skinny 255/55 Maxsport tires. They mask brakes designed specifically for use on gravel, with 295mm discs (40mm down on the road car) and four-piston calipers.
ADVERTISEMENT - CONTINUE READING BELOW ↓
Recommended Videos
Strip some weight...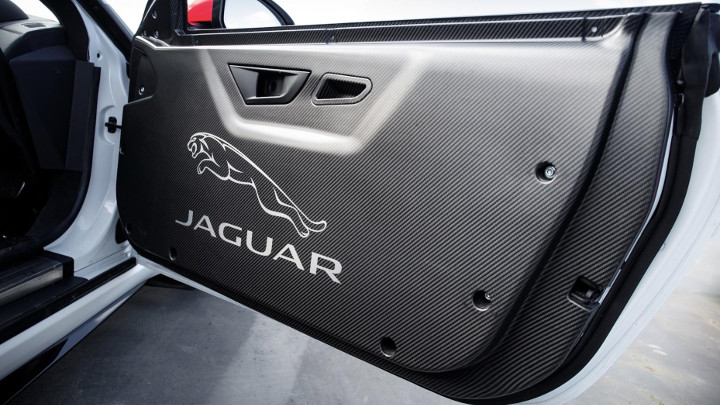 You'll have noticed this F-Type is of the convertible variety, so the biggest slab of weight you can get rid of is the roof mechanism. And that's exactly what Jaguar has done. This is a truly open rally car, which means if the going gets especially boggy, you will get a face-full of mud, and when it rains, you'll be getting very wet indeed. Still, saves a bundle.
You also get lightweight racing seats with six-point harnesses and carbon-fiber door cards borrowed from the F-Type GT4 race car.
...then add it all back with a roll cage.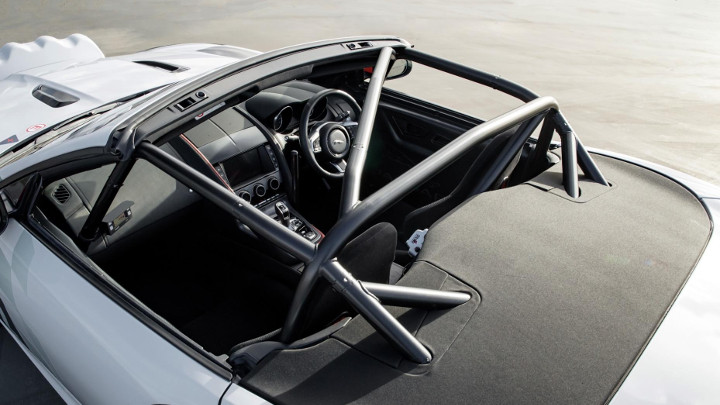 ADVERTISEMENT - CONTINUE READING BELOW ↓
Safety first, kids. The FIA-approved cage is heavy, but entirely necessary a) to keep your head and neck from bearing the brunt of a rollover; and, b) so the F-Type complies with FIA safety regulations. The carbon door cards we mentioned earlier are mainly there to allow space for the cage, rather than give any meaningful weight savings.
Jag hasn't told us how much the F-Type rally car weighs, but we're guessing it's still quite a lot. After all, it still has all the air-conditioning/infotainment gubbins of the regular car—they're so hard-wired in that for this one-off project (though there are actually two), it was easier to leave them in place. If Jaguar was serious about taking this thing racing, you'd see a properly stripped-out interior. As it stands, the standard F-Type dashboard, center console, and instrument binnacle have survived the transformation almost entirely intact.
While we're on safety, there's also an electrically actuated fire extinguisher, should things get a bit hotter than intended. And of course the six-point harnesses.
Pull some fuses.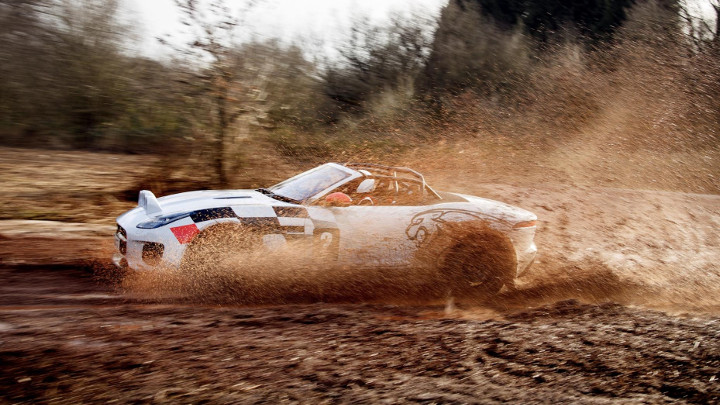 Modern road cars have an astonishing number of electrical safety systems, from basic traction control and antilock brakes, to autonomous emergency braking and other crash avoidance tech. For the F-Type, all these systems have been deactivated. Good.
Leave the engine and the gearbox well alone.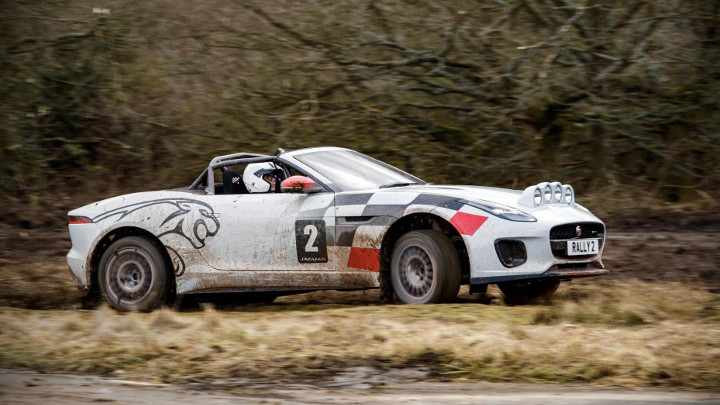 The F-Type rally car isn't based on a big, V8 SVR. Which is a shame, because wouldn't that be just hilarious? Not a V6, either, but the 296hp 2.0-liter four-cylinder that was added to the range in 2017. This, Jaguar's engineers say, is because a rally car isn't about outright speed, but maneuverability and agility. And in their view, it's the rear-wheel-drive 2.0-liter that, at low speeds, is the most poised.
ADVERTISEMENT - CONTINUE READING BELOW ↓
The powertrain is mostly unmodified over a standard 2.0-liter F-Type. The only real difference is that you get the mechanical LSD from the V6 F-Type, giving more traction and 8% shorter gearing for the eight-speed auto. Obviously, if Jag were to go racing, there would be substantial changes here—a proper sequential box, for one.
It's louder, too, because the exhaust's center section has been deleted. And instead of plastic undertrays, underneath is a load of 5mm-thick aluminum plating to protect the oily bits from damage.
Add lights.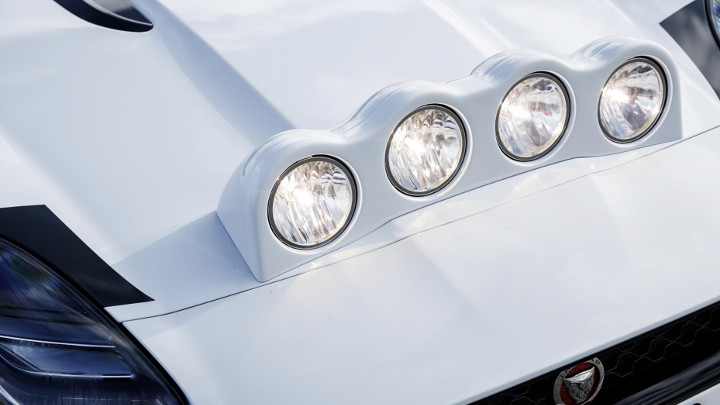 Light. Pod. Need we say any more?
Get yourself a proper handbrake.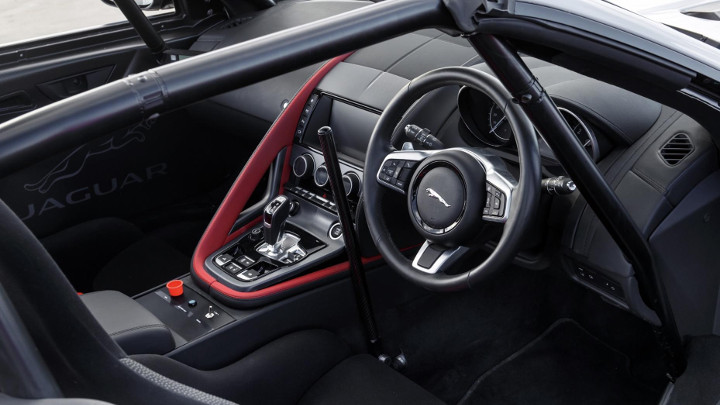 Or, better yet, a hydraulic handbrake. Normally, the F-Type has an electronic handbrake. Pull that at speed and the car will slow to a stop, but the rears won't lock. Not even slightly. Which, in a rally car, is a problem, to say the least.
So Jag deleted it, and added a big lever to the left-hand side of the steering wheel. Pull it quite hard (it requires more effort than you think) and the rears will lock, arcing you gracefully around tight hairpins. Or pirouetting you into a hedge. Works both ways.
How does it drive?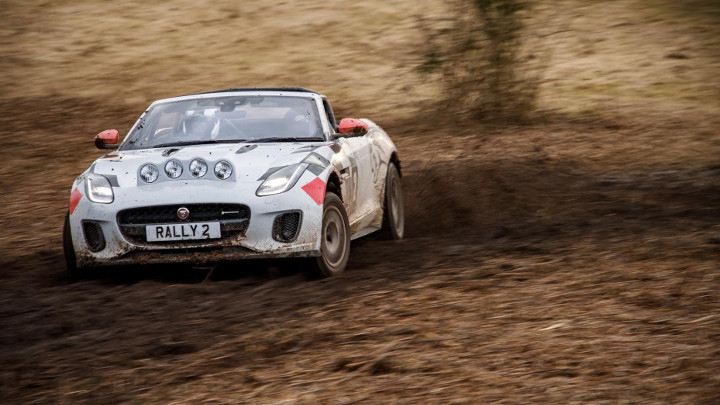 ADVERTISEMENT - CONTINUE READING BELOW ↓
Oh it's a laugh, alright. The course Jag had set up for us was a tiny, narrow affair round the back of its Fen End engineering center. Not a proper rally stage and not fast, by any means, but varied and technical enough to get a sense of the F-Type's ways.
The roll cage means it's like climbing into a coupe, because you have to duck your helmeted head under metal tubing thick and hard enough to support the weight of the entire car. But once you're buckled into the race seat, it's all very F-Type—F-Type steering wheel, dashboard, center console, gear-lever...
There are clues you're in something a bit different, though. The hydraulic handbrake lever, for example, and the small array of buttons just behind the gear lever, which lets you turn on the light pod, arm the fire extinguishers, and so on. Then there's the little screen between the dials, which is constantly cycling through error codes brought on by all the modifications. The car's computer is plainly having a meltdown of fairly epic proportions.
Yet it starts on the button, and slots into drive in the normal way. Like a normal F-Type.
The first bit of the course is tarmac, albeit slick with mud. There isn't much grip, even with those knobbly tires, and the F-Type slews away from the start line. The first thing you notice is the noise, which is loud and purposeful if not especially sweet. Meanwhile, the pops and bangs on the overrun are a whole new level of outrageous.
Then comes the ride, which is remarkable. It's soft yet composed, with the kind of compliance and control you only find in cars with competition-grade suspension. It reminds me a bit of our old off-road spec Ariel Nomad in the way it handles divots and potholes, though it doesn't have that kind of suspension travel. Whatever you throw at it, the springs and the dampers lap it up. In an F-Type this is most incongruous.
There's roll when you turn in, and dive when you brake—it makes the car feel quite old-school. The way it slides is as benign as I've ever experienced, too. It's a bit like driving on ice—where the throttle is used as much for steering as it is for accelerating, and it feels like you have all the time in the world to react. Where you exit every corner with a load of opposite lock, lots of noise, and a massive smile on your face. Sideways feels like the most natural way to drive it, in classic RWD rally-car fashion, exploiting the F-Type's inherent balance and poise along with that mechanical LSD.
This is masses of fun going relatively slowly for a rank amateur like me. But in the hands of someone who knows what they're doing, and on a proper rally stage, that friendliness and the F-Type's inherent balance must translate into serious speed.
ADVERTISEMENT - CONTINUE READING BELOW ↓
Jag just built the F-Type rally car for a bit of fun. And it certainly is that. Fingers crossed it doesn't spend its life gathering dust in a warehouse, but out in a forest somewhere. Getting dirty.
NOTE: This article first appeared on TopGear.com. Minor edits have been made.