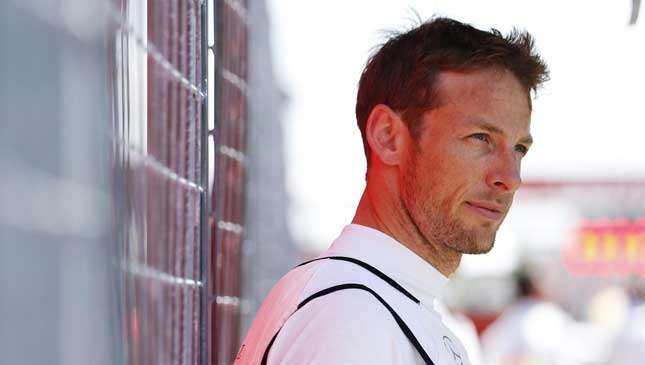 What exactly does a Formula 1 world champion drive when he's away from the track? Something as slow and soothing as possible, presumably, to help balm those frayed nerves?
Nah, not a bit of it, not when you're Jenson Button. Turns out between winning races he found plenty of time to live out his bedroom poster fantasies… well one of them at least. From Vauxhall Cavalier to McLaren P1, Button talks us through his incredible back catalogue.
"The first car I actually drove, besides go karts from the age of eight and Formula Fords, the first road car, was the Suzuki 'Jeep'—the square one before the Vitara. My dad would let me drive it in the field across from the house, he remembers looking out the window and seeing me going backwards at 64kph.
Continue reading below ↓
Recommended Videos
"The first car I bought after I passed my test was using £2,000 (P135,000) of my race winnings from karting. It was a Vauxhall Cavalier 2.0-liter, the 8V not the 16V, couldn't afford that, and it was dark blue—a 1990 G-reg with 90,000 miles (144,840km). I put some 17in wheels on it, Sachs suspension and obviously the speakers every kid had when they were 17. Actually, that thing drove bloody well, once I was finished with it, it was a good little car.
"I went through a few cars after that that I didn't actually own, I was given them. I had a Ford Kuga for winning the Formula Ford Championship and then a Renaultsport Megane 2.0 coupe, both great fun.
"The next car I bought was when I actually got into Formula 1. I was 19 years old, I bought a Ferrari. It was yellow, a 355 GTS, second-hand, it was two years old and I absolutely loved it. I remember I went to go and view the car at the dealership and wasn't allowed to test drive it because I wasn't old enough for their insurance, so I had to sit in the passenger seat and get a feel for it. I put the money down, did the paperwork and then drove it home. And I still own that car. I had it in Monaco for a few years, I used to cruise around the Cote d'Azur in my 355, so many memories. I'll definitely keep it forever, that engine is just a beautiful sounding thing, it's like music. I know Dario Franchitti has one with a big loud exhaust on it, I might do the same.
"The annoying thing was, at the time it was next to an F40 in the showroom, the F40 was double the price, but still it was only £160,000 (P10.8 million), now it's almost a million.
"After that I really go into supercars. I went through a phase of loving the Bugatti Veyron, which I owned for a couple of months. I enjoyed it, but I couldn't deal with the insurance and the servicing and if you damaged a tire it was £5,000 (around P340,000) and you had to buy another wheel, which was £5,000. That wasn't fun, I spent the whole time worrying. So I sold it. Then I bought a Ferrari Enzo… and owned that for two weeks. I didn't get on with it at all, it just felt cumbersome and lazy. The problem was it felt like a race car, but wasn't a race car, so what exactly was it? Really I should have held on to it because it would be worth a fortune now.
"Then I went through a Vee-dub camper van phase. Yep, I bought two vans—one for the UK and one for Monaco. One was gold—a fifteen-window—the other one was a van, which was originally stickered up and painted as a Coca-Cola van. It had the original 1.2-liter engine in it so I got rid of that, stuck in a 2.0-liter VW engine, 200hp, did all the suspension, added Fuchs wheels. I loved that car—still own it as well—and used it for triathlons. We'd get it stickered up with the charity we were raising money for. It became a special car for me, which is why I couldn't get rid of it, even though I haven't driven it or seen it in 10 years.
"I bought and sold quite a few cars in my F1 career, and most of them I didn't really drive, which is such a shame. I had a Porsche GT2 RS, a couple of other fun things, but then it reached a point when I decided I only wanted to buy cars that meant something to me, not just because they were the next new thing.
"The car that meant so much to me as a child was the F40, because I had three things on my bedroom wall: Bart Simpson, Pamela Anderson and the Ferrari F40. I looked for a year and found a few low mileage cars, but they were all in bad condition. I eventually found one that was completely original with more miles on it. The thing to look out for on an F40 is the roof—if you can see the weave, it's the original paint. A lot of people see the weave and respray it, but that's how you've got to leave it.
"I've still got it, driven it a fair bit and it's just such a laugh. It's mental because all the power comes at once, it's so mechanical, there's no real electronics. You get to a certain rev and the boost just kicks in and it goes mental. It's a crazy car to drive. I drove Alain Prost's 1986 McLaren up the hill at Goodwood once and it was exactly the same, you hit 3,500rpm and there's just a bang in your back. Something that's difficult to tame, that's what I love. It's why the F40 is such a special car to racing drivers and a lot of drivers I know own them.
"After that, it was the P1. I've worked for McLaren for eight years now, and I knew I had to get a P1 when I heard about them. Obviously, it's a car that will help you when you get into a difficult situation, but it needs to, it's got 900hp. It's the only road car I've driven on a circuit that feels good. Most road cars don't, they're made for the road, they're not quick enough, they don't have the right downforce, mechanical grip, whatever. I didn't develop it myself, I wish I did, but I'm happy with what they did with it, it's an awesome bit of kit. If you think you're a superhero and you're not, it will bite you, but that's why it's so good.
"There are two dream cars that I'll never own, because of how expensive they are already. One is the McLaren F1, the other is the Ferrari 250 GTO. Both are the most stunning cars of their era and always will be because they were such limited numbers; there was nothing else like it at the time. Now you have so many supercars and hypercars, back then there was nothing, that's why they stand out.
"Recently, I've been spending a lot of time in California and I've never bought a true American car, so I went to an auction. I ended up coming home with three: a Chevrolet pickup 3100 pick up from 1956 which is Smurf Blue, a Chevy Bel Air which has an LS7 Corvette lump thrown in it with 500hp, an amazing bit of kit, and I also bought a Trans Am. I got home, looked at them and thought…what have I just done. To be fair though, I got them for a really good price.
"I've never really driven the Trans Am, you wouldn't either, it's gold, but my girlfriend has a bikini company called Girls On Swim and she asked to borrow it for a photo shoot. So I drove the car there, to the beach, and little did I know there was going to be eight girls there in bikinis covered in avocado oil sitting all over my Trans Am. It has to be the luckiest car in history."
Jenson's book, 'My Life to the Limit' (Blink Publishing) is out now
NOTE: This article first appeared on TopGear.com. Minor edits have been made.