Apparently, one of the main selling points of the all-new Nissan Almera is its incredibly capacious trunk. In fact, trunk space is among the few things highlighted in the car's 30-second TV commercial produced specifically for our market.
Indeed, at last night's launch affair for the Almera at Makati Shangri-La Hotel, Nissan Motor Philippines mostly left the display units' trunks open just to demonstrate this fact. The press release handed out to the media said: "At 490L, the Almera's luggage trunk is among the largest in its class. A wide opening lid reveals a deep and practical load space, free from obstructions. The trunk-lid hinges, for example, are hidden while the tools and the jack are also stored away so as not to interfere with the load space."
The ever-curious folks that we were, we just had to see for ourselves how true the trunk-space hype was. Sure, 490L sounded like a lot, but what could we actually fit into that kind of volume? And so we asked our print managing editor Stephanie Asi and online managing editor Tracy Carpena to literally stuff themselves into the trunk. Check out the photo below and see how our little trunk experiment went.
ADVERTISEMENT - CONTINUE READING BELOW ↓
Photo by Vernon B. Sarne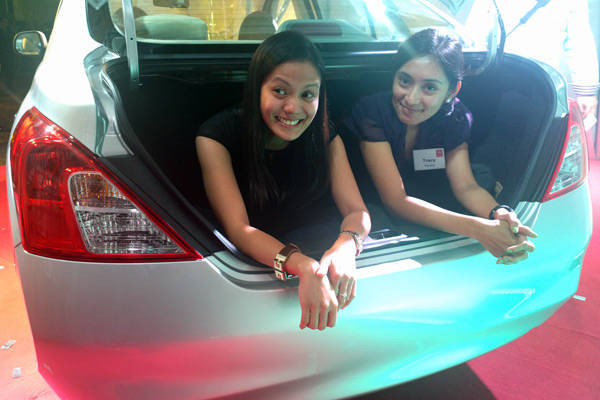 ADVERTISEMENT - CONTINUE READING BELOW ↓
Recommended Videos