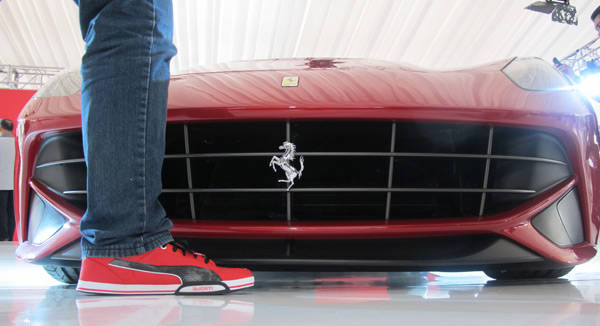 Last weekend, we attended the Southeast Asian launch of the Ferrari F12 Berlinetta in Jakarta, Indonesia. While it was a bit disappointing that the event didn't include a test drive--not even a token round-the-block spin--just seeing the car up close and sitting in its cockpit was enough to send chills down our spine.
And as we stared at the awesome Italian grand tourer, we couldn't help but notice just how ridiculously low it sat on the floor. We wanted to find out just exactly how low, but we didn't have any measuring instruments with us at the time (and neither did the official product literature indicate). So we had to think of something just so you could fully appreciate the manner in which this Ferrari squats on the ground.
We put our right foot right next to the car's face and captured in photo just how close to the ground the front air dam is positioned. It's practically just the height of our sneaker's toe part! At this ride height, the Berlinetta will have excellent downforce, but it won't be able to pass through probably 95 percent of our roads in Metro Manila, considering how we have countless humps and potholes.
ADVERTISEMENT - CONTINUE READING BELOW ↓
Thankfully, of course, this car has ride-height adjustment that will allow it to clear most speed bumps--with the exception, perhaps, of insanely tall ones that our private subdivisions love constructing.
Photo by Vernon B. Sarne
ADVERTISEMENT - CONTINUE READING BELOW ↓
Recommended Videos