The rendered concept car you see before you is a Koenigsegg. You might have already figured that out because the doors may have given it away. But you may have also noticed that those vertical-opening doors rotate toward the rear rather than the front, which is a bit different from what we've seen with the likes of the Gemera, Jesko, and Regera.
That's because this car wasn't made solely by Koenigsegg—this concept was created by a car design student named Esa Mustonen. Just to be a bit more specific, this car is Mustonen's output for his graduation thesis.
It's worth noting that Mustonen worked under the supervision of Christian von Koenigsegg himself, as well as Koenigsegg head of design Sasha Selipanov—the man who helped create the Bugatti Chiron. Can you imagine doing your thesis with these people for mentors? Damn.
The car is what Mustonen calls a "futuristic entry-level hypercar." It has three seats (surprisingly), three doors, and three cylinders—yes, the same 'Freevalve' TFG engine that powers the Gemera. The car is designed to weigh in at only 700kg, a lightweight structure that helps the car generate up to 700hp and achieve a 1:1 power to weight ratio. Not very "entry-level" for our taste, but we digress.
Continue reading below ↓
Recommended Videos
The car does look very futuristic, though, we'll give it that. Think '70s Dodge Charger, then put its face on a modern supercar—that's how radical the design is. The rear looks quite unorthodox, too, as its body is cut right at the tip of the wheelbase. As quirky as it looks, though—especially when you look at it from the sides—Mustonen says that the entire car was designed with a strong focus on innovative aerodynamics, with the articulated rear diffuser inspired by a jet fighter afterburner.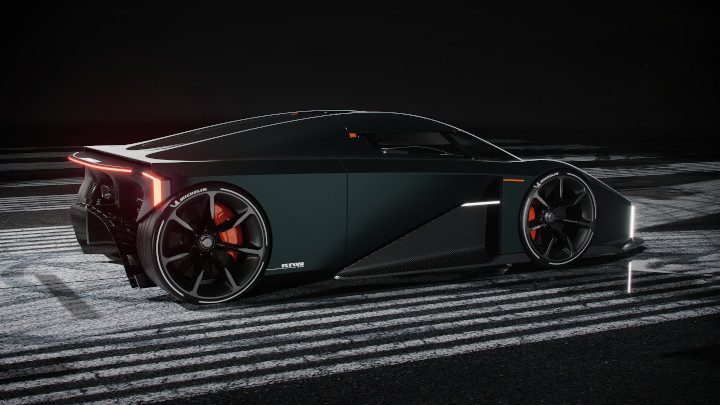 All that said, we don't know how such a design will actually translate to on-road performance—these are still just renders, after all. We've no idea if Koenigsegg would want to take this into production at all, but we're sure we'll be in for a treat if the Swedish carmaker decides to do so.
Anyway, what are your thoughts on this render? Like what you see? Share your two cents about it in the comments.