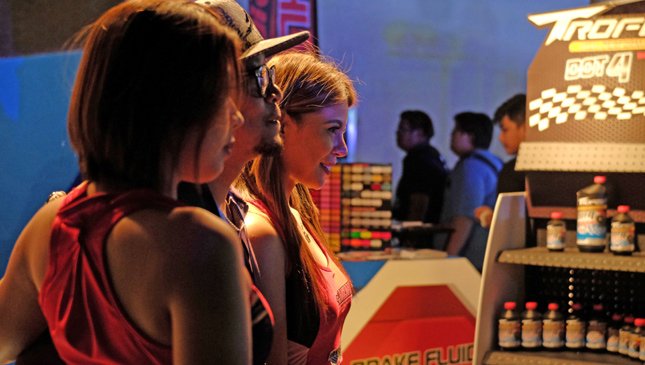 Back in 2016, a car show model told us during an interview for our Traffic Stopper section that she sometimes gets pictures of inappropriate body parts from men through Facebook. We were appalled, but our subject shrugged it off just like any normal work hazard.
In this day and age of #MeToo, a handful of think pieces about the necessity of girls in car shows have already been published and the righteous on social media call for car shows to be purely about cars. We even wrote about 'photographers' placing gear on vehicles to take photos of models.
Instead of the usual gallery of Manila International Auto Show booth babes, this year we asked for their pet peeves when it comes to the crowd during auto shows:
Anonymous, 23: When they upload photos of me with them on their social media accounts and brag about being their girlfriend. People tag us in these posts, you know. Concerned friends of friends also tell me when my photos are sent to their friends or groups. And yes, I know when they're trying to subtly take photos of my body parts that no proper gentlemen should. They even sometimes forget to turn off the flash.

Sara, 22: I find it annoying when they keep asking for a date. Ang kulit. We are just doing our jobs here. And sometimes the amount of crude jokes I have to put up with is unbelievable, but of course, I have to smile through these things."
Cindy, 26: When they get super touchy and super close. We don't like it pag may akbay, lalo kung walang warning."
Athena, 25: When they're here to take photos of girls, just girls. Please focus more on cars. It's a car show! We know when you're here and all you care about are the models. Photos of girls are okay siyempre, but keep it balanced.

Diane, 23: When they keep looking at my backside. Yes, I know. And sometimes, when these people talk to us, they don't even look us in the eyes. Our eyes are up here, sir.
Cham, 27: When someone passes by me the first time, they look at my boobs, and when they pass by the second time that's when they look at my face. I can see them. And pag may akbay, I can feel when it is innocent, and feel when it's not.
Wendy, 21: The amount of indecent proposals I've received. I've been invited to stag parties. I decline then walk out.
Tricia, 24: When they take too many photos with me instead of just one at marami pang nag-aantay mag pa picture. Some guys are even borderline stalker-ish on Facebook.
Chatting with these girls gave us an idea of what it's like being a car show model. They told us that the crowds at the Manila International Auto Show are the tasteful and proper bunch. Not surprising really, since most if not all the girls we talked to have been modeling for the annual show for years.
A model stationed in front of a sports car, who has also modeled for other car shows, admitted that small-time car shows in far-flung places sometimes have cruder audiences. She shared that some organizers of these small-scale shows even provide them with skimpier outfits.
Of course these girls will most likely not complain. The most they can do is warn you, because they are after all just doing their jobs. The good thing is they know what car shows are all about. Now if only the crowd these models are referring to would realize that as well.