The Toyota Quantum, or the Hiace to everyone else around the world, is a staple part of South African automotive furniture. Mainly because it's the nation's taxi. But you—or any South African, for that matter—has never seen one as wild as this before. We give you the bright-orange 600hp Lamborghini-inspired Quantum with a twin-turbo V12 mounted in its belly! Well, most of it...
Plummy Brits have a black Hackney Carriage, the US has yellow Crown Vics, and Morocco has aging Mercs. South Africa has a high-sided panel van. They're nearly always overcapacity and driven with no care for traffic regulations until the whitewall tires are worn through.
Honestly, if you want to lose some time hiding behind your hands in fear and astonishment, YouTube 'South African taxi compilations' now. But this is what happens when one mad enthusiast decides to genetically modify a Quantum with the spirit and DNA of an Italian supercar.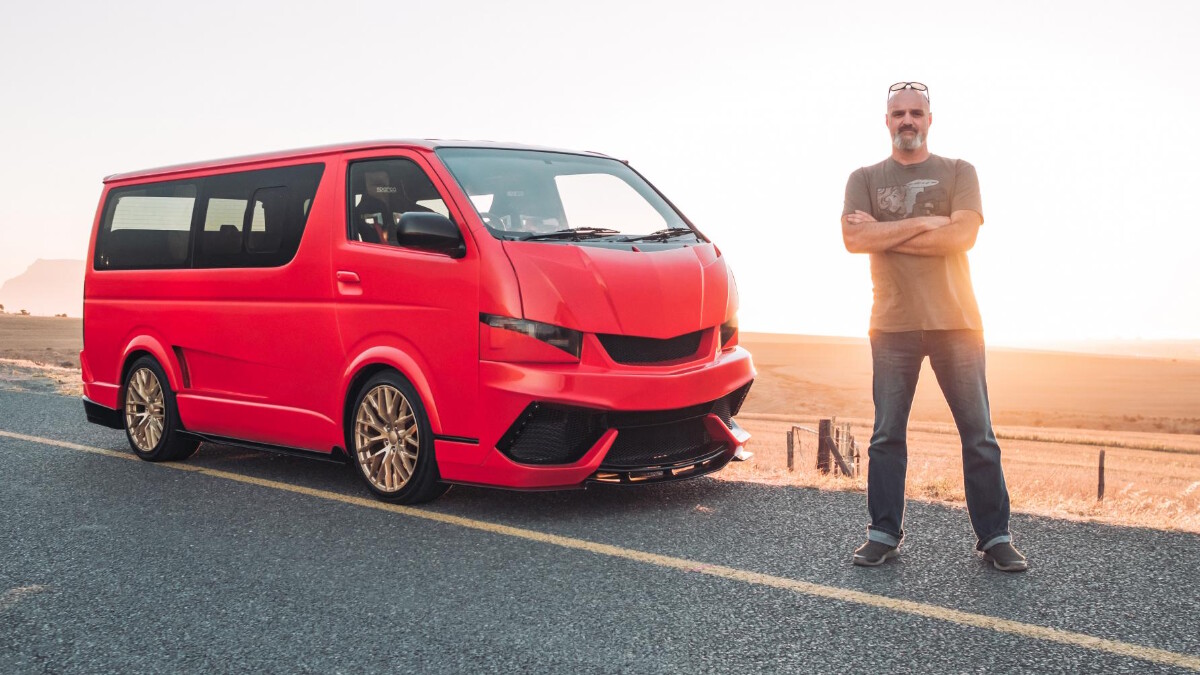 Continue reading below ↓
Recommended Videos
The man and mind behind it—James Redelinghuys—isn't afraid of a project. Every couple of years, he commits himself to a build that pushes the boundaries. In the past, he's tuned an Italjet Dragster to be one of the world's fastest scooters and sent a Smart Roadster to the outer atmosphere of engine tuning. But needing a way to promote his taxi and minibus rental business, he's decided to make the maddest minivan Africa has ever seen. But also may have bitten off more than he can chew in the process.
Projects getting way out of hand isn't a new narrative, but that doesn't mean they're any less gripping as a story. They have all the juicy components to keep you interested as ambition and overconfidence battle unforeseen problems and financial burdens. They're always a tightrope tussle where problems are solved with more money, then more money, then more money, until triumph is achieved and they have what they strived for...even if it means they'll be destitute, divorced, and eating instant noodles for dinner until they die.
"I thought it'd be simple," Redelinghuys admits. "Unfortunately, it appears I've decided to take on one of the most difficult projects there is."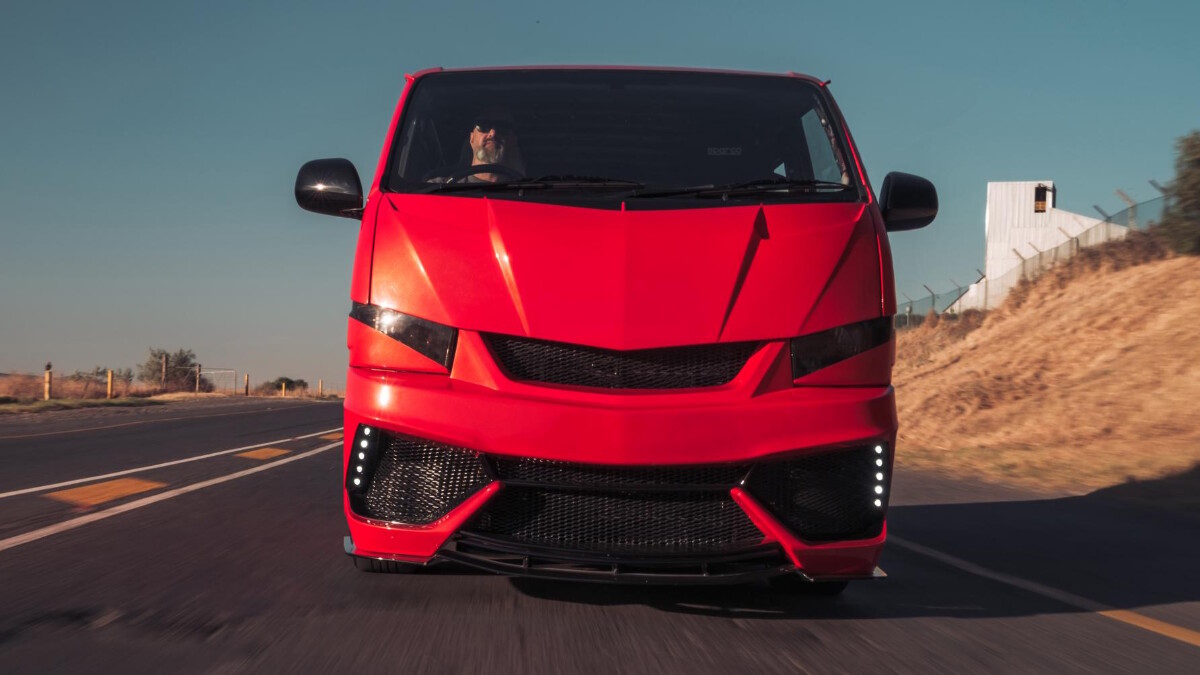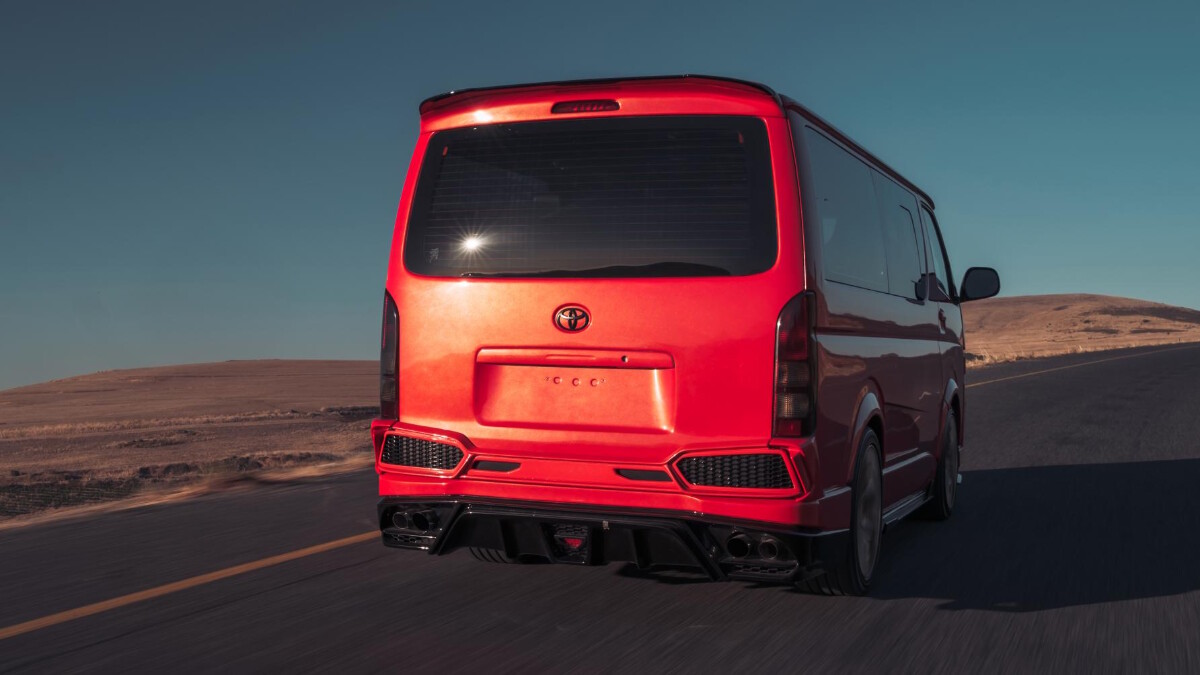 The plan was simple: to make a badass Quantum. Using his brother's mechanical expertise and Porsche restoration shop, in March 2017, he bought a standard 2.7-liter engine 158hp Quantum. Being the same engine that's in Toyota's impenetrable Hilux, these things have been tuned a million times, so the plan was to put a massive turbo on it, increase the power, and call it a day. But then he saw a bodykit online.
"There's this company in Japan called SAD," Redelinghuys says. "They do these amazing Lamborghini Aventador-style bodykit for HiAces. As soon as I saw it, I knew I had to have one." This, compounded by his obsession with detail and more, is where things started to spiral.
After hiring a local Japanese translator to umpire the email exchanges between Cape Town and Tokyo, when the nearly £5,000 (P344,000) unpainted bodykit parts arrived, Redelinghuys realized that the standard engine and brief wasn't enough. So he thought 2JZ was the answer: easy to get hold of, easy to tune, easy win. But then he had another idea: "I woke up at 4am and thought a 2JZ isn't enough. I need to have a V12. Mid-mounted. Like a Lamborghini!"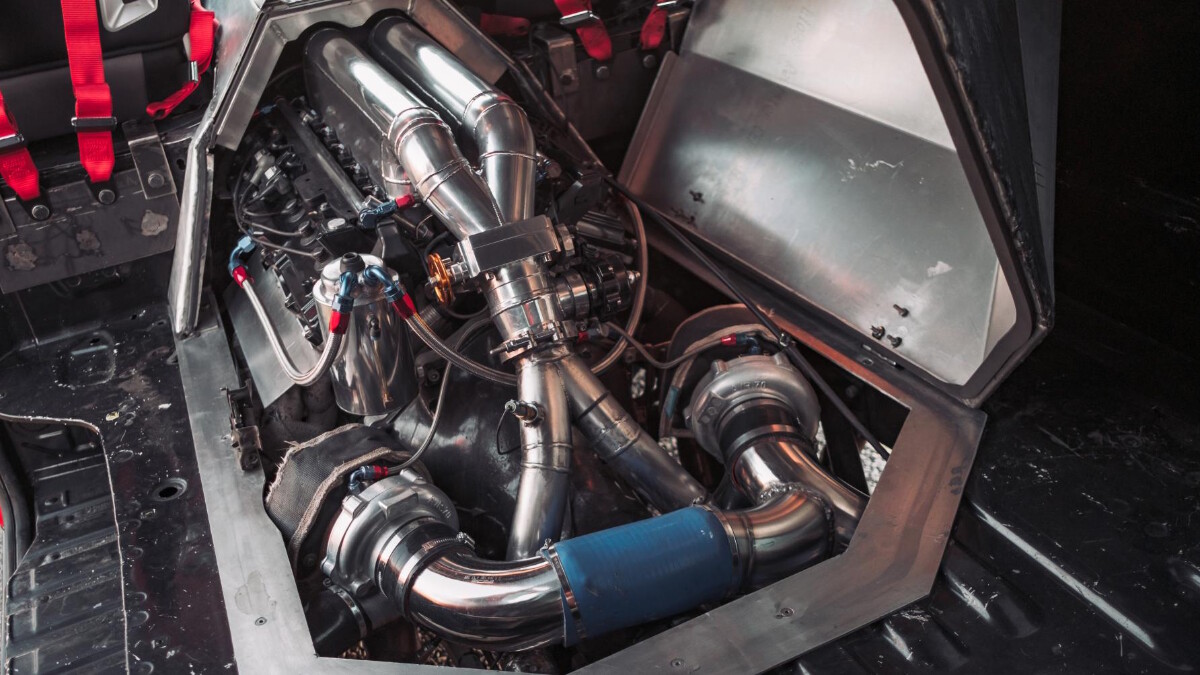 So, he bought a 5.0-liter V12 from a Toyota Century, which just so happened to have washed up in Africa. Then he thought he'd turbo the hell out of it. But that wasn't enough. So, he decided to twin-turbo it. See, Redelinghuys doesn't do things by half measures. And weirdly compares his tuning philosophy to a liquid dinner.
"If you make a soup—it has to be a landscape of ingredients. You can't have too much of one thing, everything must be in equal parts to float over your palette and be neutral," he points out. "It's the same with cars. You don't want something that draws too much attention to one thing."
As poetic as this is, it's also madness. Redelinghuys may have everything in equal parts, but because every part is done on an extreme scale, it's like a full English Breakfast where nothing has less than a seven-digit Scoville rating.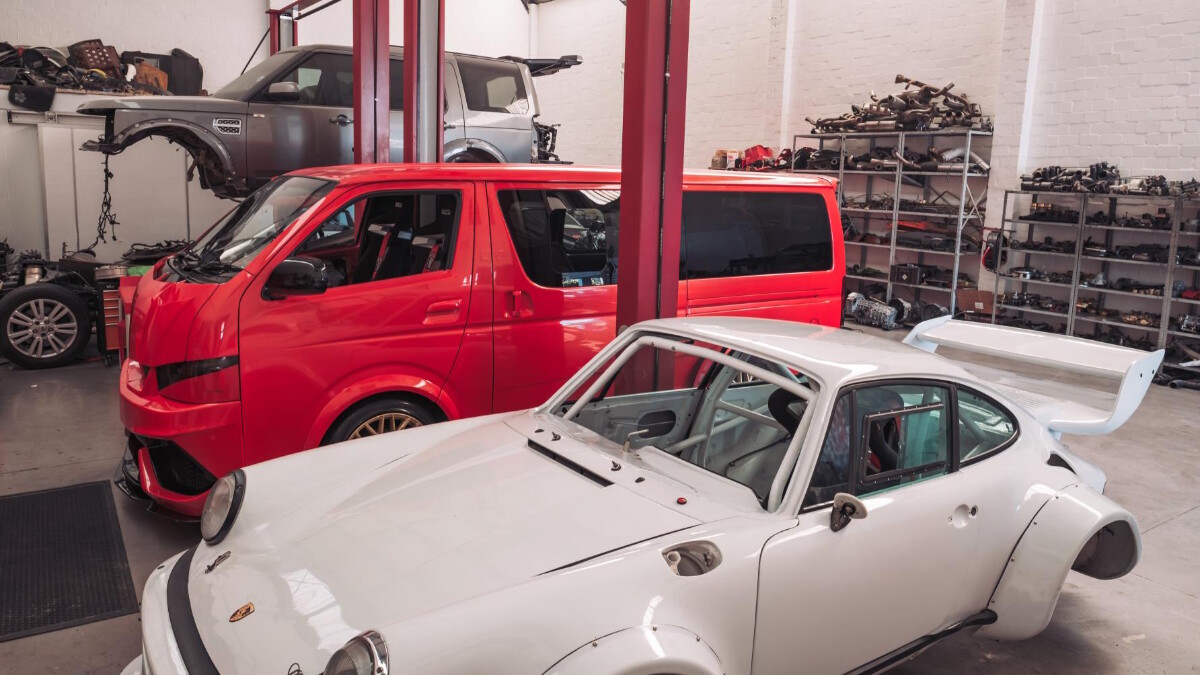 This is when the problems came. With all that space where passengers or trade pallets would go in the middle of the bus, they thought it'd simply be a case of cutting a hole in the middle of the floor and dropping the chassis over the big V12 like a dress. Not that simple. The prop shaft was a nightmare and is one of the shortest in the world—basically a stub of two couplings.
Then there was the engine itself. Or engines. Redelinghuys is on his third having blown two up on the dyno. He's gone through four suspension setups (starting with double triangulated rear suspension that suffered from horrific diff steer on boost), now resorting back to leaf springs with coilovers all round. He's also on his second diff, this time an LSD from a Mustang GT. He's even sprayed it three times, now going for a four-layer Xirallic Pearl that was six times the price of the original Aventador paint. And he's still not happy with it.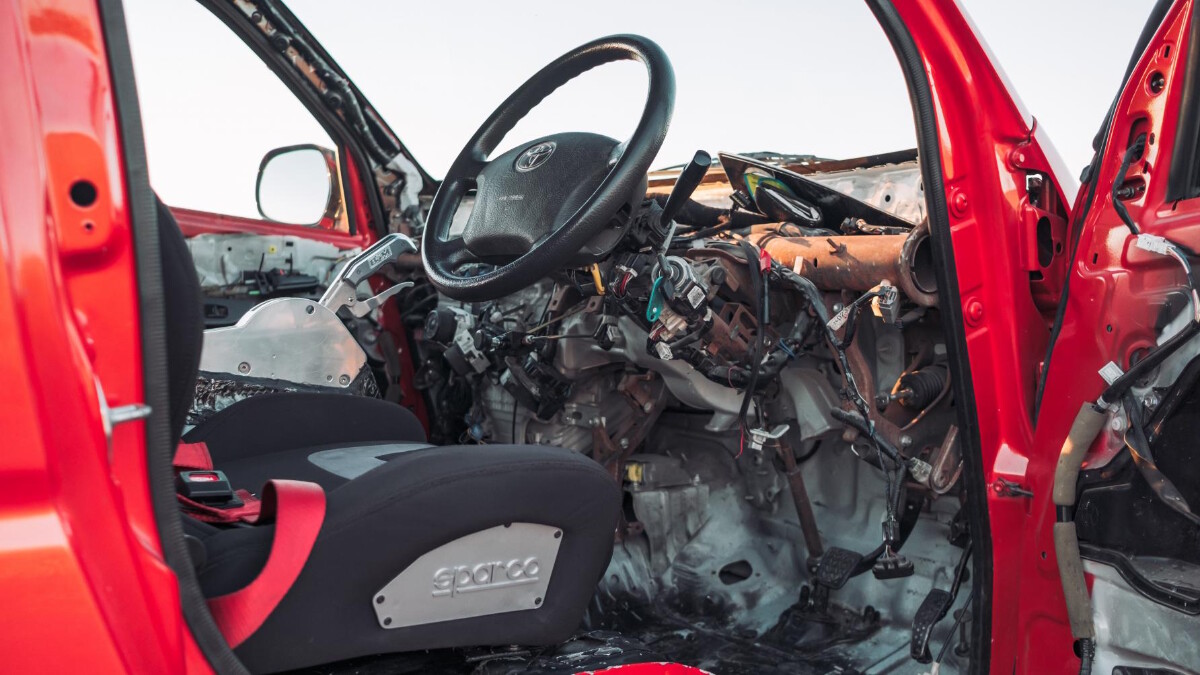 When I arrive to go out in it, the interior was a bag of oily bones. It doesn't exist yet as it's away being upholstered. When finished, it'll be a black and red leather dungeon with four racing seats and a big V12 lump as a footrest. And like all great grand designs, this project has been refinanced many times. But as it owes him so much money, it's already on Gumtree while still being built to try and recoup some funds. It's a classic case of being too deep to give up. So he plows on.
And it's one hell of a taxi ride, that's for sure. With 542hp and 697Nm initially coming from that big 5.0-liter lump before the two turbos wake up and get the party bus moving, it builds its power like a diesel then takes off when the boost hits before you grab the three-speed pistol grip gearbox and bang it in another gear.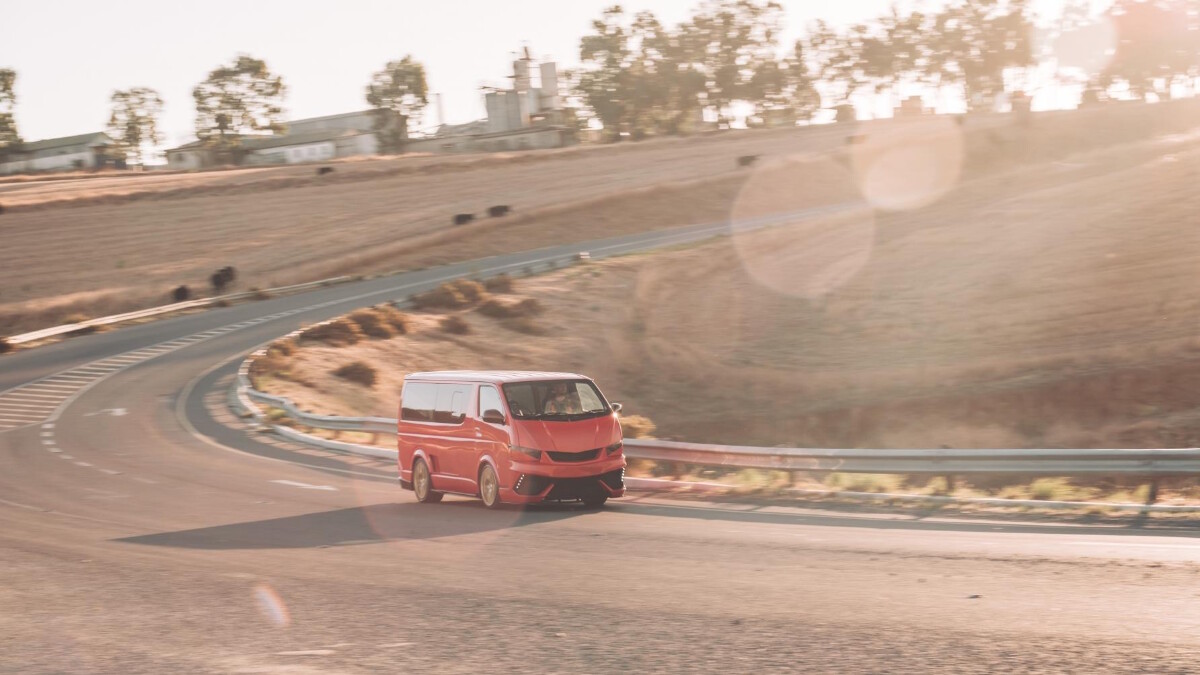 It's weirdly useable and hilarious when it gets into its stride, with the suspension offering more comfort than the dropped ride would have your eyes believe. And it stops. Which is a relief given they're just the standard brakes. But being a panel van initially, they're engineered for a three-ton payload and this is a lot less than that, so there's no need to upgrade them. Which may be a rogue hair in that soup analogy.
Even though this crazy Quantum is your bank account's nightmare, we need cars and projects like this in the world. They're stupidly brilliant and nothing but unnecessary. But a 600hp Lamborghini-inspired twin-turbo V12 minibus taxi needs to exist. Just because. There needs to be a new Uber category for this kind of thing. For those who dare to dream. We just can't wait to see it finished. If that ever happens.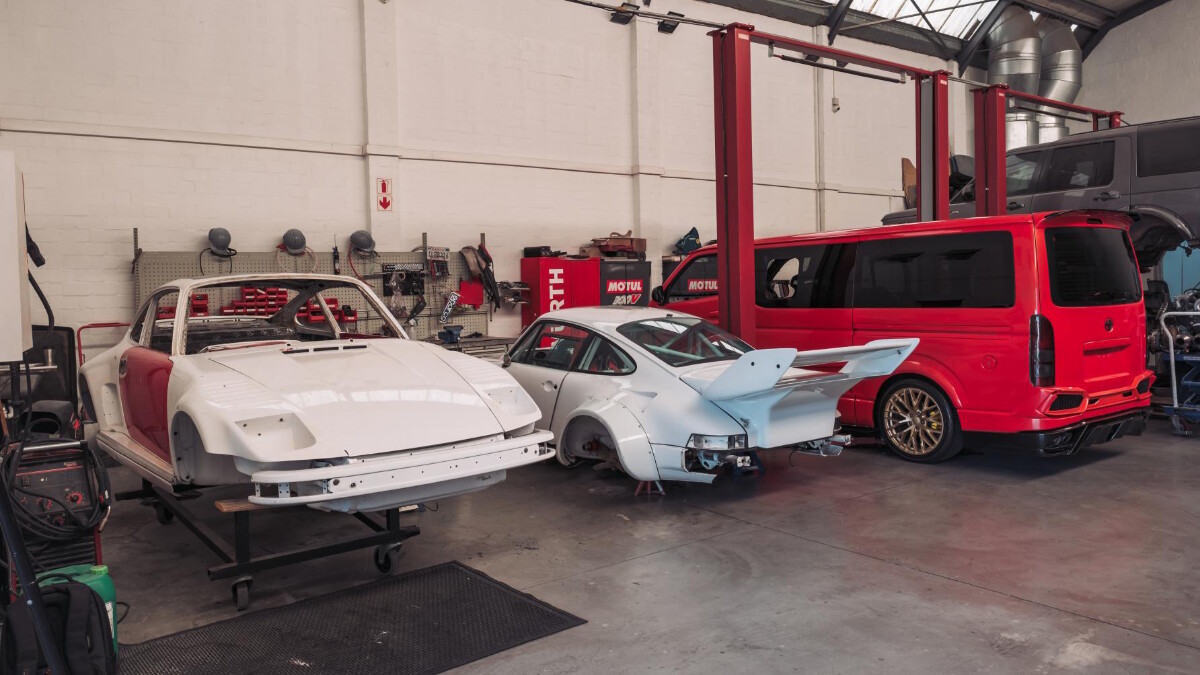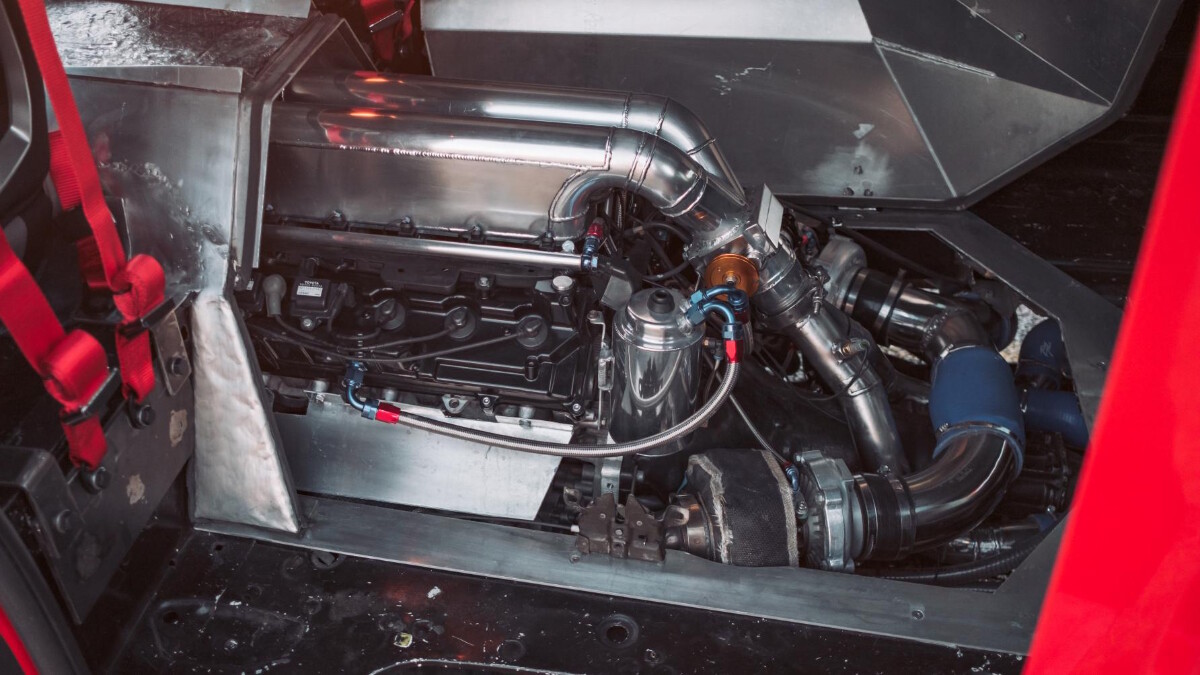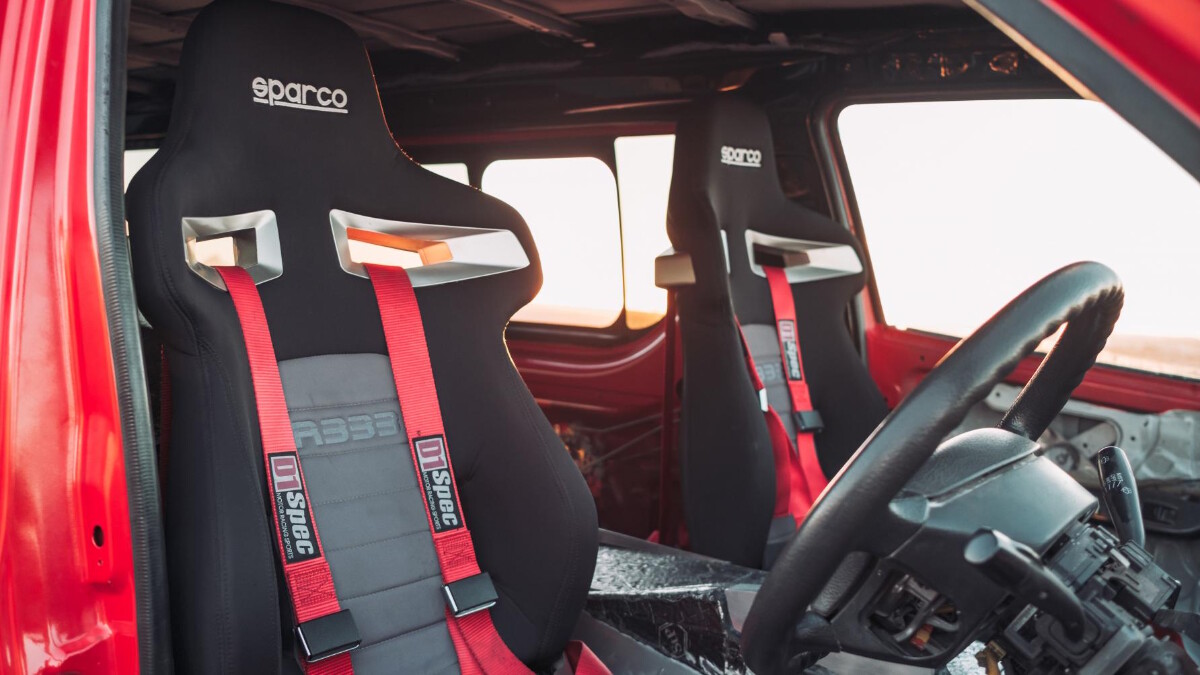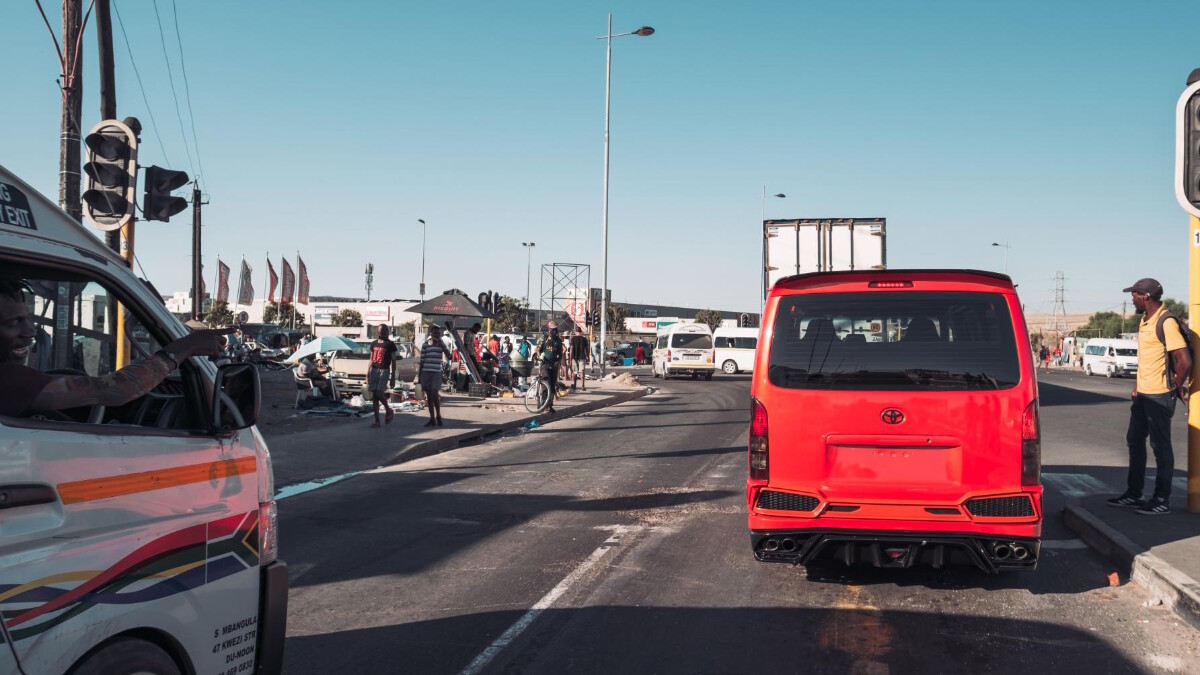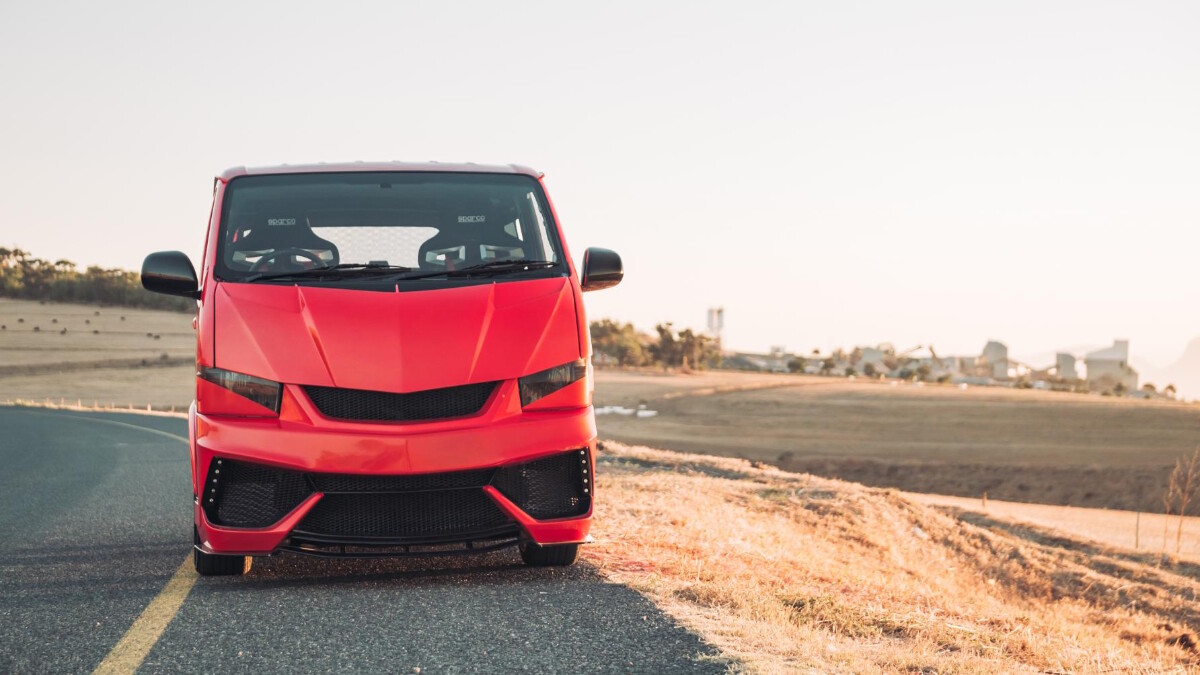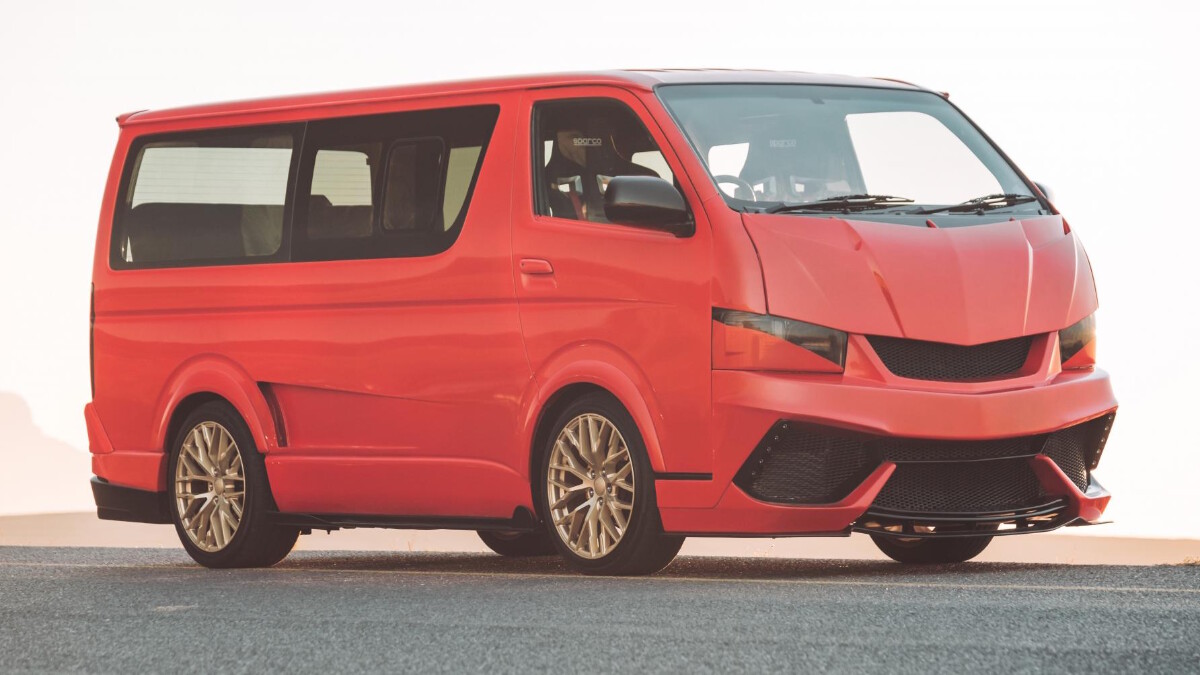 NOTE: This article first appeared on TopGear.com. Minor edits have been made.
Top Gear Philippines is now on Quento! Click here to download the app and enjoy more articles and videos from Top Gear Philippines and your favorite websites.