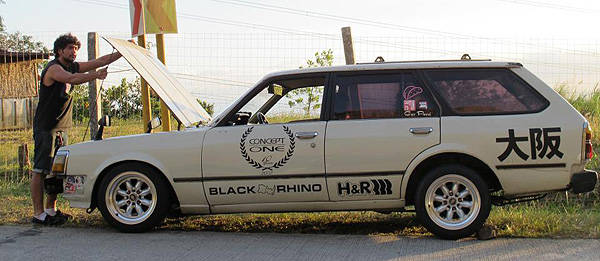 We assume you know about the anime series Initial D, which tells the story of Takumi Fujiwara, who serves as the delivery boy for his father's tofu shop using a Toyota AE86 Trueno. The series basically establishes Takumi's racing--and drifting--prowess gained from many nights delivering tofu through numerous mountain passes in Japan's Gunma prefecture.
Well, a local Facebook group dedicated to Japanese domestic market (JDM) cars recently decided to parody the series by coming out with a video featuring a Nissan Silvia S14, a Honda Civic Type R, and an old-school Toyota Corona station wagon driving along the Marikina-Infanta Highway. But instead of a batch of tofu, a big bowl of pancit is what's being transported in the wagon's cargo area--along with a tool box and some aerosol cans.
The video, called The Initial Delivery, is a spoof of Initial D, from the Japanese technopop background music and the English subtitles down to the exposition on mechanical tuning and the closeup of the gear changes and pedal footwork. Then again, we couldn't help but take notice of their disregard for basic traffic laws, like overtaking on the opposite lane while taking a curve or doing so on a no-overtaking part of the road.
ADVERTISEMENT - CONTINUE READING BELOW ↓
As for the group's name, we'll leave it to you why they call themselves Ozawa JDM.
Photo from Ozawa JDM's Facebook page
If you're viewing this on a mobile device and can't see the video, please click here.

ADVERTISEMENT - CONTINUE READING BELOW ↓
Recommended Videos