What is the LTO's online 'LTMS' Portal?
The Land Transportation Management System (LTMS) Portal is the Land Transportation Office's (LTO) new one-stop online shop that was first made public midway through 2020. It was initially launched to allow motorists to carry out contactless and online transactions with the LTO in light of the COVID-19 pandemic. Now, the Portal has become an essential part of the LTO's day-to-day transactions, as motorists are now required to access the website prior to going to an LTO office for services such as driver's license renewals. You can watch the clip below for more details.
How do I register for an LTMS Portal account?
Start your registration process by accessing the official LTMS Portal website. You'll see a 'Register Now' button there, from which you'll find the 'Enroll as an Individual' option. Regardless of whether or not you're already a driver's license holder, you'll be allowed to sign up.
After filling up the registration form and providing the necessary documents, a verification link will be sent to your email address. Failure to verify your account within 24 hours will result in the automatic deletion of your new account. Upon verification, you'll be asked to set a new password, then voila—you have an LTMS account.
Continue reading below ↓
Recommended Videos
You can also check out the video guide below for a more detailed registration walkthrough.
What kinds of services does the LTMS Portal offer?
You can apply for a new student permit, driver's license, or conductor's license via the LTMS portal. You can also renew existing permits or licenses through the website.
The Portal provides access to the new Driver's License Renewal Course, wherein motorists may both review for and take the Comprehensive Driver's Education (CDE) exam. Examinees who get a score of 50% or higher or answer at least 13 out of the 25 questions correctly will be able to acquire a CDE certificate which will be needed for license renewals.
You shouldn't be worried about taking the exam, though, as there are a handful of audio-visual presentations accessible through the LTMS Portal. The several hours' worth of videos contain all the information you'll need to ace the CDE Exam.
What driver education materials are accessible via the LTMS Portal?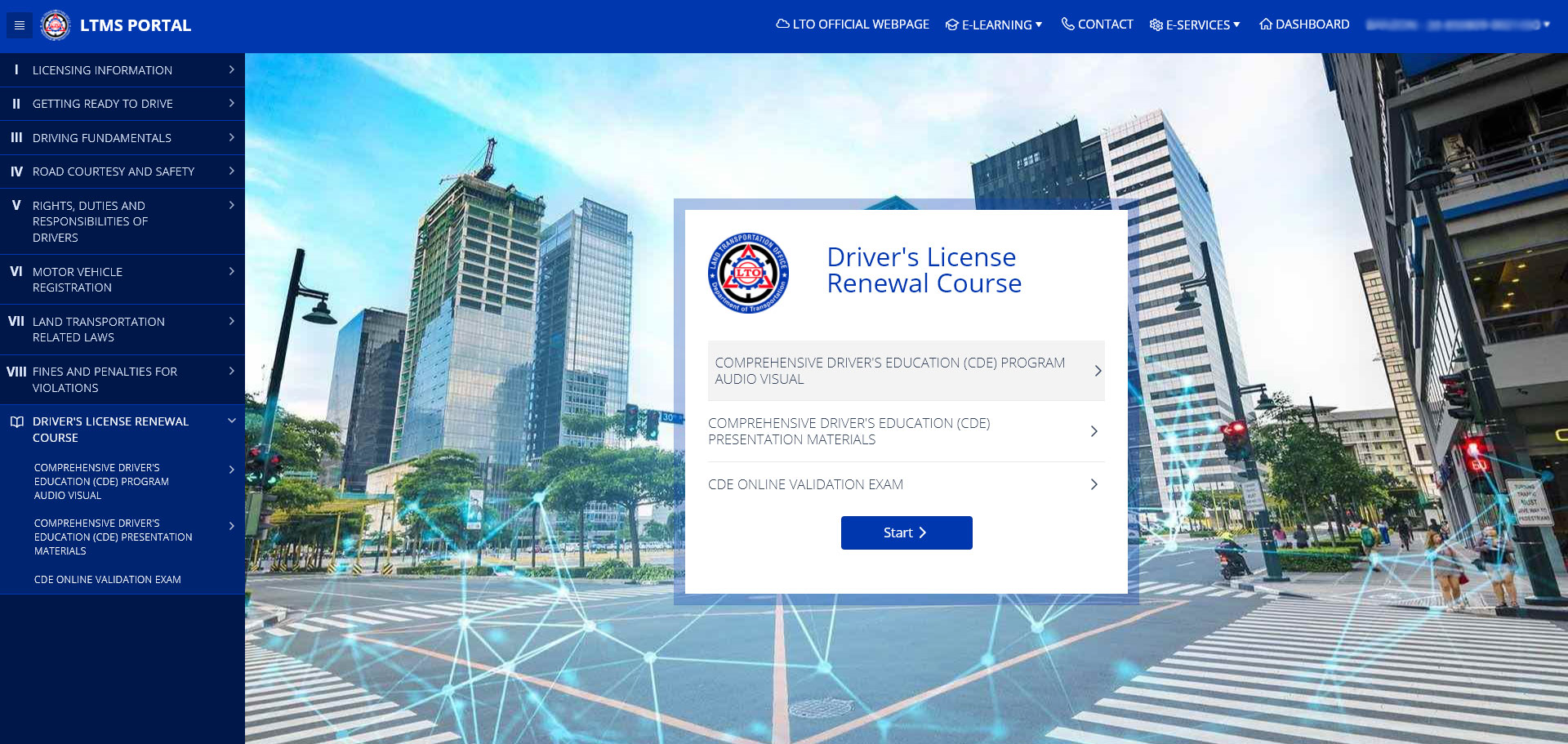 As mentioned, there are hours' worth of videos accessible through the Portal, and these same videos can also be watched via YouTube. But apart from these, motorists can also read up on a lot of other important stuff from the LTMS Portal's LTO eLearning section.
There's available info on licensing, driving, road markings and signage, and traffic rules and regulations. The website also has a database of all existing laws relating to land transportation. Whether you're reviewing to renew your license or not, these are very helpful tips that we reckon every motorist should at least be familiar with.
ALSO READ:
Fines, payments, schedule: Your complete guide to the number coding scheme
A, B, A1, B2: What do the new driver's license restriction codes mean?
To give all of you an overview of what exactly the website contains, we've enumerated all the LTO eLearning sections below.
LTO eLearning
Licensing information


Overview
- includes information on the various types of permits and licenses
Driver's license classification and vehicle category
Medical conditions and driving indications
Qualifications and documentary requirements
- covers all the requirements for all types of licenses and permits, including requirements for adding driver's-license restriction codes
LTO Portal Flowchart
Fees and other charges
- includes all fees relating to license applications and renewals

Getting ready to drive

Course content of driving school
- includes information relevant to drivers of motorcycles, light vehicles, and heavy vehicles
Pavement markings
Road traffic signs

Driving fundamentals

Checking motor vehicle and documents
Starting to drive
Driving on the road
- a comprehensive overview of how motorists should drive, including tips on how to change lanes, use roundabouts, and even following the right of way
Proactive vehicle maintenance

Road courtesy and safety

Road rage
Defensive driving
Dealing with emergency situations
Avoiding collisions
Hazards

Rights, duties, and responsibilities of drivers

General responsibilities of a driver
Responsibilities of bus, taxi, jeepney, UV express, and TNVS drivers
Responsibilities of a motorcycle rider
Responsibilities of a school-bus driver
Responsibilities of taxi, TNVS, and UV express drivers
Responsibilities of a tricycle driver
Responsibilities of a truck driver
Rights of driver during apprehension
Common traffic violations of public utility vehicle drivers that causes heavy traffic

Motor-vehicle registration

Documentary requirements for new registration
- covers all types of vehicles from commercial buses to motorcycles with sidecars and rebuilt vehicles with a local chassis and an imported engine
Documentary requirements for renewal of registration for all classifications
Motor-vehicle registration schedule
Motor-vehicle user's charge
Penalties, charges, and other fees
Assigned plate per region

Land transportation-related laws

Republic Act (RA) No. 4136
RA No. 8749
RA No. 8750
RA No. 8794
RA No. 10054
RA No. 10586
RA No. 10666
RA No. 10913
RA No. 10916
RA No. 10930

Fines and penalties for violations


Temporary operator's permit
Licensing
Registration, renewal, or operation, Dimension, specifications, weight and load limits
Franchise
What LTO documents can be viewed through the LTMS Portal?
Your LTO account will be linked to all of your IDs, permits, and other important LTO documents. These include driver's licenses, special permits, and even the registration of all motor vehicles listed under your name. All of these are supposedly accessible through the Portal, although we have yet to see if this part of the website is actually operational.
Traffic violations that you've incurred will also supposedly appear in the Portal. You can view all unsettled violations in your profile and see the history of all of your misconducts as well. Likewise, you can also apply for a Certificate of No Apprehension for your driver's license or registered motor vehicle through the LTMS Portal.
Top Gear Philippines is now on Quento! Click here to download the app and enjoy more articles and videos from Top Gear Philippines and your favorite websites.