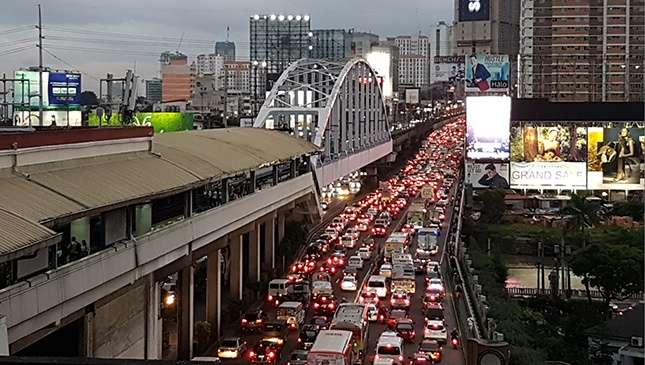 In case you missed it, last month the Metropolitan Manila Development Authority (MMDA) told motorists to brace for heavier traffic during the second half of 2018. This stems from a handful of major road works and repairs in areas like Buendia and North Avenue.
Our thought: Just great. As if travel times weren't already bad enough. But hey, if the government needs to fix roads and drainage systems, then so be it. The flow of cars around here would probably be worse if the authorities simply stood idly by while infrastructure deteriorated.
So, get ready for more blocked roads and alternate routes. With the headache of more cars and more traffic looming over our shoulders, we got to thinking: What areas in Metro Manila are already notorious for their horrendous traffic situation or lack of order on the road?
Continue reading below ↓
Recommended Videos
A few come to mind. The most notable (at least for us) being right in front of the Top Gear Philippines office. Seriously, have any of you guys tried entering Pioneer from EDSA via the Robinson's Cybergate complex on a Friday night? It's like a stampede of cars and tricycles trying to squeeze into a funnel.
Below are some of our most dreaded traffic hot spots in all of Manila. If you have any more to add, do let us know in the comments. Ah, the growing pains of driving in the city.
1) Ortigas Extension
Imagine a place where all the cars coming from Rizal try to squeeze in through a few lanes towards Manila, and you get an idea of the slow crawl that is Ortigas Extension. If you plan to venture past the junction heading toward Ortigas, Makati, or any major part of the Metro, then you better be in a comfortable car, because you're sure as hell going to be stuck there for a while.
2) Boni Avenue tunnel/ Pioneer Street U-turn
There's a Jolibee a couple of blocks down from our office. Every now and then, we head over for a quick stop at the drive through--before proceeding to get caught in a chaotic wave of vehicles trying to enter Pioneer Street from EDSA. During rush hour, there's very little to no semblance of order here. The only reason we put up with it? Well, we work here, and Chicken Joy is just that damn good.
3) Commonwealth Avenue
"…And God said, let there be light." Not long after, the MRT extension project started and--slowly but surely, one motorist after another--Commonwealth Avenue became a sea of red lights. But seriously, this stretch is traffic hell right now. Remember that viral photo of helpless passengers taking up two lanes on a busy highway a few weeks back? Well, that was on Commonwealth Avenue.
4) Any stretch of road in front of a private campus
De La Salle Greenhills and Ateneo De Manila are the two institutions most guilty of turning their surrounding streets into a sea of cars. To be fair, both managements have tried taking steps to mitigate their impact on traffic in their areas, and have even worked with the government on more than one occasion to try and address the problem. But still, traffic is traffic, and there's a ton of it around these two campuses.
5) SM Megamall area
Look, if you put up one of the biggest malls in the country right next to Metro Manila's busiest thoroughfare, traffic is bound to build up. This has been the case for as long as SM Megamall has been around. As with the two above-mentioned campuses, mall management has taken steps to improve traffic flow around their vicinity. But with the establishment's continued expansion and oh-so-irresistible deals during sales, motorists will continue to flock to the area.
6) Manggahan, Pasig
Manggahan in Pasig City is an odd place in the morning. Drive along there before 6am, and it's peaceful. Past that, though, and you're met with a myriad of trucks, jeepneys, tricycles, and everything else trying to make their way along E. Rodriguez Avenue. If you live in one of the subdivisions in the area, it can take up to an hour just to get to the Barangay Hall a few measly kilometers away on a bad day.
7) J.P. Rizal Avenue/Makati Avenue
During the day, J.P. Rizal is an unassuming one-way street in Makati City. By night, though, when the street opens up to both ways of traffic, all hell can break loose. Its intersection with Makati Avenue is especially notorious for its stoplight. Sometimes it takes forever to turn green, sometimes it doesn't at all. Hell, plenty of times it doesn't even work.
8) Guadalupe Bridge
If you want an Instagram-worthy view of Manila's depressing state of traffic, climb up to the Guadalupe MRT station's walkway on a Friday evening. Whip out your phone and take a snap of that mesmerizing sea of red lights. It's just so damn beautiful. Being stuck in it, however, is the exact opposite.