To be honest, my Asian-centric mindset has always had trouble understanding the whole concept behind a grand tourer. Wikipedia defines it as "a performance and luxury automobile capable of high-speed and long-distance driving."
That's quite the disconnect for your average motorist in the Philippines. Need something for high speeds? Okay, then go buy a sports car designed for the job—usually, that means something fitted with a turbocharger or two. Want something for long distances? Then you'd be best by something with just enough hauling power for your needs, but not too much that you sacrifice fuel economy over long distances. Oh, and you wanna be comfy, so space is a must.
Yet grand tourers fly in the face of those conventions. In general, GTs are front-engined and rear-wheel-drive, have two doors paired to a coupe body, and are powered by engines with six or more cylinders. I get the performance part of them just fine, but it's the long-distance part I had trouble understanding. The way I saw it, the sports-car-like proportions meant a cramped and bumpy ride over the long haul, while the big engine pretty much ensured you'd be guzzling up plenty of fuel as the mileage racked up.
Continue reading below ↓
Recommended Videos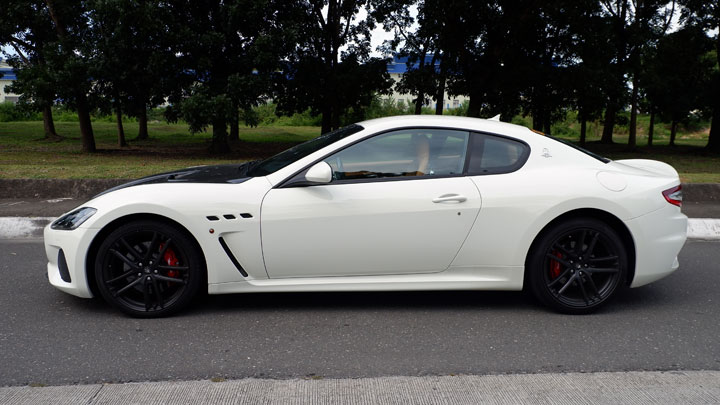 So it was a little difficult for me at first to look at the Maserati GranTurismo through a different lens when I was given a chance to take the MC variant out for a spin. But hey, I thought, how many chances do you get to drive the trident?
Looks-wise, the GranTurismo is a head-turner. A well-designed coupe with a long hood and a short tail is bound to have that effect. It's got a distinct Italian flair to it as well, especially with the long headlights, the low grille, the bi-color paint job, and the all-black alloy wheels. Inside, the materials are undoubtedly premium, though the design leans a bit more toward the old-school, particularly the analog gauges in front of the driver.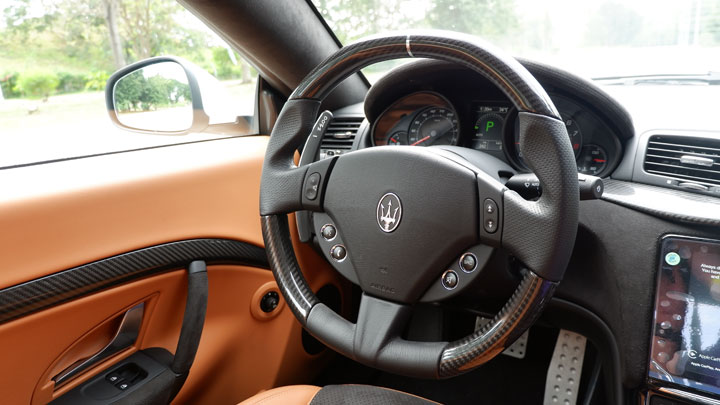 Through the quiet streets of Clark, the GranTurismo provided a comfy and steady ride inside its luxurious cabin. I could see how despite its power and big engine, it's adept for long drives as well—provided the roads are Euro-smooth, of course. The leather seats simply hug you even more the longer you drive. The hydraulic steering is heavier than you'd expect, but I imagine the added weight is better-suited for high-speed cruising than a light electronic setup. Put the pedal down, though, and the 454hp 4.7-liter V8 roars an exciting but refined tune. With a 0-100kph time of 4.7sec and a 301kph top speed, this cruiser is certainly not short on performance.
Now, do I see myself ever buying a grand tourer? Unless I win the lotto and move to a place with much smoother roads, it's not likely. But this brief drive taught me that in another part of the globe, a high-powered, long-distance car is indeed a nice thing to have. It's probably not the most economical option for a long road trip, but I'll be damned if it isn't way more fun than your average econobox.