My very first car was a Mazda 3 from two generations ago. What I liked about it then was how sporty and agile it was compared to other sedans in its class and price range. Fast forward to 2017, and I find myself assigned volunteering to drive my old car's direct descendant.
Naturally, the 2017 version is upgraded with all sorts of gizmos that my 2006 car would've described as science fiction. I quickly realized, though, that the Mazda 3 is still very much a driver-centric car. The focus of its design and makeup is still about enjoying and making the most out of the driving experience. The spirit of "Zoom-Zoom," to my delight, lives on.
Continue reading below ↓
Recommended Videos
Here are seven reasons why the Mazda 3 is a well-suited car for the sporty driver:
1) The interior layout
My first clue that the Mazda 3 is a car for driving enthusiasts is the way that the interior controls are laid out. The driver's seat feels as if you're sitting in the captain's chair from Star Trek; every switch, screen, and knob is within arm's reach. Once you've got the seat set just right, you won't waste energy stretching your limbs to adjust the car's settings. And that means more energy and focus for driving.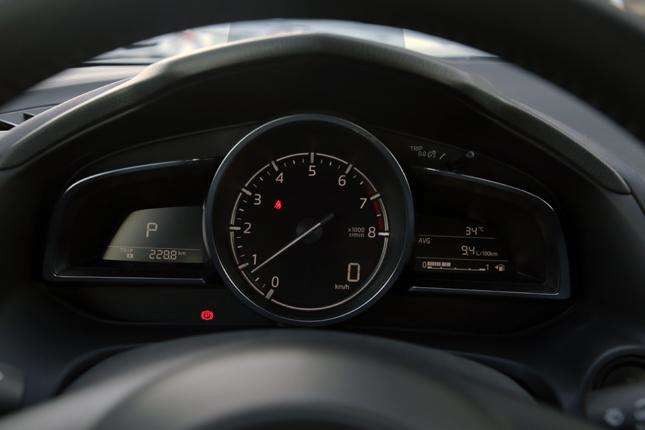 2) Easy-to-see displays
Also saving you time and energy are the car's displays. Front and center on the instrument panel is the big tachometer. The speed, meanwhile, is shown both on a small display box within the tachometer and on a heads-up display on top of the dashboard. For speedy driving, it's best if your instruments are just a split-second glance away so that you can keep your focus on the road. The Mazda 3's displays give you just that.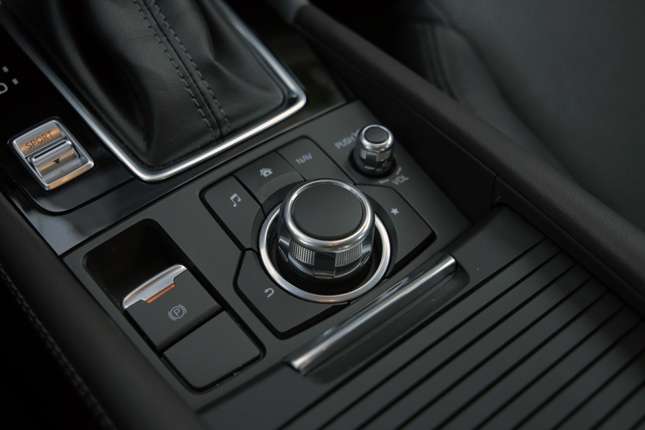 3) The command control
Remember back in the Nokia 3310 era when you developed a Morse code-like feel for your phone's keyboard? Texting under your desk back then was easy, with nothing but the 'tick-tick' sound to give you away. The Mazda 3's command knob harks back to those days of simple tactile functions. Once you get the hang of it, the knob makes it easy for you to change settings and radio channels while keeping your eyes firmly on the road. After a while, you find yourself adjusting the knob without a second thought.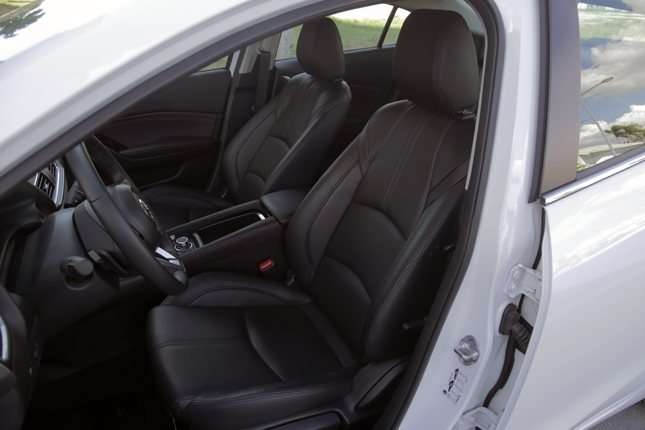 4) The low seating
While other compact sedans fix their seats to give you a more crossover-like feel, the Mazda 3 makes no apologies for its sporting intentions. Its seating position is quite low, which is ideal for those long, sporty drives. On straight stretches on the highway, you'll feel as if the car is shrinking around you as you become one with the road.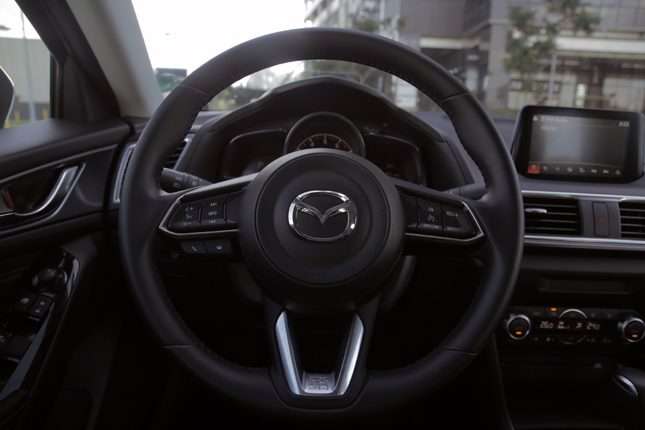 5) Sporty handling
New for 2017 on all Mazda 3 variants is the sport mode switch. A more responsive throttle and higher-revving gears are the splendid results when you flick it on. Also new is G-Vectoring Control, which improves traction and makes cornering a lot more fun. These are paired with a smooth six-speed transmission that comes with paddle shifters.
Underneath, the suspension is very adaptive to its environment, with little body roll through corners. The steering is a bit heavier than I expected for a modern compact sedan, but it suits the car's sporty nature well. My only critique is that the steering wheel could be an inch or two smaller.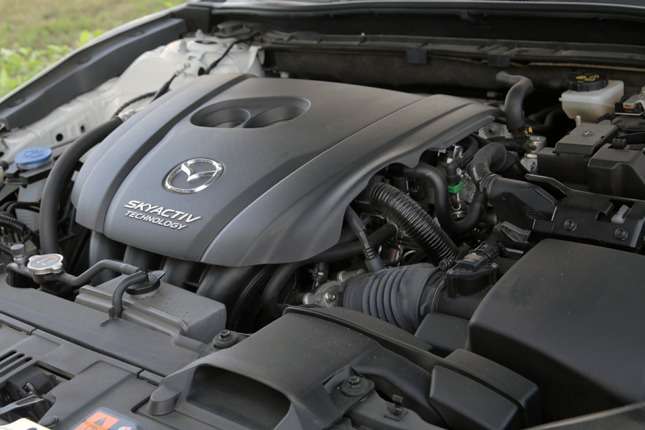 6) SkyActiv engine
The Mazda 3 SkyActiv R's 2.0-liter mill does 151hp and 200Nm, which is more grunt than the 1.8-liter Honda Civic and the 2.0-liter Toyota Corolla Altis. Even without sport mode, you can feel its power right away when you bury the pedal. Its acceleration isn't the sudden boost of a turbocharged engine that we're used to getting these days. Instead, it's the steady climb that's unmistakably from natural aspiration. It almost feels old-school now, so it's a refreshing touch on Mazda's part.
Despite its sporty side, fuel consumption is still at a practical level—7-8km/L in heavy traffic with i-STOP, and 16-17km/L on the highway.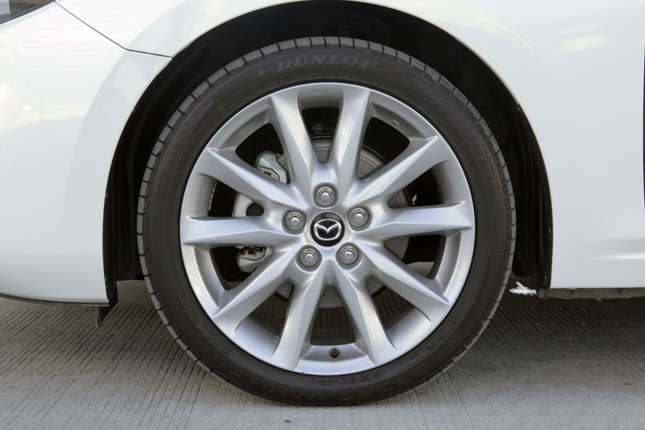 7) Abrupt stopping power
Just as important in a driver's car is its ability to lose speed. Thanks to ventilated and solid discs, the Mazda 3 has solid stopping power to ease off its acceleration. The pedal is very shallow so the brakes clamp on quickly, and it takes a bit of getting used to when you first run into traffic. Once you get its bearings, the brakes are handy when you decide to throw the sporty sedan through a makeshift chicane.