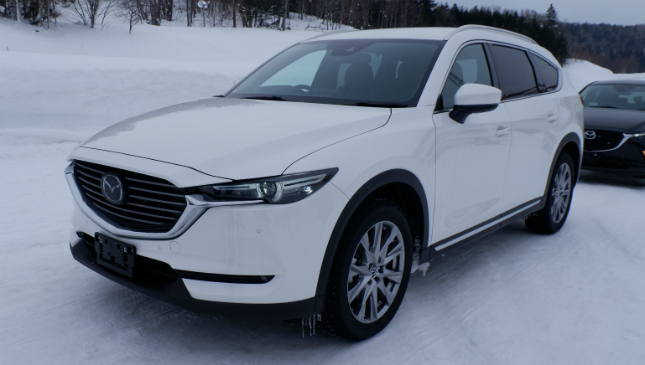 You know all about the Mazda CX-8. We hope you do anyway, given how giddy we've been regarding any little update about it since it launched. But in case you haven't heard, it was revealed last year as Mazda's flagship SUV in Japan. It's equipped with either front- or all-wheel drive, has six or seven seats, and runs on a 2.2-liter SkyActiv D diesel engine.
Why have we been so excited? You see Filipinos have an obsession with cramming as many people into one vehicle as possible. Or at the very least, we're addicted to purchasing cars with the ability to do so on paper. With the hellish traffic and patchy roads we have to deal with, small cars aren't always up to the task, especially when you have a family and comfort to think about. In many ways, big is still king. Add an oil-burning mill to the mix, and you've got our full attention.
Continue reading below ↓
Recommended Videos
Sadly, Mazda's new SUV hasn't reached us yet. We asked them about the possibility of Philippine sales at last year's Tokyo Motor Show, but we weren't given a definite answer. It seems that the SUV is destined for lands far removed from ours. We certainly got that impression when Mazda Philippines invited us for a test drive in Hokkaido, Japan, where the freezing temperatures and meters of snow told us that we definitely weren't in Kansas Manila anymore.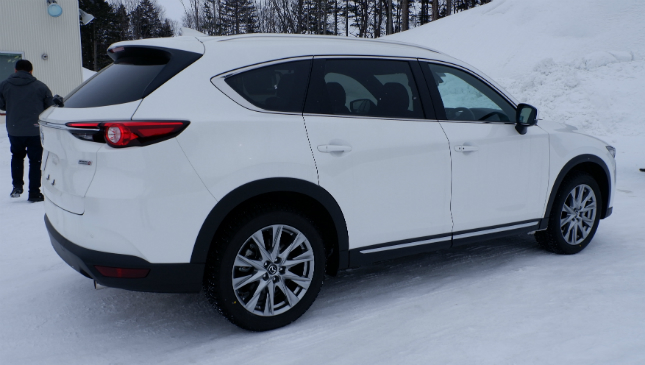 True to the number on the end of its badge, the CX-8 is slightly smaller than the CX-9. In what was likely a specific engineering choice, the two share the same wheelbase. When you look at it, it's essentially a taller version of the all-new CX-5, with similar design cues like the refined grille and subtle character lines. Inside, you get an interior replete with leather and Mazda's usual infotainment system complete with the command wheel.
Inside, you're greeted by a deceptively thin steering wheel like its smaller sedan siblings. Again, not something you'd expect from an SUV this big. We were told by one of the Mazda crew onboard that they sought to emulate the softness of a baby's skin with the plush leather materials. If you've ever been inside a CX-9, then we can assure you that the leather is of a similar quality. We weren't able to snap a photo, but this six-seater unit came with a leather-wrapped center console in the middle row.
But aside from all those niceties, what's the CX-8 like to drive? Well again, like with the CX-9, we thoroughly enjoyed the experience. Though the unit we drove was front-wheel drive, the CX-8 delivers in the handlng department. During our short drive around the proving grounds, the SUV proved agile and well-balanced on the slippery slopes despite its commanding height. It was also comfortable despite the rocky terrain outside.
Equally impressive was its NVH capabilites. You could barely hear the diesel engine above a quiet hum, and the howling winds outside were reduced to less than a murmur. Perfect for when you're stuck in a snowstorm, or forced to deal with the wild elements of Metro Manila traffic.
Okay, so it performs well in the snow. But what about in our tropical country? The way we see it, things like ride comfort, a luxurious interior, and balanced handling translate well to any climate. And while we estimate that the CX-8 in the Philippines would be more expensive than its Toyota and Mitsubishi rivals, we reckon there's still a market for it among midsize SUV buyers. What do you guys think?