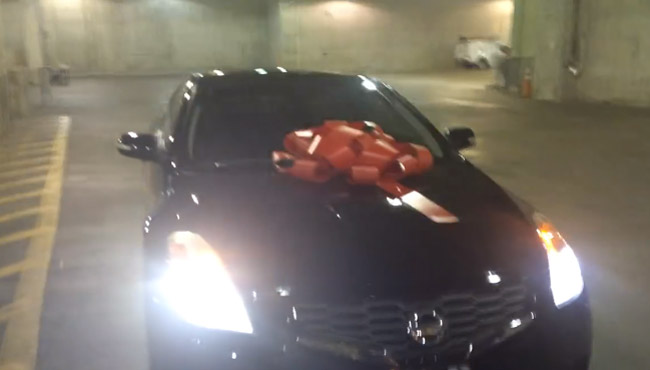 If you aren't yet a fan of the Memphis Grizzlies--they're a professional basketball team in the NBA--we guarantee you will be after reading this story. The team posted a video on their Facebook page, titled "Merry Grizzmas." The video starts with player Vince Carter talking, saying "my man had a tough time...he lost his car."
The man Carter is referring to is team assistant Brandon Henderson, a 24-year-old intern who is still studying and is about to graduate from college. His car was stolen in late November, a day before Thanksgiving Day. According to this article by Memphis newspaper The Commercial Appeal, Henderson's car was an old 1993 Chrysler New Yorker.
Carter and his teammates, upon hearing of the incident, decided to pool together money so that Henderson could have a new car. Henderson, whose job basically is to look after all the players on the team, had no means of transportation going to work and school after his car had been stolen.
So the Memphis Grizzlies players got Henderson a brand-new Nissan Altima Coupe. The video shows Henderson being overcome with both joy and surprise, and then hugging Grizzlies players like Courtney Lee, Tony Allen and Mike Conley.
Of course, because the video was posted on Facebook--a social-media site inhabited by a lot of negative and bitter people--some even had the gall to criticize the Grizzlies players for getting Henderson "just" an Altima Coupe. With their multimillion-dollar salaries, they said, the players should have gotten their team assistant a BMW or a Mercedes-Benz. To which many sensible folks replied that the players most likely got Henderson a reasonably priced car which he could maintain (read: insurance, fuel and repairs) with his personal resources. And come on: An Altima Coupe isn't exactly a shoddy car, especially when compared to a battered New Yorker. Hello?
Continue reading below ↓
Recommended Videos
Anyway, like we said, we're fans of the Grizzlies now. We hope that they at least reach the NBA Finals this season. Which means they would win the championship, because let's face it, the Eastern Conference sucks.
Watch the video here.