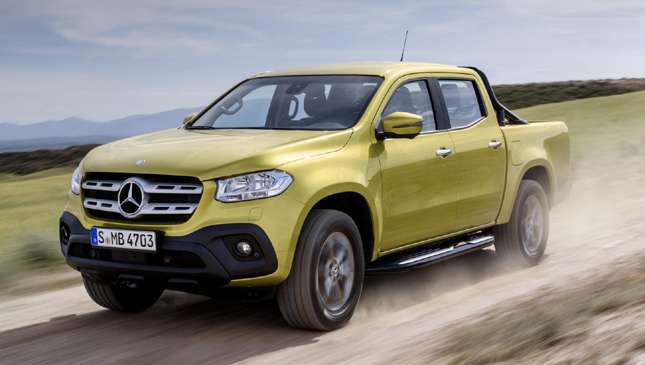 A posh pickup?
That's the intention. Pickups are about as 'lifestyle' as it gets, but they tend to lack the niceties that many cash-rich lifestylers actually want these days; the X-Class aims to roll all of it up into one multi-purpose package.
So it's a new niche for Mercedes, then?
Well, not quite. One, Mercedes makes some of the best commercial vehicles in the world, so doing a rufty-tufty vehicle really isn't new to it. Two, this isn't actually a Mercedes one-off: the X-Class shares its basic bits with the new Nissan Navara, making it a co-production seeking a defined identity. Basically, it gets the same double cab and four-wheel drive system, double wishbone front suspension and multi-link rear, and a pair of 2.3-liter, four-cylinder diesels in either 163hp (X220d) or 190hp (X250d) formats, the latter getting a twin-stage turbo instead of the mono in the former. There's a V6 diesel coming with 255hp, but more on that in a bit.
There are three model lines—Pure, Progressive and Power—with the X220d getting a six-speed manual in Pure or Progressive, the rest equipped with a seven-speed auto. A basic X comes in at £27,310 (P1.8 million). That's a lot of money for a pickup truck, especially as they generally don't feel very much like a proper SUV or passenger car. Ever. You put up with workhorse attitude in a workhorse, less so when you pay thoroughbred money.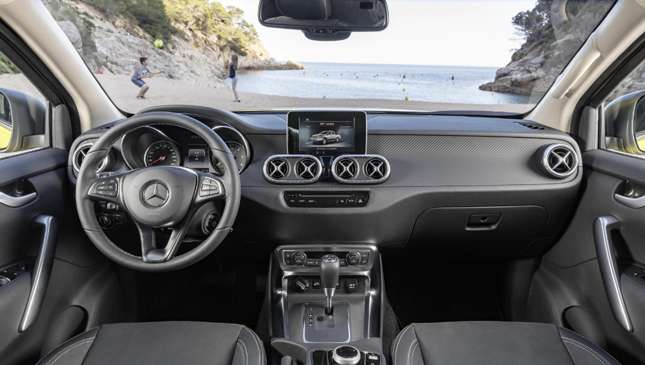 ADVERTISEMENT - CONTINUE READING BELOW ↓
So how do you make a Mercedes feel like a Mercedes?
Obvious stuff first—you put a huge three-pointed star on the grille and give it a restyle. And yes, the X-Class looks neat, clean and good-looking. No, it's not disguising the fact that it's the same basic format as every other pickup on the market, but there's a good looking basic truck here. The rear is obviously more generic—there's only so much you can do with a slab tailgate and tweaks to the rear lights—but the front works well, and with the right options and colors, it looks pretty good.
Inside, it gets even more Merc-ified, with a broad swathe of dash material, topped by the usual floating Mercedes infotainment screen and peppered with X-styled vents. There's a traditional center-console-mounted gear selector and handbrake, and you can't help feeling that if this were a ground-up Merc product, that the more usual column-mounted Mercedes shifter and electronic handbrake would free up an extraordinary amount of space between the seats. To be fair though, there's been a fair bit of work here, because the X-Class is actually 50mm wider in the cabin (and 70mm in the bed) than the Navara on which it's based. It also gets a touch more headroom in the rear, and several tweaks to the ergonomics (there's better padding in the rear seats) and more aggressive sound-deadening.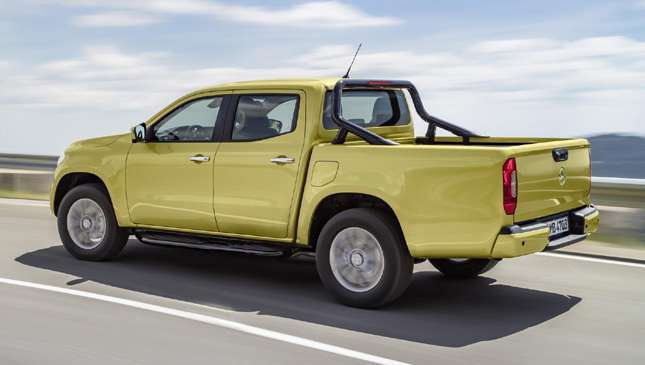 ADVERTISEMENT - CONTINUE READING BELOW ↓
Recommended Videos
What about the driving?
Mercedes says that it's changed everything that the customer comes into contact with—meaning that it's improved everything from ride quality to NVH—and as soon as you get moving, you notice two things: First, it's genuinely quiet, and second that it rides very well for a pickup truck.
Now usually, a pickup has to be sprung to cope with everything from a bare bed to a full payload, and subsequently feels harsh when there's nothing in the back. The X-Class copes admirably with no ride-settling load, and actually rides as well as some SUVs. This is good. No, it's not a magic carpet, and you'll still get some chassis-shudder and bobble on wonky potholes, but it's the best pickup for ride quality I've driven in a while—helped in part by being extremely quiet.
Yep, you'll notice this is one solidly soundproofed effort, which goes a long way to making it feel more like the premium machine it wants you to think it is. The steering is light, braking is effective, handling is on par-slash-good for this sector. It's a pickup—basic physics still apply.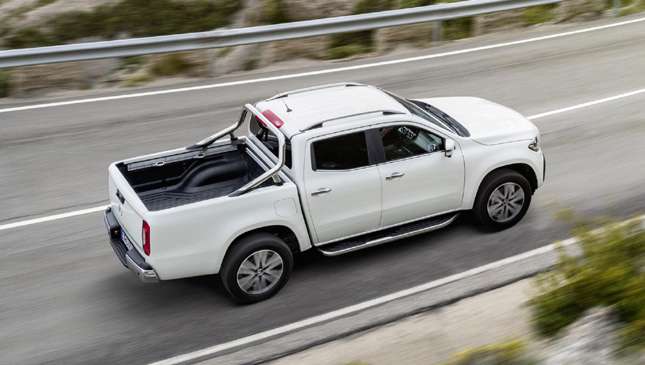 ADVERTISEMENT - CONTINUE READING BELOW ↓
What about the engine?
Bluntly, the X-Class struggles with the four-cylinder engine and auto 'box. We tested the car at altitude in the mountains of Chile, but even without the inherent breathlessness of height, even the 190hp Power-specced car we had was woefully slow to react. Initial pull away is fine, but if you want to overtake, you best plan, submit an application and wait. Worse, given this is a car that Merc is pitching as a 'high-end variant for urban lifestyles,' the lack of reaction makes it an absolute bus to try and weave through town. Noise well-smothered, yes, but it comes with a feeling that there's no guts to match the macho exterior.
Now, in answer to this chink in the X-Class armory, we also managed a passenger ride in the forthcoming (middle of 2018) diesel V6 with 255hp and a lump more torque—the X350d—and that also gets a full Mercedes transmission. A car which answers all of these questions and more, and transforms the X-Class into a 'proper' Mercedes-Benz product. If you want the all-round Mercedes experience, then there's really only one engine option.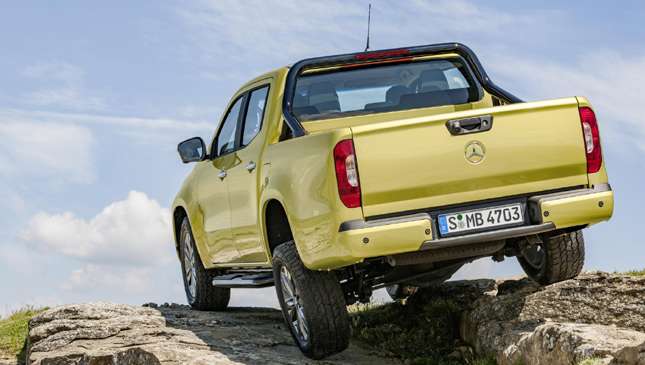 Can it off-road?
Yep. Light-to-medium off-road is easy-peasy, helped by the multi-link rear end and decent clearances. As usual, you'll be more limited by tire-type than the car's inherent 4x4 ability, though I would suggest that if you're traversing muddy fields regularly that you option the rear diff lock and the 20mm ride-height increase. You can switch to all-wheel drive on the fly, and everything's simple enough to use via a rotary switch on the center console. If you get it wrong, there's lots of safety kit, too, including a bouncy-castle's-worth of airbags, active brake assist, lane-keep assist, hill start tech, a reversing cam and optional trailer stability assist.
So what's the verdict?
ADVERTISEMENT - CONTINUE READING BELOW ↓
Tough one this. I happen to think it looks better than the Nissan Navara with which it shares most of its guts. With a couple of light tweaks it'd be a very good-looking machine. It's also relatively refined and comfortable, quiet and largely capable. But the current/initial engine and gearbox don't back up the pitch well enough to warrant the premium. Either wait for the V6 or go practical.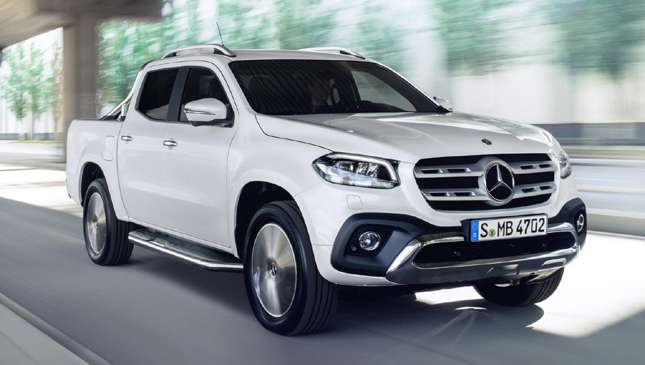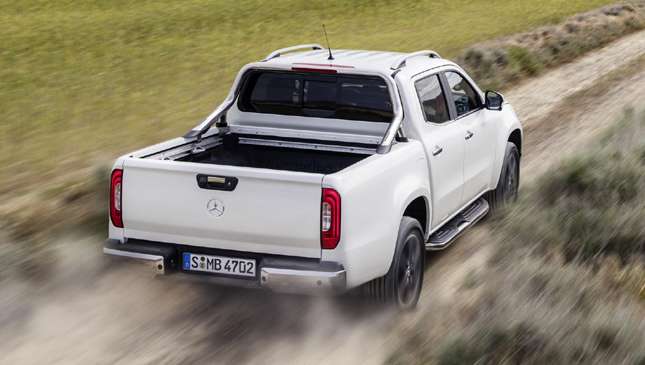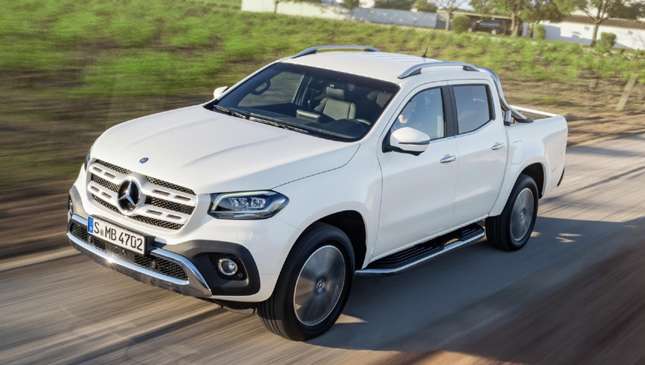 NOTE: This article first appeared on TopGear.com. Minor edits have been made.