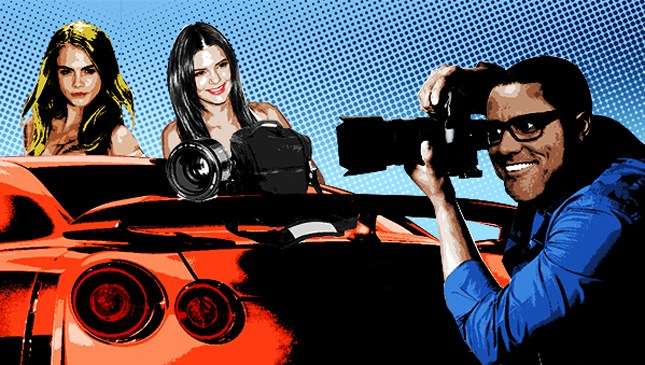 The days during and after the Manila International Auto Show brought an avalanche of photos and status updates about the massive motor show. You've probably seen sports cars, aftermarket rides, and the inevitable booth babes in your feeds.
And if you saw a lot of pretty ladies from MIAS on social media, it might be related to the rant that circulated on Facebook right after the four-day event. A photo depicting men with DSLRs spread quickly in the motoring community. The 'photographers' were presumably taking pictures of a female model who was off-camera.
What earned the ire of netizens was a heavy Canon DSLR seen perched haphazardly on the wing of an orange Nissan GT-R, its strap hanging low on the car's body. Pieces of what looks like paper or a brochure were also placed on the sports coupe's spoiler.
It was a picture-perfect representation of what's been irritating motor show goers lately—people who only go to these events for the girls.
ADVERTISEMENT - CONTINUE READING BELOW ↓
This is what Peter Seo, the exhibitor who brought in the GT-R in the viral photo, said online:
"The GT-R shown in the photo is our show car. As a car enthusiast, we are very keen about details. We spent time and money to get the car to how it is today. Our show cars represent our pride and passion for the industry. We did not bring the car to be used as a camera stand. I am very sad to see this. Not only did they disrespect the men behind the cars, they also disrespected the industry.
To all photographers, I hope you do not make the same mistake of choosing models over cars. This is a car event; the models are only a sideshow to accentuate the cars. These types of people should never be allowed to car events. If girls are what you want, better get it from somewhere else."
Paolo Cuerpo, a car enthusiast who owns a modified Toyota 86, was one of several gearheads who shared Seo's post. He gave his own remark on the incident: "To everybody, please 'wag niyo gawing patungan kotse ng iba. Ako nga kahit basahan, ayoko sinasampayan mga kotse sa bahay."
While we have our personal opinions about men who have to go to a public event just to look and talk to pretty girls, the fact remains that they paid the entrance fee. Whether they want to look at cars, accessories, or women, they have a right to be at MIAS.
ADVERTISEMENT - CONTINUE READING BELOW ↓
Recommended Videos
But we also commiserate with the exhibitors who prepared their cars with painstaking detail. Ask any one of them about their rides, and their eyes will light up like they're about to describe their baby's first steps.
At the end of the day it's all about respect. Be mindful of the nice cars around you, regardless of what—or who—you're shooting. And respect the women also by thanking them for posing and not leaning in closely when you take a selfie with them.
Your thoughts?