Acting, racing cars, and looking damn good doing it? Frankly, this is the dream—well, it's the dream for regular Joes like you and me at least. For Hollywood A-lister Michael Fassbender, who recently made his Porsche Mobil 1 Supercup debut driving a 911 GT3 Cup for Proton Competition, this is just another day in the office.
According to the X-Men actor, though, he isn't looking to stand out on the track at the moment. "I'm trying not to put myself under too much pressure. The level of competition is really high," Fassbender says in an interview. "I have set myself modest goals: Try to stay out of trouble and not bother the guys who are driving for victory and the championship."
Fassbender says that initially, his dream was to become a race car driver. His father taught him to drive, and by the age of 12 he was already testing his skills behind the wheel on a private road.
"When I was twelve, I was allowed to play around on my own on a private road. There was a housing complex with a long straight and a kind of horseshoe bend at the end with another long straight. I always tried to go as fast as I could on the straight and take that hairpin as fast as I could," he says.
Continue reading below ↓
Recommended Videos
"My first dream has always been to go racing. Even before the acting. It was always very clear to me from a young age. I always felt an affinity with cars, I felt a connection with driving and speed."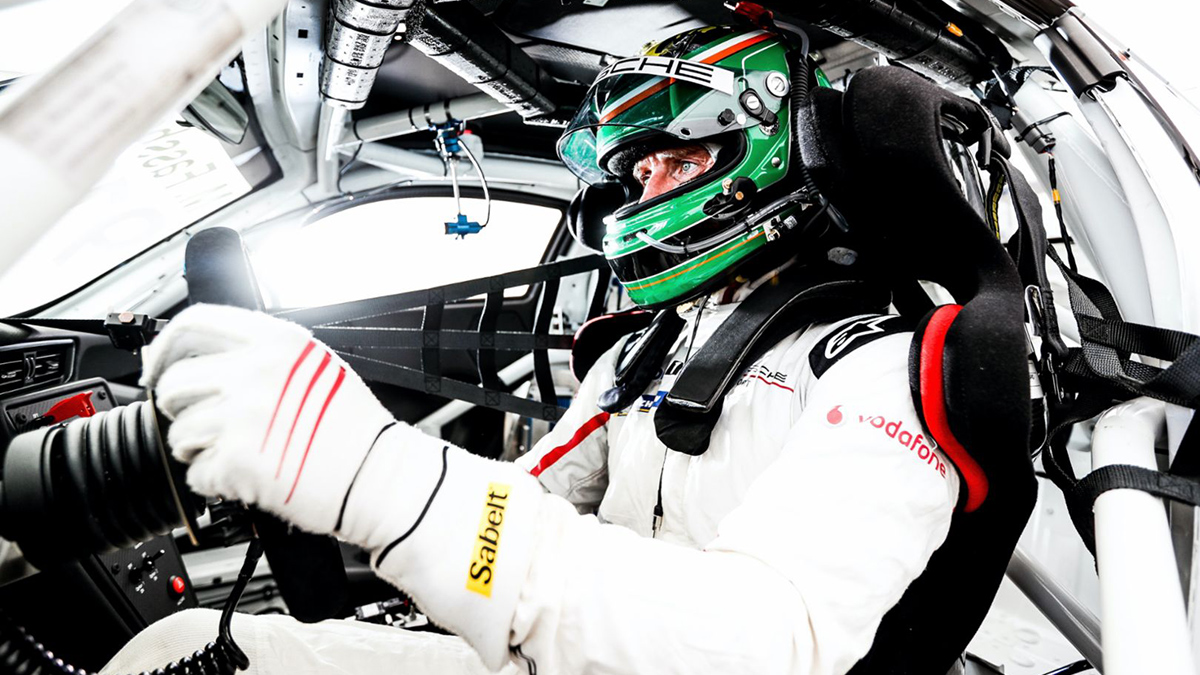 Fassbender's first brush with Porsche Motorsport actually came courtesy of fellow actor/race car driver (and Proton Competition owner) Patrick Dempsey. He approached Dempsey on a flight from London to Los Angeles to congratulate him on his performance at the 24 Hours of Le Mans, and before he know it, the two get to chatting and Fassbender was put in contact with the German car manufacturer.
"It's pretty hard to do both things because obviously it's difficult to get insurance on a film if I do racing at the same time," Fassbender says, referring to having to juggle his passion for racing with his acting career. "So for me, there is the race season and then there are months to do acting. But I always had a plan that at 40 I would sort of ease off the acting and try to get into racing."
Fassbender, now 43 years of age, currently has his sights set on competing in next year's 24 Hours of Le Mans. He says he's treating his experience in the Porsche Mobil 1 Supercup as part of his personal road to Le Mans.
"I also drive a Porsche 911 RSR for Proton Competition at the long-distance races of the European Le Mans Series. I share the car with Porsche factory driver Richard Lietz and Felipe Fernández Laser."
"What do I expect? Well, the goal is to win. To be as fast as I possibly can, and that's the goal. But the 24 hours of Le Mans is a team effort, so together with the team to achieve a class win at Le Mans is the goal."
Does this mean we won't see Fassbender donning Magneto's cape anytime soon? We guess we'll find out when he takes to the track at Le Mans next year.