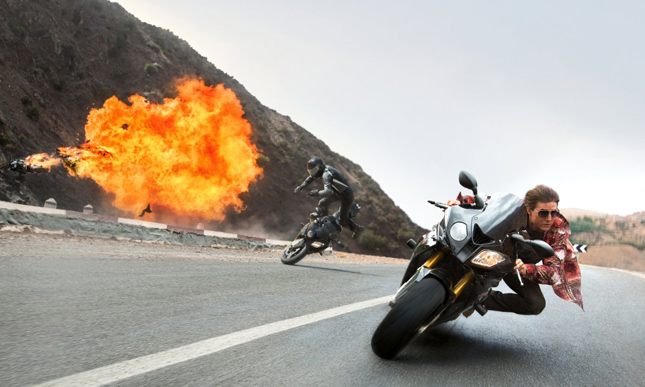 Doesn't Hollywood have any new ideas left? This year alone, we've seen sequels of Fast & Furious, Jurassic Park, Mad Max and Terminator. Now, thanks to the kindness of BMW Philippines, we just saw Tom Cruise still running around in Mission: Impossible - Rogue Nation. Well, if this latest installment is any indication, we don't mind seeing another MI movie in a few years (a sequel has reportedly been greenlit).
The movie begins where the last MI left off, with agent Ethan Hunt investigating a terrorist organization known as the Syndicate. Meanwhile, CIA director Alan Hunley, played by Alec Baldwin, appears before a US Senate oversight committee (like ours, but without grandstanding) and rattles off all the damage Hunt and crew have done through the sequels years. Things are not looking good for the Impossible Missions Force.
It turns out the Syndicate is real (which you probably learned from the trailer), and that it is possibly a match for Ethan Hunt's talent for pulling off the impossible. One of the interesting things about Rogue Nation is that it pokes fun at itself, by alluding to how improbable some of the team's actions are.
Of course, once the thrilling scenes begin, you put your disbelief in Park, and just enjoy watching a 53-year-old Tom Cruise do stunts that he shouldn't be doing: hang from a moving plane, ride a BMW S1000RR without a helmet, and drive a BMW M3 in Morocco while battling bad guys on motorbikes.
Continue reading below ↓
Recommended Videos
Cruise reportedly did all his own driving stunts in this movie. Seeing how he drove in the Clarkson-era Top Gear show, we believe this. With an M3 racing around tight streets and roaring with its angry engine sound, the movie did the impossible--it made us want to own an M3 even more.
Mission: Impossible - Rogue Nation is more or less what you would expect from the nearly-two-decade-old franchise. It has a plot that's good enough to generate suspense, a very attractive female lead, exciting chase scenes and, of course, Tom Cruise running. It's also an entertaining spy thriller, which harks back to the story twists of the very first MI installment, directed by Brian de Palma.
There are nicely done sequels and there are forced sequels, but a good movie is a good movie. Especially if there's a BMW M3 involved.