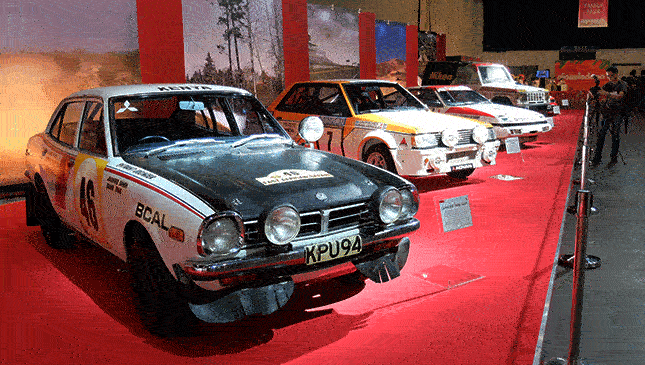 Mitsubishi celebrates a hundred years of giving us cars we enjoy. To mark the milestone, Mitsubishi Motors Philippines is holding the Mitsubishi 100 Years Expo at the World Trade Center, which runs until June 11, 2017.
Enthusiasts are in for a treat as some of the most loved cars bearing the three-diamond logo are on display, such as a 1979 Lancer, a pair of Lancer Box-types—an SL and a GT—a Galant VR-4, a Lancer Evolution 1, and an Evolution 5. It's definitely a site to behold! It will surely bring back memories from your much younger years.
ADVERTISEMENT - CONTINUE READING BELOW ↓
Also showcased are some of their most successful engines, such as the 4G63 Dash WRC and 4G63 WRC, the three-cylinder 3G8, introduced in the fifth-generation Minica, the 4G61 Turbo, the 4G54 Rally, the first Japanese-production engine to combine electronic fuel injection and turbocharging, the 4G32, more popularly known as the 'Saturn' engine as well as a more potent version for racing, and a pair of GDI engines--the 8A80 and the 4G93.
Vehicles from the Mitsubishi Auto Gallery in Okazaki, Japan, have been brought in to highlight the carmaker's racing heritage.
There's the PX33, Japan's first full-time 4WD passenger car produced in 1935 at the Mitsubishi Heavy Industries shipyard; the Colt F2000, a formula racing car that was the overall winner at the 1971 Japan Grand Prix; the Lancer 1600 GSR, the company's most successful rally car, winning the Safari Rally in East Africa—reputed to be the most grueling WRC rally—in 1974 and 1976; the Lancer EX 2000 Turbo, which bagged 3rd place at the Finland 1000 Lake Rally and won the All Japan Championship Rally in 1983 and 1984; the Starion, introduced at the 1983 Tokyo Motor Show and entering a number of rallies, including the Milles Piste Rally a year later and winning first place in its category.
ADVERTISEMENT - CONTINUE READING BELOW ↓
Recommended Videos
The lineup wouldn't be complete without the Pajero, introduced at the 1983 Paris-Dakar Rally and winning 1st and 2nd overall two years later. There are also more modern examples, such as the Lancer WRC, which debuted at the 2001 Rallye San Remo with a 300hp 4G63 engine; and the Outlander PHEV Baja Rally, putting its Plug-in Hybrid Electric vehicle and Twin-Motor 4WD technologies to the test in the Baja Portalegre Rally.
You can catch these iconic Mitsubishis until tomorrow. Admission is free!