There are many things Top Gear has a soft spot for, but chief among them are a) odd Japanese vehicles; and b) quirky campervan conversions. Oh, and c) dogs. Therefore, this bright orange contraption—which definitely combines the first two and could easily accommodate many of the latter—couldn't be much further up our street.
Or mountain track. This Mitsubishi Delica-based campervan, dubbed the D:5 Terrain, has proper off-road ability thanks to a switchable four-wheel-drive system and some proper ride height.
"Like no other camper on, or off the road, this 4WD campervan will take you and your crew off-road to wild and rugged places," says Gary Hayes of Campers Scotland, who's converted the Delica into the D:5 Terrain. "Camp, cook, sleep in glens, near lochs, your favorite sandy beaches or forest."
Glens. Lochs. This really is a properly Japanese-Scottish fusion, much like teriyaki haggis. Only a bit nicer.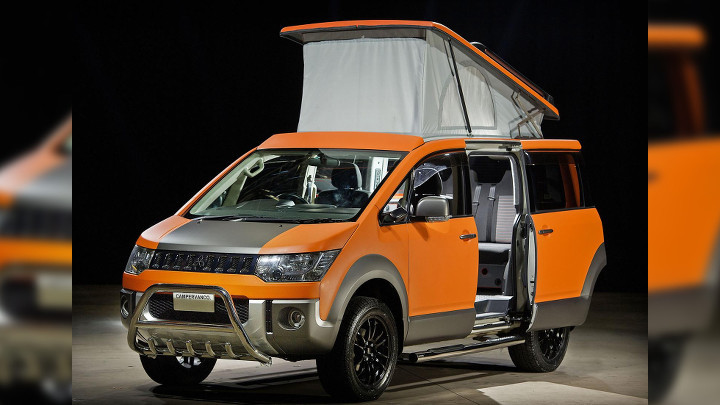 Continue reading below ↓
Recommended Videos
While Campers Scotland prides itself on hybrid and tribrid campers (the latter is LPG, gasoline, and electric, since you ask), the Delica uses a regular, slightly old-school gasoline engine. But worry not, because the cooking hobs use renewable energy and there are solar panels up top. Hurrah!
As well as all the locking-diff-type stuff that should make it unburstable off the road, there's a two-wheel-drive mode to save fuel when on it. Its elevating roof ensures it sleeps four people, while there's a 2.5-ton towing capacity so you can drag all your favorite off-road toys along with you. A handful of dirt bikes, an old rally car, all of those dogs...2.5 tons is plenty.
We're smitten. The fact it costs £27,995 (P1.9 million)—over £10,000 (P680,000) less than the cheapest VW California, leaving a bigger fund for toys—only sweetens the deal.
NOTE: This article first appeared on TopGear.com. Minor edits have been made.