One of the most popular Toyotas of the '80s was the E70 Corolla. It ditched its predecessor's curves and embraced the boxy look that many of us associate with '80s-era cars. The sporty 1.6-liter 1600GT variant that was powered by the 107hp 2T-GEU DOHC eight-valve engine was also used as a rally car. Even in recent years, modified E70 Corollas can still be seen competing in two-wheel-drive classic rally competitions and drifting.
Given its popularity and rich history, we've decided to make it the next old-school car to revive.
Our modern E70 Corolla measures 4,400mm long, 1,752mm wide, and 1,394mm tall, and rides on a 2,641mm wheelbase. Standard wheels are 17-inch alloys shod with 215/45 R17 tires. While its dimensions are larger than those of the '80s version, its size would still be considered subcompact by modern standards. Our modern E70 was inspired by the sporty Corolla 1600GT variant as well as the E70 rally and drift cars. The flush quad LED headlights are a throwback to the four circular headlights of the early E70s. The center crease on the hood is another styling element from the original model.
ADVERTISEMENT - CONTINUE READING BELOW ↓
Moving on to the sides, the prominent wheel arches and the lower body section that's angled inwards are some of the characteristics of the OG E70. The gloss-black A-pillars are a modern touch. The quarter-window kink is one of the styling cues of the classic E70, while the gloss-black panel on the C-pillar replaces the vents on the original model. The large rectangular LED taillights pay homage to the old taillights.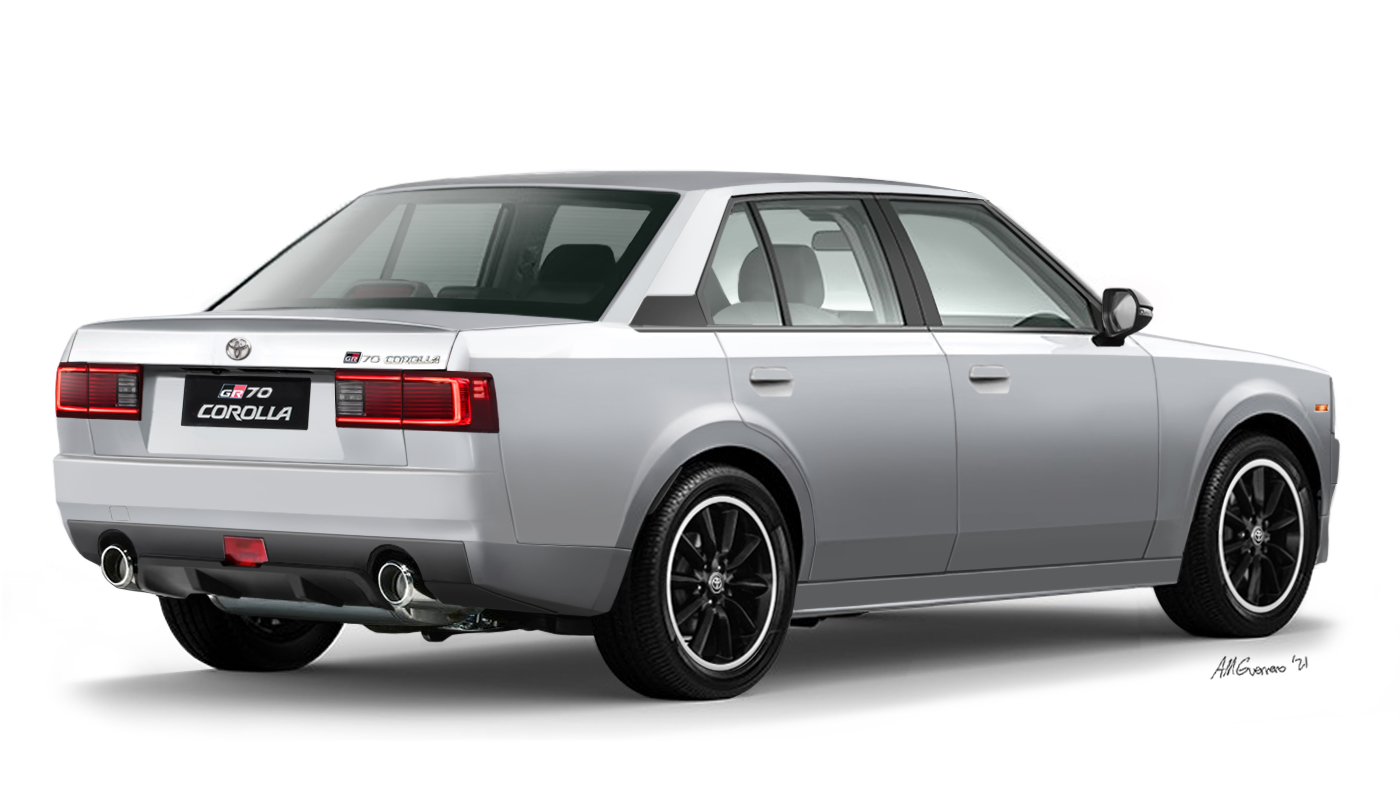 ADVERTISEMENT - CONTINUE READING BELOW ↓
Recommended Videos
It was important that we keep our modern E70 Corolla rear-wheel-drive, so we created a compact RWD-TNGA platform that shares as many components as possible with the front-driven TNGA platform. It features independent MacPherson struts up front and an independent multilink set up at the rear. Aluminum is used for the hood and the trunk lid to help keep the weight down.
Our modern E70 Corolla will have two naturally aspirated engine options: a Gazoo Racing-tuned 2.0-liter M20A-FKS-based mill with 195hp and 210Nm of torque, and a Gazoo Racing-tuned 2.5-liter A25A-FKS-based powerplant with 227hp and 252Nm of torque. Both engines can be paired to either a six-speed manual transmission or a six-speed automatic gearbox with paddle shifters.
We christen our creation the 'GR70 Corolla,' and we envision it to be a roomier sedan alternative to the GR86 Coupe. If Toyota built our GR70 Corolla, would you consider it? Let us know in the comments.
ADVERTISEMENT - CONTINUE READING BELOW ↓