Pregnant moms are advised to go to the hospital when contractions start occurring at regular intervals, but over the years, we've learned that sometimes, no amount of birth planning can prepare you for your childbirth. That was the case for Marci Ambrosio, 34, who gave birth inside a car en route to the birthing home—with her two kids sitting at the back to witness everything.
Planning a natural birth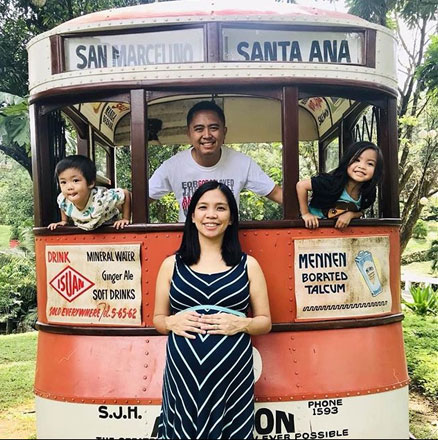 ADVERTISEMENT - CONTINUE READING BELOW ↓
Marci gave birth to her two kids  Ayel, 4, and Arco, 2 via natural spontaneous delivery (NSD) without an epidural. For her third pregnancy, the mom wanted to try a water birth.
"Finances became a factor [in wanting] not to give birth in a hospital," Marci tells SmartParenting.com.ph in an interview via Facebook Messenger. "My husband just transferred to a new workplace and his dependents' health card would only be activated by December (a few months after Marci's scheduled birth)."
The nearest birthing home with a water facility in their area was Shiprah Birthing Home in Taytay, Rizal. Marci started attending their required classes but did not continue. She realized it would be difficult to reach the birthing home from Antipolo City, where they lived, and they didn't own a car.
Luckily, her ob-gyn volunteers at Shalom Birthing Home in Antipolo, which was nearer to their house, and they decided she could give birth here. "Aside from proximity, my husband and I are more comfortable being taken cared of by our trusted OB, especially since I had the appendectomy," says Marci who underwent an appendectomy (surgical removal of the appendix) at 30 weeks.
ADVERTISEMENT - CONTINUE READING BELOW ↓
Recommended Videos
The unexpected childbirth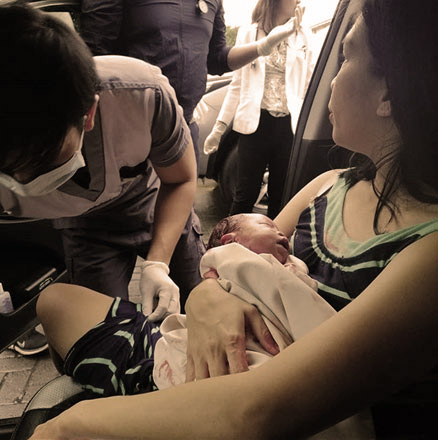 At 39 weeks, Marci started feeling contractions when she woke up at 6am on September 19. But since she already had two false alarms the week before, she thought she would give birth "either at night or the next morning." She spent her day relaxing with her two kids and playing lutu-lutuan with them.
ADVERTISEMENT - CONTINUE READING BELOW ↓
At around 3pm, the contractions became more frequent and intense. Marci called her husband, Ralph, who immediately left his office and arrived at their house around half an hour later.
While waiting, Marci decided to lie down on the bed, thinking it would help slow down the labor. "When I heard my husband arrive, I immediately changed clothes," she said. "I held onto his shoulders and had another intense contraction. That time, I already felt the baby's head coming out, so I told him na pe-pwesto na'ko sa bed tapos saluhin niya yung baby."
Thankfully, the contractions stopped and the couple took it as their chance to head to Shalom Birthing Home. The whole family got into the car (lent by Marci's mom, Janet)—including the two kids, Annie, their stay-out helper, and Tita Joy, a family friend who was visiting at the time.
"Kay Ayel naka-pitong push ako before she came out, kay Arco tatlo. I would joke na target ko kay Adam one push lang. With the hope to reach Shalom Birthing Home before he comes out, I was really trying to resist the urge to push," Marci tells Smart Parenting. "But then, na-feel ko pa rin na hindi na siya mapipigilan, so I just removed my underwear."
ADVERTISEMENT - CONTINUE READING BELOW ↓
At 3:58 p.m., halfway to the birthing home, their third child, Adam, was born. Marci describes the surreal experience in detail. "His head came out first, face down, and after the next contraction, his whole body came out. I was holding the grab handle for support so I let the [passenger] seat 'catch' the baby with my dress as blanket. Then, I immediately held his head to make sure he wouldn't fall off the edge."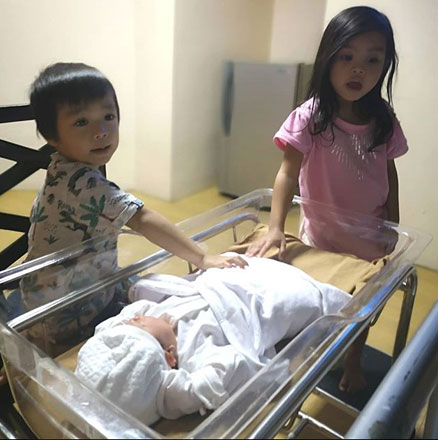 ADVERTISEMENT - CONTINUE READING BELOW ↓
Her son Arco was asleep when Marci gave birth, but her eldest, Ayel, was shouting in excitement. "Lumabas na si Adam!"
For a few seconds, Marci was stunned because the baby was out but silent. "I prayed that my heart also be still in the knowledge that God is in control, and I can rest in Him," Marci writes.
Ironically, their baby came out "almost exactly in front" of the hospital where their two kids were born, so they headed to the hospital's emergency room (ER) instead. "As soon as the car stopped in front of the ER, I had the courage to lift the baby, aiming for skin-to-skin contact or unang yakap. Pagkagalaw ko ng onti, nun lang siya umiyak," Marci tells Smart Parenting, describing it as "the sweetest first cry."
At the ER, Marci and her baby were cleaned up, and she breastfed her son before his cord was cut. She was then brought to the delivery room for the placenta delivery.
ADVERTISEMENT - CONTINUE READING BELOW ↓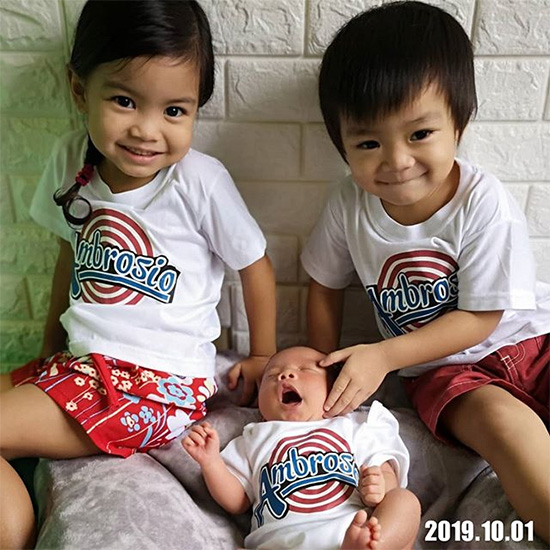 Although there was heavy traffic that day, Marci writes she could not blame it for the car birth—"ang bilis lang din talaga ng mga pangyayari." Instead, she is thankful that her husband Ralph was able to keep his cool, "driving fast and safe, and taking good care of us as he usually does," Marci says. She's also grateful for their companions that day since they couldn't imagine how they would have handled the kids.
ADVERTISEMENT - CONTINUE READING BELOW ↓
Lastly, Marci is thankful that her kids were there to witness the birth of their sibling, no matter how unusual the circumstances were. "Our OB, Dra. Ces Estera allowed Ayel and Arco to be involved in my prenatal checkups. My husband and I think that it helped a lot to prepare the kids," Marci shares. "They were with me during active labor, providing comfort and were very cooperative the whole time." 
And while giving birth in a car was not exactly part of the plan, Marci is still happy with how things turned out. "I learned that submitting your plans to the Lord means more than just praying and having faith that your plans will be fulfilled; it is trusting that God is who He is and He will be glorified no matter how things turn out."
NOTE: This story originally appeared on SmartParenting.com.ph. Minor edits have been made.