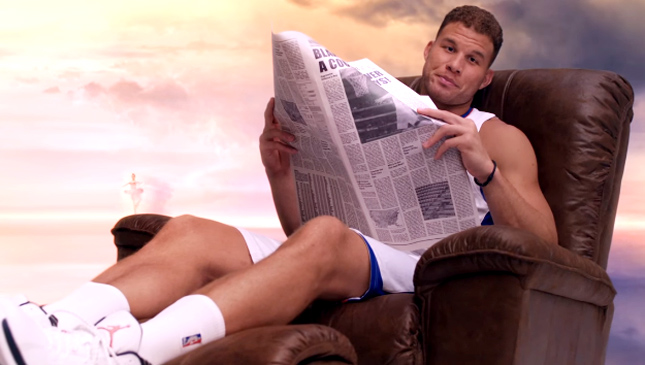 Do you ever find yourself so immersed in what you're doing that you're completely unaware of your surroundings? For drivers, it's when you begin to feel as though nothing exists apart from you, your car and the road. For basketball players, it's the ball and the hoop. It's a state of mind called "the zone." But what if the zone were an actual place instead of a metaphorical one?
A new Kia Optima commercial takes the idea a step further by portraying the zone as a real environment where people in this state of mind can actually meet. In the ad, a man finds himself in the zone behind the wheel of the new Optima. He sees other individuals like a dirt bike rider, a snowboarder and a ballerina. He even finds Los Angeles Clippers all-star power forward Blake Griffin lounging on a chair.
Griffin explains to the lost driver the entire idea behind the zone, but has to cut their meeting short because he has to get back and dunk over a couple of guys. It's an entertaining, albeit awkward, conversation that makes for a good video.
Kia has featured Blake in numerous ads since the high-flying basketball player jumped over a Kia in the 2011 NBA Slam Dunk contest. This commercial is the first in a series of new "The Zone" commercials featuring Griffin. Now, if only Griffin could find himself in the zone in the next playoffs.
Continue reading below ↓
Recommended Videos
If you're viewing this on a mobile device and can't see the video, please click here.