We already have a few fully electric vehicles in our market, yet we barely see any EVs on the road. There are a number of factors involved such as pricing, infrastructure, reluctance to try out new and potentially more complex technology—the list goes on.
What we are starting to see more of now are hybrids. They're arguably the next best thing. You use them as you would a normal gasoline-powered car, but you get similar benefits such as fuel savings and reduced emissions minus the charging issues and the range anxiety. This is why it's no surprise more and more carmakers are starting to bring in more of their hybrid offerings.
Nissan Philippines (NPI)—the same company that launched the fully-electric Leaf last year—is now taking a different approach towards pushing electrification in our market. But rather than going with hybrids, it has a different ace up its sleeve: its e-Power technology.
ADVERTISEMENT - CONTINUE READING BELOW ↓
We were recently able to try out the tech during a quick media preview. But before we got into it, let's dive into the details of the powertrain first.
OTHER STORIES YOU MIGHT HAVE MISSED:
Is the Nissan Almera, with its 1.0-liter turbo, the ideal sedan for PH fuel crisis?
Hybrids, plug-in hybrids, full electric: How will the EV revolution play out in PH?
Nissan's e-Power setup is composed of a gasoline mill, a generator, a lithium-ion battery, an electric motor, and an inverter. The engine revs up the generator to provide electrical energy to the high-voltage Li-ion battery. The battery then sends power through a DC-AC inverter onto the fully electric motors that then spin the wheels.
Unlike other plug-in hybrids or self-charging hybrids, Nissan's e-Power vehicles are propelled purely by electric motors. Make no mistake, it still needs fuel to run, but its gasoline engine only starts up if the battery runs out of juice or if the powertrain needs added oomph for, say, overtaking on the highway. It promises a very fuel-efficient drive, as global tests have yielded 23.8km/L.
ADVERTISEMENT - CONTINUE READING BELOW ↓
Recommended Videos
What was made clear during our briefing—and NPI really kept stressing this out—was that e-Power vehicles are not hybrids. Nissan wants to disassociate itself from hybrids and emphasize that its technology is far differently from traditional hybrid powertrains. e-Power vehicles are basically self-charging EVs that, instead of drawing energy from a wall socket, charge up their batteries using fuel.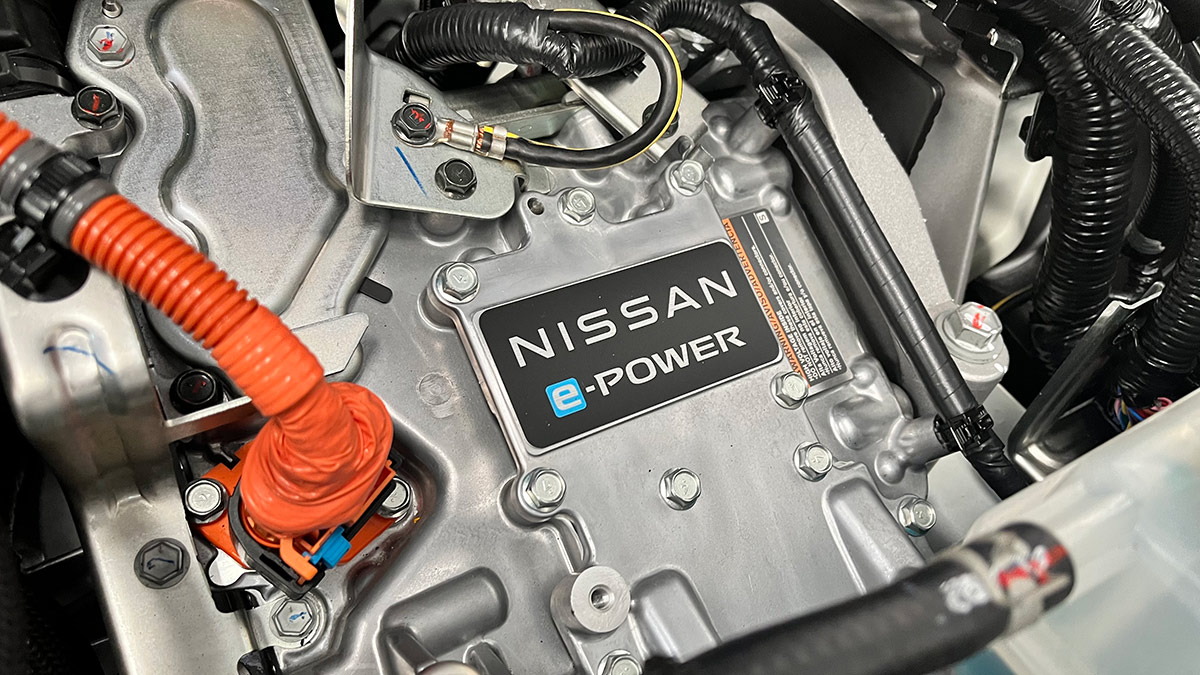 ADVERTISEMENT - CONTINUE READING BELOW ↓
This is also why an e-Power vehicle behaves more similarly to an EV than it does to a gasoline-powered car. It doesn't have a transmission, and the only mechanical component hooked up to the gasoline engine up front is the generator whose sole purpose is to cater to the battery powering the wheels. This allows for a very quiet and smooth drive.
After the short classroom session and slight information overload, it was off to the races. The course for the day was short and quick, as we were to drive around Aseana City simply to experience how exactly it feels to drive an e-Power vehicle.
I stepped into the driver's seat and prepped to head off. Luckily for me, I had NPI academy manager Cyrus Macasera riding shotgun to guide me through the drive. I hit the start button, hear some noise upon startup, then it stayed silent under the hood from there.
ADVERTISEMENT - CONTINUE READING BELOW ↓
There are two modes available: EV and Charge. Both of these can only be engaged when the selectable drive mode is set to 'Eco' or 'Sport.' I was told to try out the Charge mode first, and lo and behold, I felt and heard some whirring from the engine bay.
In Charge mode, the system forcibly starts up the gasoline engine and recharges the battery even if the latter isn't low on juice. Charge mode also activates the e-Pedal—a tech that's also available in the Leaf—to enable automatic braking upon release of the gas pedal, allowing for more regenerative braking and ultimately better mileage.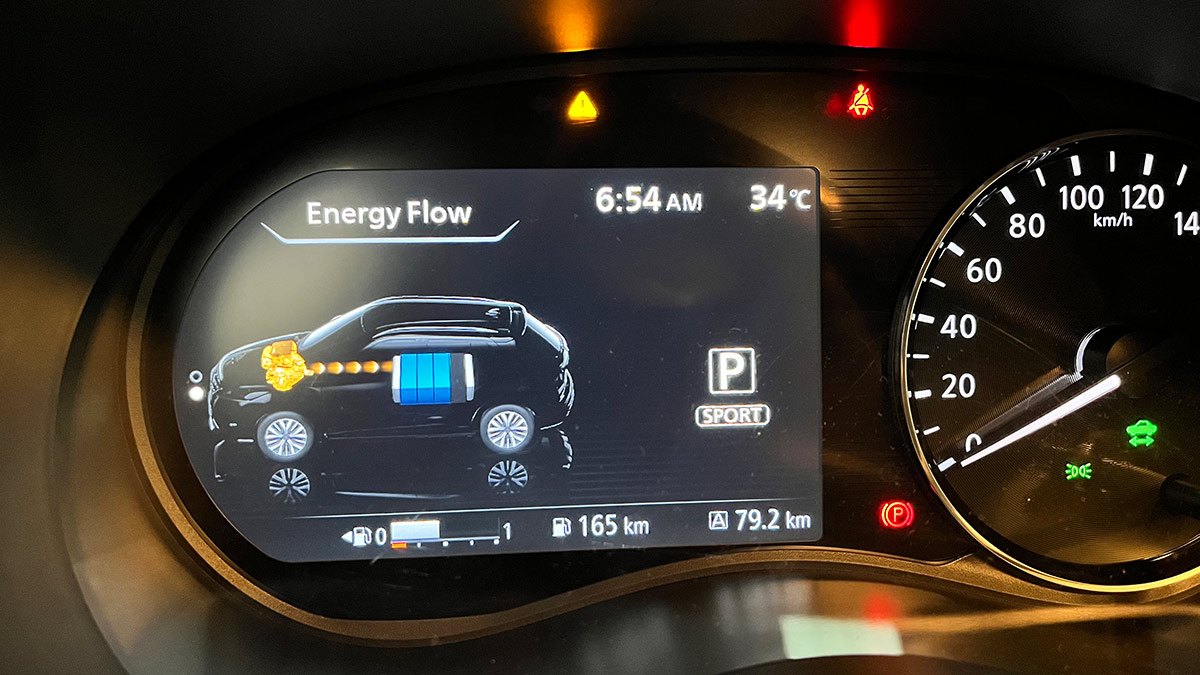 ADVERTISEMENT - CONTINUE READING BELOW ↓
The moment I switched it on, the display on the instrument cluster then lit up, indicating that the engine (orange) was charging up to the battery (blue). What's cool about the display is that it also shows when the battery's recharging through regenerative braking (also blue).
I hit the open road and was told to floor the gas pedal immediately. Acceleration was instantaneous just like in an EV, but you could also feel an actual gasoline engine running as you accelerate. What felt weird for me was the lack of a transmission. Had my passenger not point it out, I wouldn't have noticed I was already at 80kph that quick—I barely noticed the acceleration because I didn't feel an actual gearbox shifting.
OTHER STORIES YOU MIGHT HAVE MISSED:
If a modern Nissan Terrano looked as sick as this, we'd pick it over an FJ Cruiser
Review: The Nissan Z is a leaner, meaner, more complete car than its predecessors
ADVERTISEMENT - CONTINUE READING BELOW ↓
After a few turns, I was then told to switch to EV mode right as we entered a mall parking lot. In this mode, the system then shuts off the gasoline engine and lets the battery do its work. Switching between modes was easy once I got a hang of things, especially since choosing among drive modes or between EV and Charge mode could be done on the fly.
We approached the steep ramp that the vehicle climbed quietly with ease. If I needed more speed uphill, I would've simply needed to give the pedal more beans and the engine would've started up to add extra oomph. That wasn't necessary though.
As we reached the roofdeck, I was allowed to park the car and enjoy the cool Nissan A/C as it idled. I'd normally be against it, but seeing as the e-Power vehicle basically has zero emissions in EV mode, I had no problems with it this time. It was the perfect setup for napping in a parking lot.
ADVERTISEMENT - CONTINUE READING BELOW ↓
We didn't spend too much time idling, though, and eventually got ready to head back. It was here that I was told to switch to engage 'B' mode, a mode that activates enhanced regenerative braking with the e-Pedal. Going down the parking ramps, it felt like I had hill-descent control engaged, as the vehicle was slowly crawling its way back down. Not only was this good for the battery, but it'll also provide added safety, especially for drivers who have problems managing the brakes when going downhill. After clearing several floors of parking, we drove back to home base.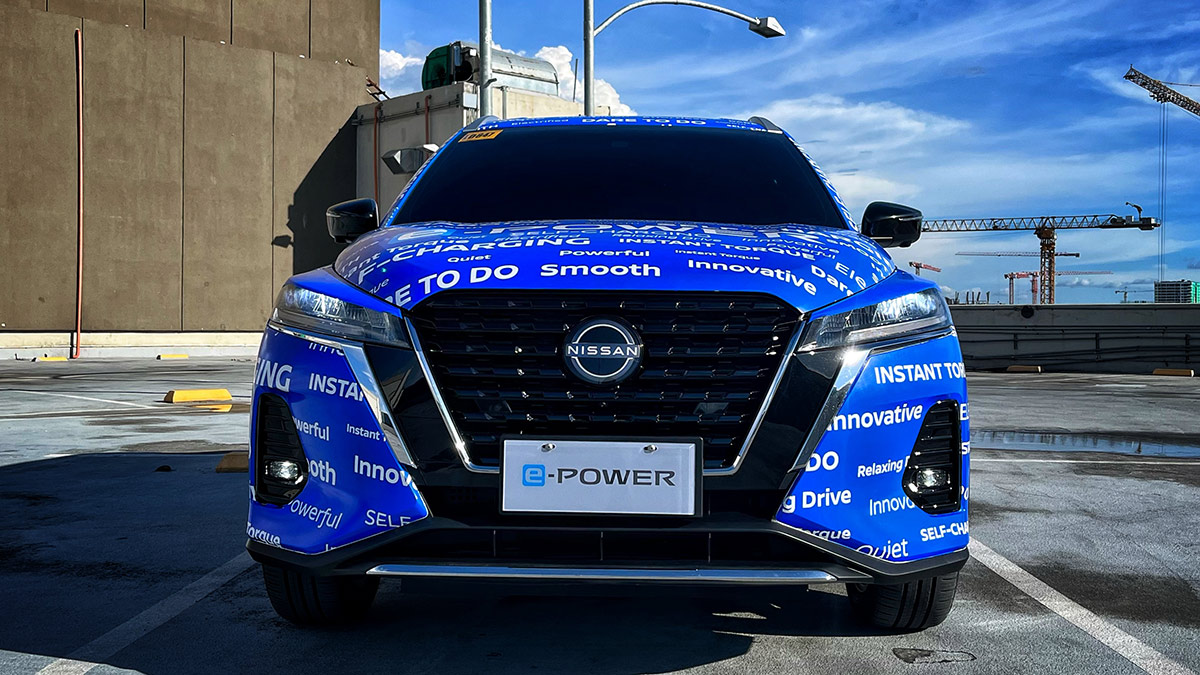 ADVERTISEMENT - CONTINUE READING BELOW ↓
Our time testing out Nissan's tech was short but insightful. We do have to wait until NPI officially launches its e-Power vehicles before we find out how the claimed fuel consumption will hold up in local driving conditions. Questions on pricing, long-term maintenance, and repairs have also yet to be answered, but we're sure we'll get to those bits soon enough.
For now, at least we got a glimpse of just how straightforward it can be to use a seemingly complex system like this. Gas up and go—it's that simple. Save for switching between modes and using the e-Pedal, driving an e-Power car is pretty much the same as driving any other vehicle.
We understood the pushback from consumers when the Leaf arrived. Well, what Nissan has here possibly is the next best thing; we reckon it'll help Filipino car owners transition to fully electric vehicles in the foreseeable future. If NPI gets the pricing of its first e-Power vehicle right, it'll surely have a kickass offering that can go toe-to-toe with other hybrids in our market.
ADVERTISEMENT - CONTINUE READING BELOW ↓
Top Gear Philippines is now on Quento! Click here to download the app and enjoy more articles and videos from Top Gear Philippines and your favorite websites.