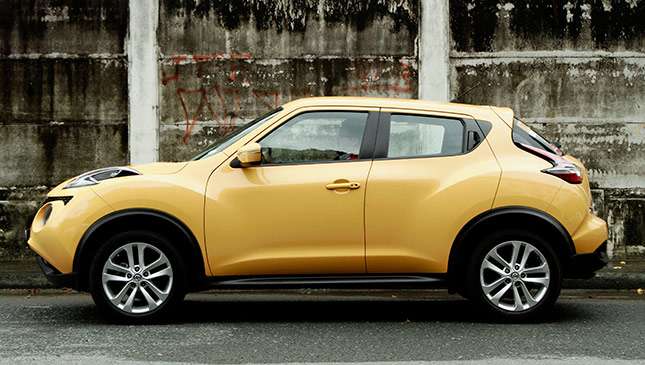 Divisive. That pretty much sums up people's reactions to the Nissan Juke. The crossover first hit our shores in 2015, years after it first broke cover in Japan. Right away, observers were divided into two main camps: those who praised its funky looks and dare-to-be-different vibe, and those who took to calling it every derogatory name under the sun. Divisive indeed.
Sales-wise, the Juke has done well up to this point, since it came at the right time during the crossover boom. Now, three years after its local debut, is it still a top draw for 2018 car buyers?
Continue reading below ↓
Recommended Videos
Much of the criticism surrounding the Juke has to do with its styling. It sports a unique and distinct front fascia, coupe-like lines that actually hide the fact that there are rear doors, and 370Z-inspired taillights. It's certainly an interesting package, but not one that suits everyone's tastes.
Inside, the Juke's features include a leather-clad tiller, cruise control, Bluetooth connectivity, and automatic air-con. The dashboard consists of a circular motif that looks as if it was inspired by Mini. One drawback that's been pointed out by some of our taller staff members is the lack of rear headroom. Trunk space measures 251 liters, and up to 830 liters with the seats folded.
Last year, Nissan Philippines revealed the N-Style variants, which further accentuate the crossover's unique presence. These come with new color schemes that include some accents, plus accessories like headlamp finishers and a roof spoiler.
Powering the Juke is a 1.6-liter inline-four with 114hp and 154Nm, mated to a CVT. It's not the most responsive or hair-raising setup in the market (or even in the segment), but it does offer an efficient package fit for everyday use. If there are any refreshes headed our way, a different engine would be a nice addition. Some markets have a 1.6-liter turbo, which we'd love to get our hands on.
With a current starting price of P1,021,000, can the Juke still hold its own in today's competitive crossover market? Let us know your thoughts below.