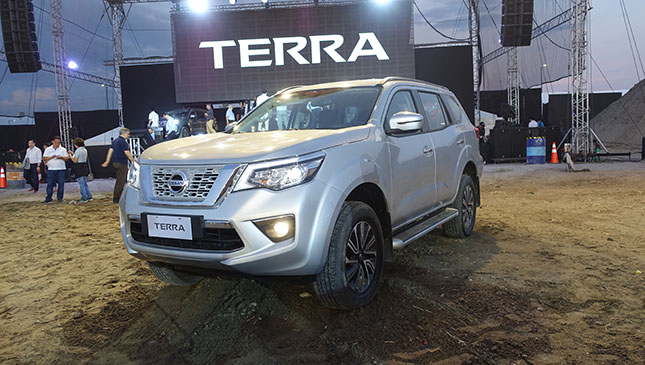 The cat is out of the bag. After much hype and plenty of teasing, Nissan Philippines has finally unveiled the Terra--the Japanese carmaker's all-new, seven-seat midsize SUV.
No more covers, no more camouflage. Ladies and gents, this is the real thing. This is what Nissan will be fielding against the Toyota Fortuner, the Mitsubishi Montero Sport, the Ford Everest and the Isuzu MU-X--four names that by now many of you know are pretty big deals in the local automotive industry. But as far as looks are concerned, the Terra already appears more than up to the task of challenging them.
From afar, the Terra flaunts a silhouette and proportions common with most other models in the segment. But step closer and you'll find design bits that are undoubtedly Nissan.
The front--with its large, bold grille and modern headlight designs--are akin to the Navara, but with a few striking differences. The daytime running lights, in particular, look very sleek and futuristic, while the grille's honeycomb design and large chrome trim add to the entire look's muscular overall tone. Inside, occupants are met by a no-frills look also similar to the Navara, with plenty of dark plastics, a simple layout and no-nonsense dashboard design.
Want to see more of this new midsize SUV? Scroll down and check out our photos from the regional launch event. Do you think it has the aesthetics to compete with its more established rivals?