Ah, the Nissan Titan. If you ask me, not many cars can claim to live up to their monikers—but the Titan, with its massive size, intimidating presence, and immensely potent powertrain, is definitely one of them.
The particular Nissan is available only in the US, yet here I am sitting inside its cabin—which, by the way, makes my 5'10" frame seem tiny (I don't think I've ever had to adjust my driving position as much as I did entering this thing)—in the middle of a barren Moroccan landscape on the outskirts of Er-Rachidia. It's a vehicle I've written about in the past, but never imagined I'd actually find myself behind the wheel of.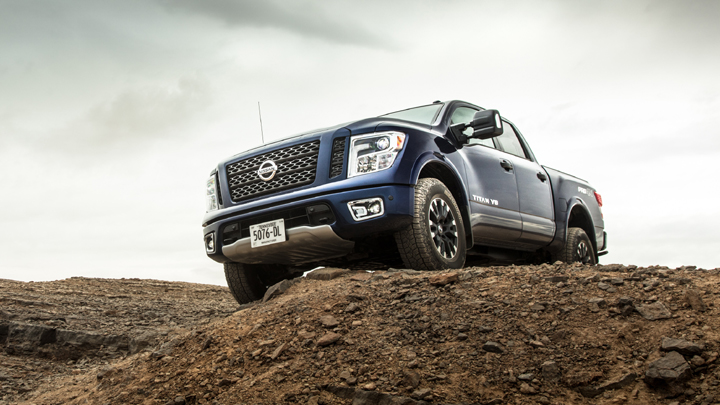 Continue reading below ↓
Recommended Videos
The scale, layout, and column shifter...this is easily the most American Japanese car I've ever had the pleasure of driving. Flat surfaces and a stealthy vibe dominate its interior, while the outside, with its large headlights, massive honeycomb grille, and muscular front fenders, conveys an intimidating presence. Even the storage compartment underneath the rear seats have also been designed with firearms in mind.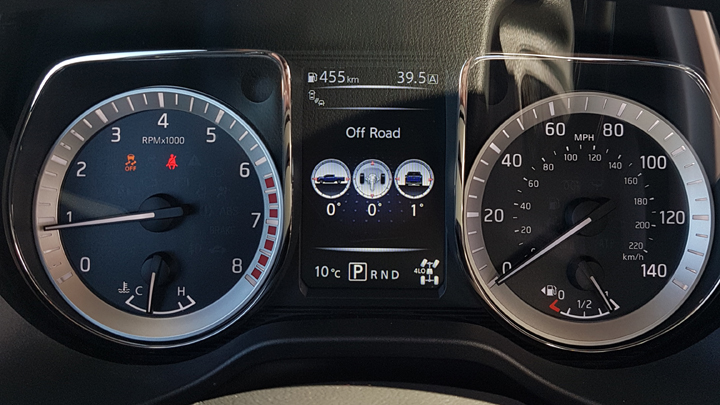 It's assembled in Canton, Mississippi, too—good for the US, and good for Donald Trump's itchy Twitter finger we suppose. But for its build quality? We're not entirely sure.
As soon as we get going, a distracting squeak emanating from somewhere inside the dashboard presents itself. Maybe it's the result of what our unit's been through in the past week: US and European motoring outlets have already taken their turn at 'testing' this vehicle, and we're only the second wave to try it out as part of the Japanese carmaker's international Light Commercial Vehicle drive. But as quickly as it appears, it's gone—granted, with the help of a large bump we roll over in the middle of a dirt road. Strange, but we'll take it.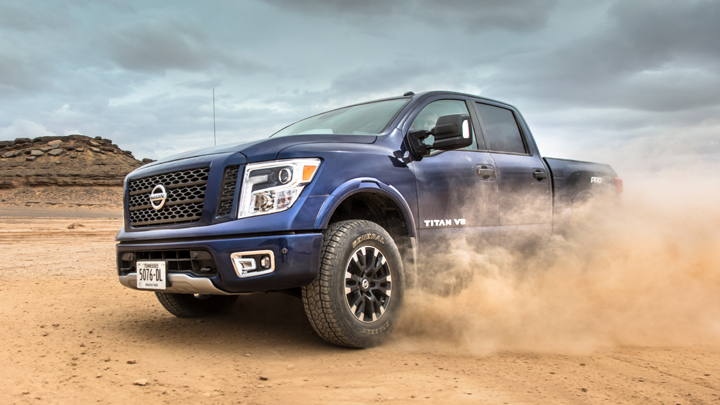 Rolling over bumps is what this pickup truck is made for. Well, that and good ol' American utility, of course. But since we're driving the Titan's PRO-4X version, which is tailored for off-road performance with Bilstein shocks, all-terrain tires, and an electronic locking differential, we'll focus on the bumps.
Doing so is a hell of a hoot, too. At least if you don't mind an aching lower back and tense shoulders. Pushing through inhospitable terrain with a 5.6-liter V8 that makes 390hp and 534Nm is a fun and all, but it does take its toll on you physically: Whereas more refined offerings like the Nissan Patrol will glide over rough surfaces, the Titan will power past them with its occupants feeling every little road imperfection.
Its light steering—while probably ideal under less extreme driving conditions because of the truck's gigantic dimensions (3,550mm wheelbase)—can feel numb over surfaces like fine sand and mud. On these types of terrain, keeping track of where your wheels are pointed can be a handful—it's not unmanageable by any means, but you will at times need quick hands for adjustments.
Present the Titan with an open plain and a surface that will allow for full use of its output, and it's a different situation entirely. In fact, I'd go as far as to say driving this beast is the most fun I've had in a car of this size, ever. Getting up to speed takes little to no time at all—as it should, considering this is the most powerful vehicle available for testing at the event (the Terra, the Navara, and the Patrol were also at hand).
The Titan is far from perfect, and anyone who, like me, hails from a land of tight roads and soaring gas prices will struggle to comprehend it. It's a beast that makes hardly any sense to us. But under the right conditions, where the possibilities are as endless as the landscape before it, the truck makes all the sense in the world.
I'd never found myself enamored by the US. The food, the sights, the culture? Not really. Give me sushi, rice bowls, and adobo over burgers and steaks any day of the week. But for two days out in the middle of nowhere behind the wheel of the Titan, I was envious. It feels good to be American.