The list of tools that should be in your car or garage can be pretty extensive, depending on your willingness to get your hands dirty. Some things, like a car jack and a tire iron, are non-negotioable and should be in every vehicle's trunk at all times.
Now, I enjoy a good DIY project as much as the next car guy, but when it comes to maintenance, I prefer it when things run smoothly with minimal input. This is where gadgets like battery chargers come in. These things, in my opinion, should be standard fare in every garage alongside the aforementioned jack. After all, there are few things worse than turning over your ignition only to find out that you should've replaced your battery a long time ago.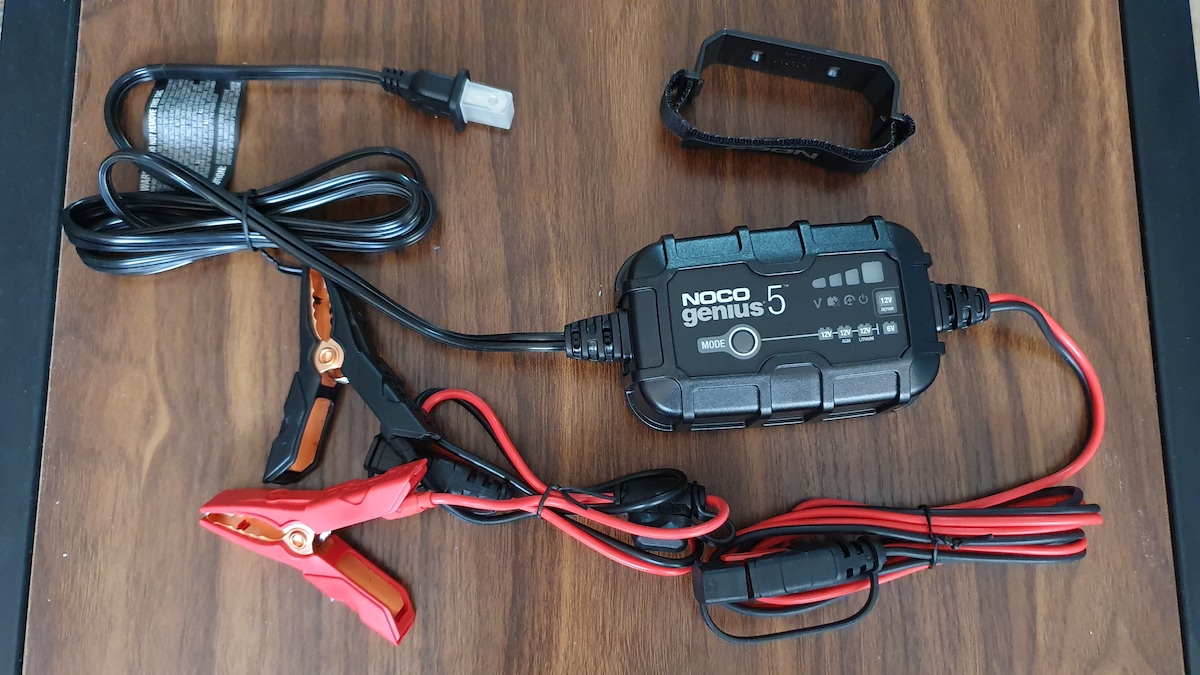 Continue reading below ↓
Recommended Videos
The NOCO Genius 5 is one gadget that simplifies the charging process, making battery maintenance as hassle-free as it can be. It's rated at 5 amps and caters to six- and 12-volt batteries, including lead-acid, deep-cycle, flooded, gel, AGM, maintenance-free, and lithium-ion. Out of the box, you get the charger that can connect to an ordinary household socket, the positive and negative connectors, and an optional clamp to attach the charger for long periods. 
Admittedly, I was a bit intimidated at first when I started using the Genius 5. I've read enough car-battery horror stories to last me a lifetime, so I'm that person who always double-checks the proper sequence for connecting and disconnecting no matter how many times I've memorized it. Thankfully, the process for using this device is pretty straightforward. 
Once I had the charger set up, I followed the instructions to connect to the positive terminal first, then the negative, before connecting it to a power source. I made sure I wasn't anywhere near the engine bay when I did the last part, just to be safe. And voila, the charger started pumping juice into the battery right away.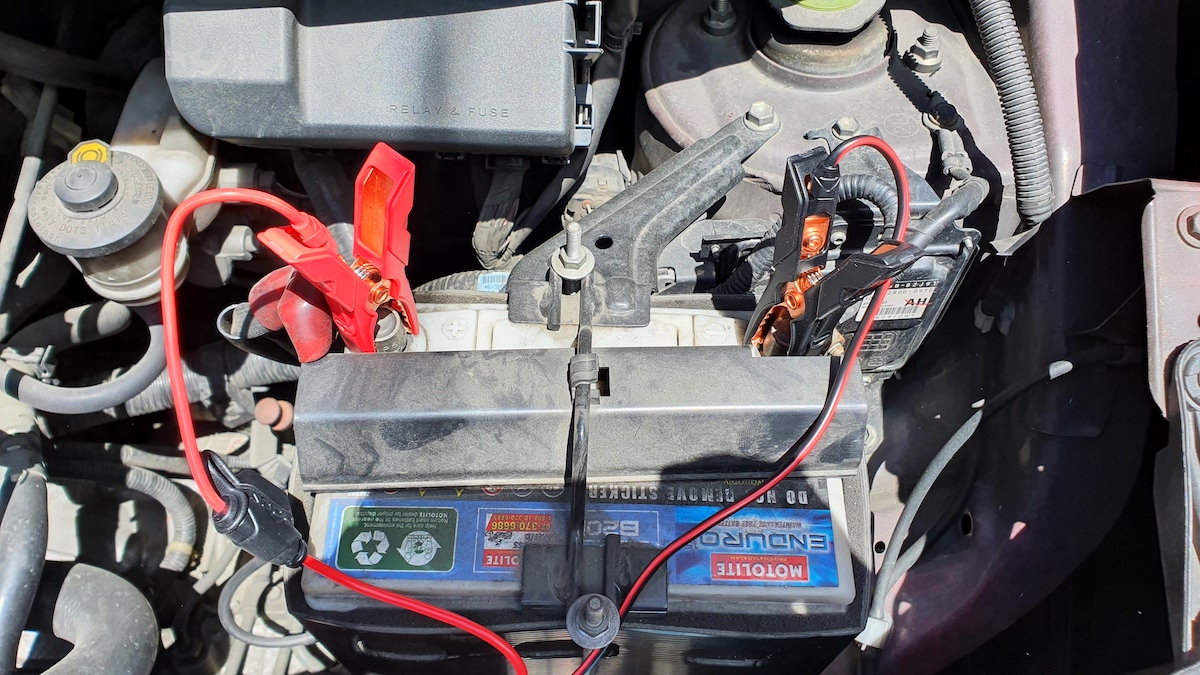 One thing that wasn't stated explicitly in the instruction manual is whether or not the battery had to be disconnected from the car during the charging process. I had to search online to clarify this, and as you can see from the photo below, I was able to charge while the battery was still connected to my ride. It would've been good, though, if this vital bit of info was included in the box. I also wish the power cable was a bit longer to accommodate those who will have to connect through an indoor socket. 
There are different modes available depending on what kind of battery you're charging, and there's also an indicator that shows how much charge is left. Surprisingly, my four-year-old unit was at full capacity despite sporadic use during the pandemic. The charger showed three red bars and a green light at the end that glowed on and off. This meant the device was in 'maintenance' mode, sporadically feeding electricity into my battery to keep it in good health.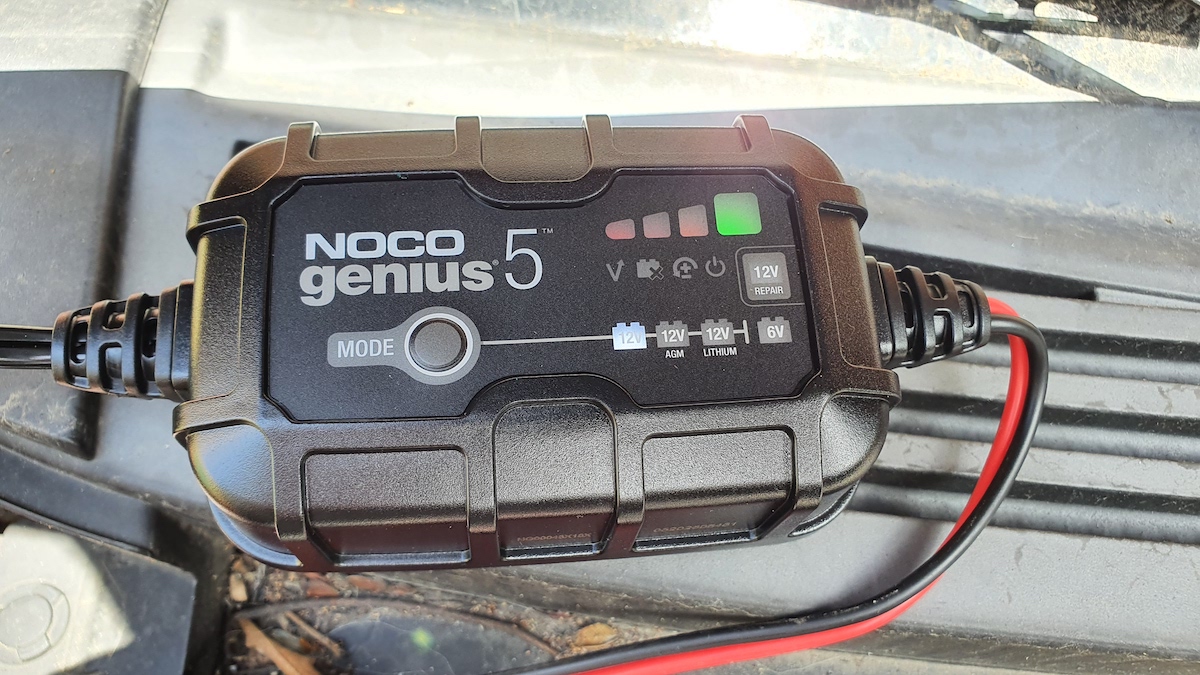 The NOCO Genius 5 also works for other batteries like those on motorcycles, lawnmowers, trucks, ATVs, tractors, and boats. It's available at Motoworld for P5,950. 
Top Gear Philippines is now on Quento! Click here to download the app and enjoy more articles and videos from Top Gear Philippines and your favorite websites.