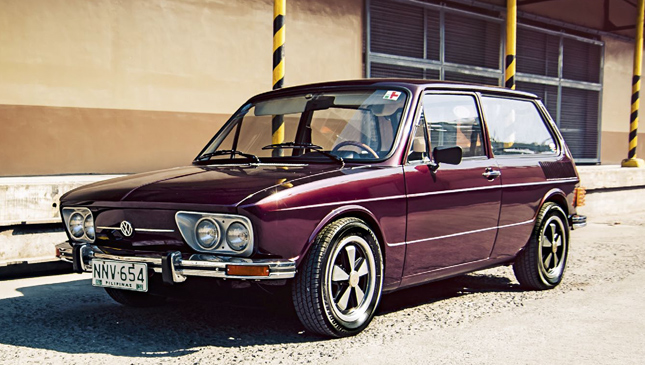 The VW Brasilia was known as a lemon back then. What's a lemon? You know, one of those cars that roll out the factory pre-packaged with faults. Not a lot of Brasilias survive today. So seeing one in this condition is a bit of an event. And because this model has become rather rare, even the younger Volkswagen lovers don't know what it is. That alone makes the Brasilia somewhat desirable now. Who would have thought, right? Those who laughed when they saw this VW being driven around in the '80s are definitely not laughing now.
This one belongs to Erwin Ulep, who is no stranger to our Old School section. His beautiful Type 3 Notchback already made an appearance here a few months ago. "I came across this Brasilia with the help of the former vice mayor of Villasis (Pangasinan)," he recounts. "It was originally owned by the mayor of the town. The body was beyond repair, so we had to get a better Brasilia. This served as the project's platform." Erwin says the only parts that made it to the fresher body are the engine and the transmission. Still, the spirit of the original is very much intact. He's also very proud of the decision to paint the vehicle a Cognac Red hue. It works well for the body lines, and is indeed eye-catching. In fact, this Brasila has bagged trophies at several car shows.
Continue reading below ↓
Recommended Videos

Erwin is a fan of custom rides, hence the personal touches his cars possess. This Brasilia wears replica Fuchs Performance Porsche wheels that have been machined to fit five lugs. The flat-four engine is fitted with a Dynomax Phatboy muffler for a unique growl. Inside, there is a Nardi tiller as well as some hard-to-find OEM parts, like the original VW seatbelts. These pieces are not easy to come by these days. Erwin's theory as to why the lemon stigma attached itself to the Brasilia is that the vehicle has different metallurgy. He also admits that the handling is truly "diabolical," so he has done some modifications to counter that. As with a Porsche, most of the weight is at the back, so drivers have to be extremely careful. That said, he is amazed by the torsion-bar suspension, commenting that "they never bottom out, even when the car is fully loaded."

As nice as it looks, this car isn't babied at all. "My cars help me earn a living as a doctor," Erwin shares. "I use them for what they are for." He does long trips from Pangasinan to Manila to visit his daughters, too. He knows his VWs very well, and he says would-be restorers have to make sure that all the vital engine tins are complete, and all the rubber seals should remain. This is because air-cooled motors need proper ducting; if there is a leak somewhere, it will cause trouble down the road. To remove the flat spot in the revs while accelerating, he suggests fitting a modern ignition system, but he warns against advancing the timing too much because this will cause some overheating. We are now admittedly jealous of this classic-car enthusiast.

(Note: This article first appeared in Top Gear Philippines's September 2014 Issue)