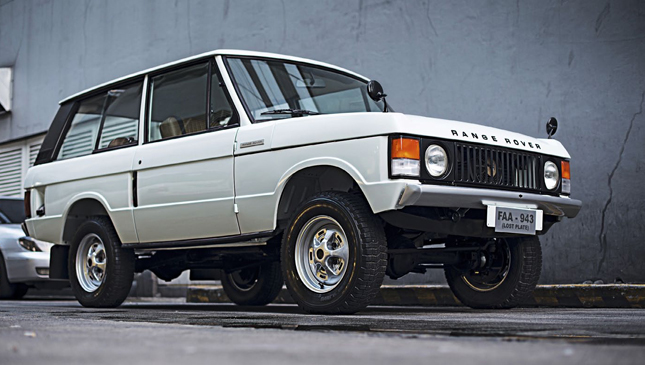 In 1970, the Range Rover was launched as the "four-in-one" vehicle: luxury car, performance car, estate car, and cross-country car. A year later, it was exhibited in the Louvre as an example of modern automotive art because of its advanced design and innovative character.
Land Rover enthusiasts claim that the first-generation three-door Range Rover was the best new car, and that now, it's the best old car.The model was produced for 26 years, from 1970 to 1996. It was simply known as the Range Rover until the end of its manufacture, then Land Rover introduced the name Range Rover Classic to distinguish it from its successors.
Continue reading below ↓
Recommended Videos
The original model had simple and classic lines that aged gracefully through the years. Its three-door variants were considered less desirable than its five-door siblings (released in 1982), because it was harder to get into the backseat. Under the hood of this 1976 Classic is a 3.5-liter V8 petrol engine with a Zenith-Stromberg carburetor. It produces maximum power of 130hp at 5,000rpm, and maximum torque of 250Nm at 2,500rpm. The engine is mated to a four-speed manual transmission and integrated to a two-speed transfer case with a center-differential lock. The oil crisis of 1973 further dampened the desirability for this engine.
In 2002, I first heard about this Range Rover from Raymond Legaspi, a member of the Land Rover Club of the Philippines. "My tita in Silay City is the first owner and has not really used it because of the gas consumption of its V8 engine," he explained. "Its original mileage is less than 60,000km. It has been sitting in a garage every day since and manned by a driver with a feather duster. Is it worth something?" My simple reply: "That Range Rover must have the lowest original mileage in the country. Just buy it! The issue is the price." Raymond later became its new owner, but he didn't have the time to restore it in Silay City in Negros Occidental while he worked in Makati. I thus thought that Marc Soong would be the next best owner—surely he would appreciate a collectible Land Rover.
And he did acquire it upon my suggestion. "I bought the Range Rover through photos posted on the Internet without any inspection," Marc now recalls. "And when I was given an incentive to buy a 1962 Land Rover Series IIA soft-top as part of the purchase, I jumped at the chance!" From the chassis number ("suffix D" in Rover-speak), it was determined that particular unit is a 1976 model released in October 1975 for export to a left-hand-drive jurisdiction.
"With the unit being low in kilometers, the basic restoration was not difficult, but I had to search for some rare parts from old car collectors and shops that had bits and pieces," adds Marc.
Authenticity is important in restoring a Range Rover. There are many purists ("period-correct police" in Rover-speak) who will frown upon the wrong parts and accessories. The search for the hard-to-find part is the fun of a restoration project. Thankfully, the Land Rover service center handled the restoration of this unit. The service folks retained the Rostyle steel wheels and the side mirrors mounted on the hood—a must for Range Rovers manufactured before September 1977. Marc resisted installing the headrests, which were optional accessories at the time of manufacture.
The best time to buy a Range Rover Classic is now, while parts are still available from both local and overseas suppliers. Keep that in mind in case you come across another low-mileage unit sitting in a garage and being manned by a driver with a feather duster.