Any car geek nudging around their mid-thirties has likely shed a number of tears now. Mitsubishi and Subaru's biggest icons have become a headline act of the modern classic auction scene.
Mitsubishi UK just sold off its now redundant heritage collection, with a low-mileage Evo VI Tommi Makinen Edition fetching £100,100 (P6.7 million). You need similar money to acquire the peak of fast Imprezas, the 22B.
These were theatrically nicknamed 'supercar slayers' on the cover of '90s magazines, but the slaying's now taking place in the auction house. A McLaren 650S with equivalent mileage is cheaper than that Lancer. Is there a lesson here? That the former stars of companies now struggling to make an impact are selling for improbable amounts of money? Perhaps it's time for the Japanese super sedan comeback.
Let's say, with some improbability, that the high-ups at Mitsubishi and Subaru agree. A highly tuned turbo engine won't pass muster with modern CO2 testing and a rethought Evo or STI will need to be electrified in some way. I vote fully electric—having spent time with a Porsche Taycan and Audi e-tron GT recently, the way their myriad motors shuffle power quickly and dynamically around the grippiest corners of the car feels like a natural evolution of the yaw control and center differentials fitted to those past Japanese icons.
Continue reading below ↓
Recommended Videos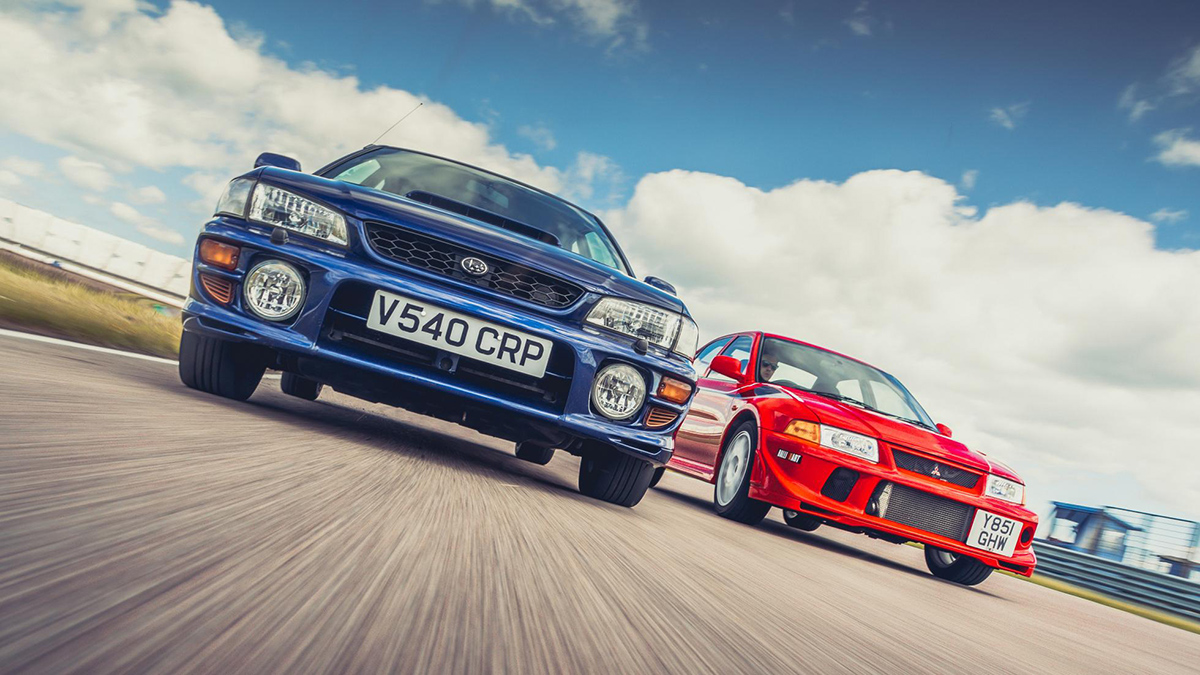 Mitsubishi's relationship with Renault and Subaru's with Toyota mean there's plentiful EV technology for each to mine. Perhaps, in the latter's case, even hydrogen fuel cell technology. The latest Toyota Mirai doesn't try to be good to drive, but possesses natural talent owing to its 50:50 weight split and rear-drive layout. It's not without potential.
There's every chance I'm wrong, and mainstream demand for these cars came and went with World Rally Championship (WRC) success—and the evolution of the modern hot hatch. Maybe the Volkswagen Golf R's winning combination of AWD heroics and leasing value is insurmountable.
More pertinently, perhaps that Tommi Makinen was bought with an imbalanced money/sense coefficient and its value has soared because it's a near-pristine fossil from the past, not because something of its ilk doesn't exist new.
And perhaps my glasses are as rose-hued as its buyer's. I grew up adoring Evos, Imprezas and the heroes that rallied them. But by the time I was old enough for a driving license, the Sebastien Loeb era was underway and Subaru and Mitsubishi had already won their last WRC trophies. But surely there's something in the soaring values of their most recognizable past masters as their new car ambitions recede. I'd love to see it explored.
NOTE: This article first appeared on TopGear.com. Minor edits have been made.
Top Gear Philippines is now on Quento! Click here to download the app and enjoy more articles and videos from Top Gear Philippines and your favorite websites.